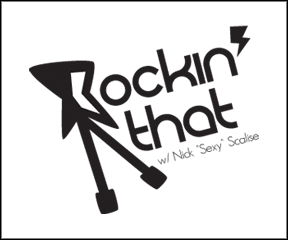 On this week's edition of Rockin That w/ Nick Scalise (of October Fall and Mathletes fame):
– Co-hosts Greg Shanahan and Mickey Ferguson discuss Ke$ha, John Feldman, Shant, and Mark Trombino.
– Part 2 of a 3 part interview with Fueled by Ramen A&R Johnny Minardi and tour manager Tony Marino (The Academy Is…, Jonas Brothers, Cobra Starship, Patrick Stump).
Rockin' That broadcasts at 8pm every Thursday.
Tags:
Cobra Starship
,
Fueled By Ramen
,
Jimmy Eat World
,
John Feldman
,
Johnny Minardi
,
Jonas Brothers
,
ke$ha
,
Mark Trombino
,
Mathletes
,
October Fall
,
Patrick Stump
,
Producer
,
The Academy Is
,
Tony Marino
,
Tour Manager