Listen to Rock The Walls with Patrick Walford tonight at 8pmET to hear the latest and greatest in Hardcore, Metalcore, and Pop Punk Music!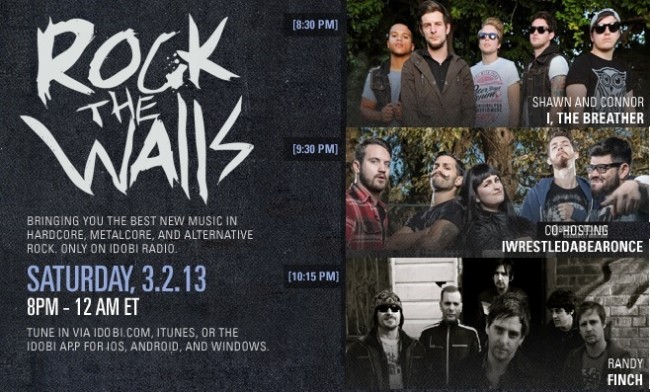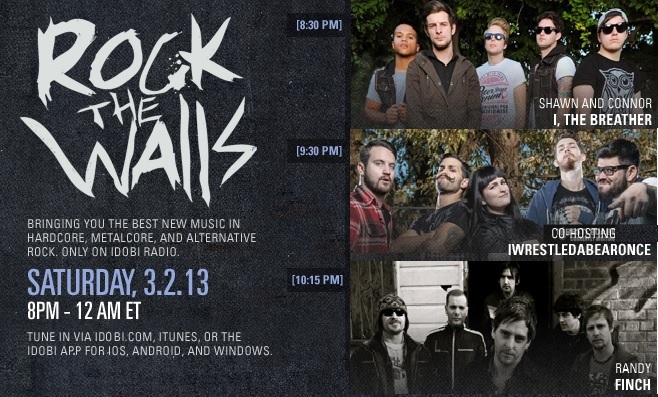 At 8:30pmET Shawn Spann and Connor Hesse of I, The Breather are on the show to talk about their past year of touring which has included stints on the 2012 Mayhem Fest and a support run with Born Of Osiris, the beginning of writing for their upcoming third album, and much more.
At 9:30pmET Steven Bradley of iwrestledabearonce is on for an in-depth interview and Co-Host! Steven takes over the playlist post-interview and also discusses the surprising departure of Vocalist Krysta Cameron in the middle of last year's Warped Tour, what we can expect from their third album (which they are currently at home writing), the Horror movie they released last year, and his views on the entire Metalcore/Deathcore Scene.
At 10:15pmET Randy Strohmeyer of Finch joins the show to  reminiscence about What It Is To Burn's 10th Anniversary, touring they have done over the past few months on the record, how his life has changed since 2002, and what he has been doing off tour in the meantime.
As well, we get you set for idobi Meltdown next Saturday in Silver Springs,Maryland! Music from the latest bands announced for The 2013 Vans Warped Tour, new music from Bring Me The Horizon, and the latest in tour news including the massive tour Asking Alexandria just announced dates for yesterday.
Listen to Rock The Walls with Patrick Walford tonight at 8pmET only on idobi Radio!
Follow Rock The Walls on Twitter: @RockTheWalls
Like Rock The Walls on Facebook
Tags:
Finch
,
hardcore
,
i the breather
,
idobi radio
,
iwrestledabearonce
,
metalcore
,
patrick walford
,
pop punk