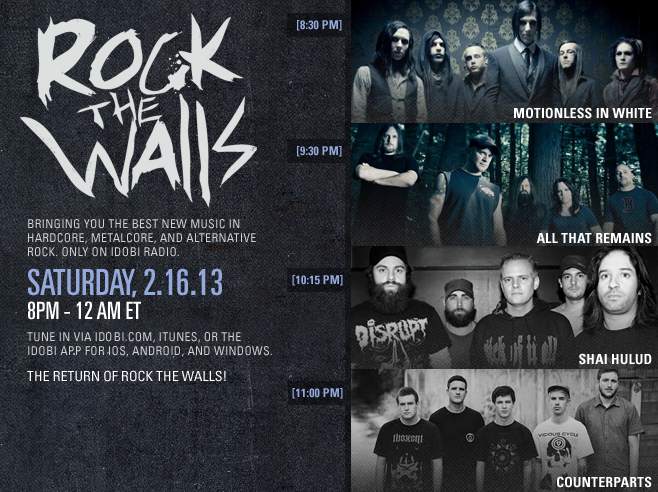 Listen to Rock The Walls with Patrick Walford tonight at 8pmET to hear the latest and greatest in Metalcore and Hardcore music!
On this week's show Chris Motionless of Motionless In White is on at 8:30pmET to talk about Infamous, Motionless In White's Dark Imagery and Creativity, and much more!
At 9:30pmET, All That Remains Drummer Jason Costa is on to talk about their brand new album A War You Cannot Win, his Political Views/Stances, and Boston's Metalcore and Hardcore roots.
At 10:30pmET Shai Hulud Guitarist Matt Fox is on to talk about their record that will be dropping this upcoming Tuesday Reach Beyond The Sun, to be released on Metal Blade Records. In this in-depth interview Matt talks about uniting with Chad Gilbert once again, The Digital Age of Hardcore Music, and some of his favourite up and coming bands from around the world.
At 11pmET and Currently in the middle of a 5 week long European Tour, I caught up with Counterparts Vocalist Brendan Murphy for an exclusive interview this past fall to talk about the band's future, their upcoming third album, and much more.
Listen to Rock The Walls with Patrick Walford from 8pm-MidnightET, only on idobi Radio! Download the idobi Radio app for free on iTunes, Windows Store, and Google Play to stay up to date on the latest Rock The Walls news!
Tags:
All That Remains
,
Counterparts
,
hardcore
,
idobi radio
,
metalcore
,
Motionless In White
,
patrick walford
,
rock the walls
,
shai hulud