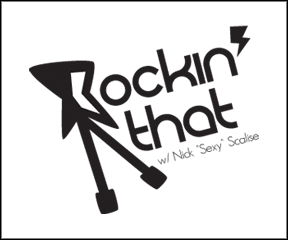 Rockin' That host, Nick Scalise, is taking a little vacation, so we're re-airing some of your favorite episodes for the next two weeks.
First up is Episode #4:
– Co-hosts  Greg Shanahan  and  Mickey Ferguson  discuss Ke$ha,  John Feldman,  Shant, and  Mark Trombino.
– Part 2 of a 3 part interview with  Fueled by Ramen A&R Johnny Minardi and tour manager Tony Marino (The Academy Is…, Jonas Brothers, Cobra Starship, Patrick Stump).
Rockin' That Show airs every Tuesday night at 8pm EST.
About Nick Scalise: Nick is a producer, writer, and drummer. He has produced for Life's Only Lesson,  The Delivery Boys,  The Victory Escape,  Dan McMahon, and  Sincerely Morning. He's written for Monarch, What Looks Like Crazy, and  Random Hero. Nick use to drum for October Falls, and currently plays in Mathletes.
Tags:
Cobra Starship
,
Fueled By Ramen
,
Jimmy Eat World
,
John Feldman
,
Johnny Minardi
,
Jonas Brothers
,
ke$ha
,
Mark Trombino
,
Mathletes
,
October Fall
,
Patrick Stump
,
Producer
,
The Academy Is
,
Tony Marino
,
Tour Manager