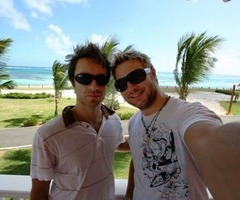 Patrick still doesn't have his voice back – but that won't stop him from bringing you a brand new episode of Man of the Hour. You should tune in, or there may not be a season 8.
Man of the Hour airs every Wednesday nights at 8pm EST on idobi Radio. You can also check out their podcast on iTunes.
About Sébastien Lefebvre
Sébastien is a guitarist for the Canadian band, Simple Plan. He also has a solo act, and currently has a holiday album out with Katie Rox called Christmas Etc.
About Patrick Langlois
Patrick was Simple Plan's videographer, and currently works for  Musiqueplus interviewing your favorite bands. He does not have an album to plug, but he is the most watched journalist in Montreal – and thinks he would've been voted sexier than Pierre Bouvier had he been included in that poll.