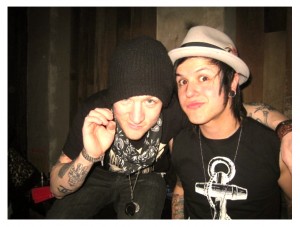 Guest hosting tonight on First Person with Josh Madden is a new artist that we think everyone should check out. Mitchy Collins aka Mitchy C is set to release The Bridge and Tunnel EP on October 19th. Catch him at the School of Rock on October 15th with All Night Dynamite and Hot in The City.
Tune in to First Person every Thursday nights at 8pm EST. Only on idobi Radio.
About Josh Madden
Josh Madden is a Music Producer, Remixer, and DJ; Co-Founder of DCMA COLLECTIVE clothing line with brothers Benji and Joel; stylist for artists such as Good Charlotte, NYLE, Pierce Brosnan, Metro Station, White Tie Affair as well as for KANGOL, BEN SHERMAN, and HOUSE OF CASSETTE clothing lines; and a writer for nylon.com & evilmonito.com. Josh has been featured in magazines such as PEOPLE, NYLON, TIME OUT, SPIN, PAPER, & STATUS.
Tags:
Alkaline Trio
,
Bruce Springsteen
,
Butch Walker
,
Green Day
,
Mitchy C
,
The Films
,
The Format
,
The Gaslight Anthem
,
The Kooks