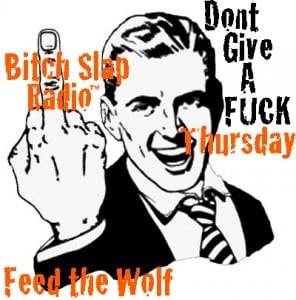 Whats up Bitch Slapers, Its Thursday night and we dont give a fuck! YES!
On the show tonight we have Special Guest Dirill the creeping master, to tell us all about his newly found creeping tactics
Then on the show we talk about chicks that were once ugly, but after a little make up and a tan look wow…
We cover why only some girls look great from behind!
And we talk about what life would be like if I could have an army of midgets!
This and so much more on tonights Bitch Slap Radio's DONT GIVE A FUCK! THURSDAY!!!! Live tonight at 10:30 Pm Est! on idobi Radio!
AIM:  Bslapradio
Skype:  LoonaticTV
Twitter:  @BitchSlapRadio
Call In Line:  888-99-IDOBI  (43624)