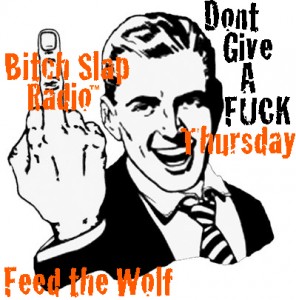 MOTHER FUCKERS! Bitch Slap Radio has fixed all the tech issues on the show!
Its been 3 weeks almost full of issues but they have all been fixed!
Make sure to tune in tonight for one hell of a great show,
James Returns after being sick for taking way to many loads to the face!
Julio comes in with a new song…. What could it be about? I dont no?
Fruit Fucking Drew! Returns to the show, and maybe a showing from John the Penguin
Your host Zac will rape your face! Tonight live on Bitch Slap Radio's Dont Give a Fuck Thursday!!!!!!!!
This and so much more on tonights Dont Give a Fuck thursday!
AIM:  Bslapradio
Skype:  LoonaticTV
Twitter:  @BitchSlapRadio
Call In Line:  888-99-IDOBI  (43624)