Dont Give a Fuck Thursday LIVE TONIGHT!
By Zac Rich | September 23, 2010 at 11:41 AM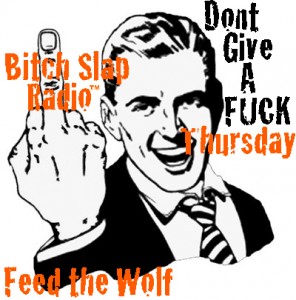 Whats up Bitch Slap Fans! Tonight is Thursday Night and we DONT GIVE A FUCK!
Its the last day before the weekend kicks off and we got a great show planned for everyone!
We will have Special Guest DREW the fruit fucker on the show live tonight!
We talk about people doing things that just make you tilt you head and say huh?
We also have a name for the Beer game, and the rules!
Feed the Wolf mother fuck its Bitch Slap Radio Live Tonight at 10:30 Pm Est
AIM:  Bslapradio
Skype:  LoonaticTV
Twitter:  @BitchSlapRadio
Call In Line:  888-99-IDOBI  (43624)