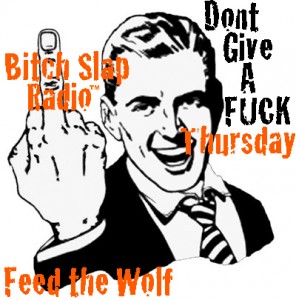 Bitch Slap Radio FANS! It's the first thursday of the new year and we still just dont give a fuck!
Tonight on the show:
Guest Jackie D from Jackiedoesit.com will be in studio to tell us about her latest adventures!
We have a new game to play on air called Douche  or No Douche
Fat J has a brand new weekly Rant
In Fuck up/Stupid News – We talk about a girl who's in court for signing her name in wet cement  – btw shes 11, Then in Florida we talk about why they stop letting people take the drivers test online… Playing need for speed apparently wont help your driving skills in the real world.
We think we fixed all the Tech Issues, and Should be good to go tonight on Bitch Slap Radio's Dont Give a Fuck Thursday! Live at 10:30 Pm Est!
AIM:  Bslapradio
Skype:  LoonaticTV
Twitter:  @BitchSlapRadio
Call In Line:  888-99-IDOBI  (43624)