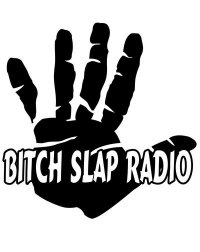 Hey Bitch Slapers! The weekend is so close we can taste it! However its thursday one of the most useless days in the week, and we just dont give a fuck!
So on the show tonight, we talk about frog people… Yea thats right frog people, well not just frog people, more of less people in general that look like animals we dont want single out any one person but lets just say we will be talking about a person who looks like a frog!
Then on the show KP returns from her event at the NDSL (National Dick Sucking League) We find out how she placed, and if she got some lock jaw by the end of the night.
And then, we go over whats the best music or no music at all to have playing while your having sex… Some people prefer some john mayer, some prefer Slipknot who are we to judge, but we will offer some tips and ideas of what you should do if you plan on not getting stabbed during sex with sacrificial knives.
Last but not lest on the show we got some more Bitch Had it Coming, as well as Words with James… I know people were trying to get him to talk a bit more…
All this and so much more tonight on Bitch Slap Radio's DONT GIVE A FUCK THURSDAY!
We go live at 10:30 Pm Est time make sure to tune in, live on  BitchSlapRadio.net or  idobiRadio.com
AIM:  Bslapradio
Skype:  LoonaticTV
Twitter:  @BitchSlapRadio
Call In Line:  888-99-IDOBI  (43624)
Email:  [email protected]