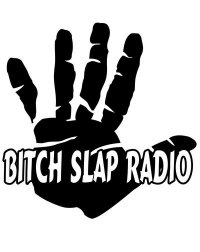 Hey Bitch Slapers! Its Monday Night, and its time for the only show you should have on your facebook reminder! BITCH SLAP RADIO!
So on the show tonight, John and Zac are going to come with a badass theme song, to Frog Girl, that rights theme song for frog girl… i swear its gonna be funny.
Then on the show, we ask KP all about the mile high club, as well as Jacking Off in the airplane can you do it? We will find out tonight!
And then, we go over whats the best music or no music at all to have playing while your having sex… Some people prefer some john mayer, some prefer Slipknot who are we to judge, but we will offer some tips and ideas of what you should do if you plan on not getting stabbed during sex with sacrificial knives.
Last but not lest on the show Zac and Black Eric a battle of the Minorities Jews vs Black People whose hardships were worse!
All this and so much more tonight on Bitch Slap Radio!
We go live at 10:30 Pm Est time make sure to tune in, live on  BitchSlapRadio.net or  idobiRadio.com
AIM:  Bslapradio
Skype:  LoonaticTV
Twitter:  @BitchSlapRadio
Call In Line:  888-99-IDOBI  (43624)
Email:  [email protected]