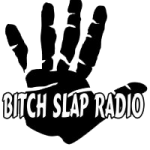 The weekend is over, and the monday blues are settling in but fear now its time for BITCH SLAP RADIOOOOO!!!
The only show that turns monday into a day you actually look forward too, and tonight is not different!
On the show tonight, we talk about the most retarded lines a guy can use, that might actually work… Hey baby, you wanna get naked?
Then on the show, we talk about shower head girls, you guys know who you are, Then we talk about firing your load before a date does it help? Who knows?
Last on the show, we talk about a game you can play in a a public place that is just oh so much fun! Whats the game? You'll find out tonight on BITCH SLAP RADIO!
We go live at 10:30 Pm Est time make sure to tune in, live on  BitchSlapRadio.net or  idobiRadio.com
AIM:  Bslapradio
Skype:  LoonaticTV
Twitter:  @BitchSlapRadio
Call In Line:  888-99-IDOBI  (43624)