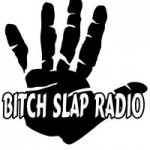 Whats up Bitch Slapers! The dust from the weekend has settled, and tonight Bitch Slap Radio destroys the radio air ways.
First off on the show tonight KP returns from her dick sucking convention that made her miss last Thursday night, and believe me does she have stories to tell and blow jobs to give.
We have two new segments planed for tonight, first Bitch Had it coming i believe this one is pretty self explanatory but hey we know the world is full of retards. We want you the listeners to call in and tell us a story about someone who just had it coming the kind of story that when you talk about it with your friends it always end in you know what Bitch Had It Coming!  A perfect example Ben Rossenburger Bitch Had it coming….
Then later on tonight, we talk about Sex Around the World, which Nationalities are the best lay, which are the worst , all this and so much more tonight on Bitch Slap Radio.
We go live at 10:30 Pm Est time make sure to tune in, live on BitchSlapRadio.net or idobiRadio.com
AIM: Bslapradio
Skype: LoonaticTV
Twitter: @BitchSlapRadio
Call In Line: 888-99-IDOBI (43624)
Email: [email protected]