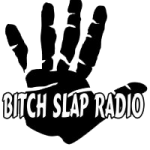 Whats up Bitch Slap Fans! Tonight is the first official week here in the Bitch Slap Studios, and we got a lot of shit planned for everyone.
Tonight on the show we talk about why we come up with the best ideas when were drunk or stunned. Some of the best ideas in the world were created when someone was drunk, or stoned. Things like Cematech, or the gooey spider thing you throw on the wall and is slowly falls down. That guy was not sober when he created that.
Then on the show we talk about how to crash a party, and score free drinks. This weekend a few members of the Bitch Slap crew crash a party at the Bar, got free drinks, got wasted, and got our hair washed by a drunk bridal party of some of the ugliest girls in the bar!
Then on Bitch Had it coming A guy gets busted in Granite Run Mall  shooting up skirts using a gap shopping bag, before being arrested he got his ass kicked by some mean bitch.
Finally last on the show we go over saying things that were in your head that were never met to be said out loud. "wheres our black guy, i mean waitress" for example
We go live at 10:30 Pm Est time make sure to tune in, live on  BitchSlapRadio.net or  idobiRadio.com
AIM:  Bslapradio
Skype:  LoonaticTV
Twitter:  @BitchSlapRadio
Call In Line:  888-99-IDOBI  (43624)