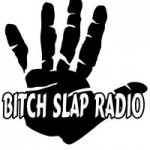 Hey Bitch Slapers! The weekend is over, and let your only cure for your monday Hangover Begin its BITCH SLAP RADIO!
First off on the show tonight We talk about Law school… yea this might be a boring subject kinda… but you didnt just go throw 4 hours of hell today now did you. we talk about crazy professors who try and embarrass you in class, and what why their are no hot girls ever in any of the classes…
Then on the show We walk about one hell of a crazy adventure we all had this weekend that involved  a forest, and some being covered all over in goo…. Yea that that one for exactly what it is.
And finally by the end of the night another health blast in the face of some Bitch Had It Coming!!! Oh yeaaaaaa
All this and so much more tonight on Bitch Slap Radio!
We go live at 10:30 Pm Est time make sure to tune in, live on  BitchSlapRadio.net or  idobiRadio.com
AIM:  Bslapradio
Skype:  LoonaticTV
Twitter:  @BitchSlapRadio
Call In Line:  888-99-IDOBI  (43624)
Email:  [email protected]