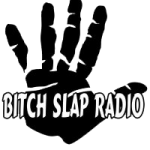 Hello Bitch Slap Radio FANS! We are BACK! Its been a few weeks off, and we are back in control!
After a few long hard negations with our friends at idobi radio we have been moved! For the first time since this show started Bitch Slap Radio monday nights is no more…. Bitch Slap Radio don't give a f*ck thursday is no more.. Now start Every Thursday from OUR NEW TIME 9:30 pm est to Midnight BITCH SLAP RADIO will be taking over idobi!
WE have dont a lot while we've been gone and we have a lot of great stuff planned for tonight's show. The perks of having a longer show, well We can now dedicate our 10:30 hour to the brand new Bitch Slap Radio Sports hour! Any sport, and Team we want you the fans to call in and talk!
The first hour of our show will be the same as it's always been randomness, in your face crude, rude, and just plain f*cked up humor!
On the show tonight! Zac, James, Drew, John… and maybe chelse all return to their rules of ruining the youth, and rotting your minds! Next week on the show Julio the Fat hippy will make his return, but it has promised a call in tonight live from the Orange Blossom Jamboree. Yea sounds like a big hippy gathering doesn't it!
Make sure to tune in tonight at 9:30 pm est! as Bitch Slap Radio returns! Call in at 888-99-idobi, Twitter us @Bitchslapradio and hit us up on facebook BitchSlapRadio