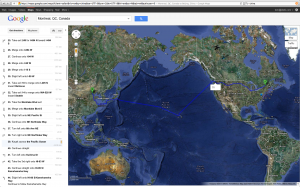 Simple Plan is headed to Beijing. Hopefully, they didn't use google to get directions, because kayaking across the pacific ocean is bound to be very tiring – and I'm sure they won't be in any shape to hold a guitar once they arrive.
However, kayaks won't be necessary for this week's edition of Man of the Hour. Tune in tonight for your weekly dose of Pat & Seb.
Man of the Hour airs exclusively on idobi Radio every wednesday night at 8pm ET. Listen at idobi.com or on the idobi App for iOS or android.