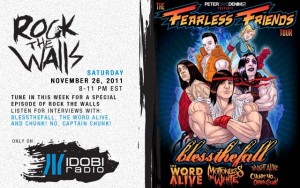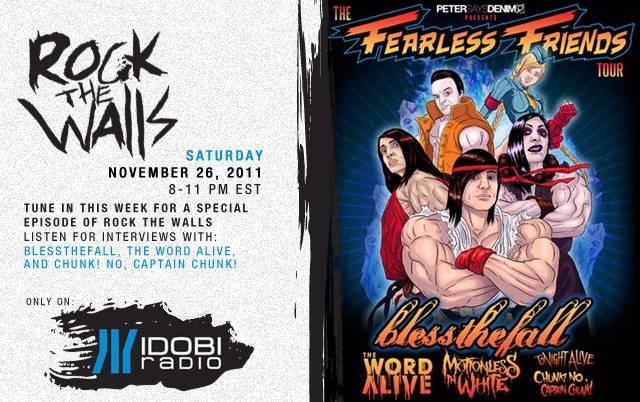 Tune into Rock The Walls with Patrick Walford Tonight from 8-10pm ET to hear the latest and greatest in Pop Punk, Metalcore, and Hardcore music.
This week's show I'm  joined by some of the bands out on the Fearless Friends Tour. I'll be speaking with Bert Poncet of French Pop Punk/Hardcore band Chunk! No, Captain Chunk around 8:30,    Telle Smith of The Word Alive (where we talk all about their upcoming album)  around 9, and Beau Bokan of Blessthefall at 9:45.
In addition to interviews with 3 of the bands out on the Fearless Friends Tour, we will have Inside The Music segments from other Fearless Record bands.Going to talk about Punk Goes Pop 4 and my take on it, Thrice and Thursday calling it quits, and everything going on in the world of music.
I'll also be giving away a pair of We Came As Romans/Sleeping With Sirens/Attila tickets in Toronto and London for this Wednesday/Thursday, as well as The Ready Set/The Summer Set in Toronto this Tuesday
Looking forward to the show later tonight! If you guys want to hear anything specific on the show, email me: [email protected] with what you wanna hear!
-Patrick Walford
Host/Producer of Rock The Walls
Tags:
beau bokan
,
bert poncet
,
blessthefall
,
captain chunk!
,
chunk! no
,
easycore
,
Fearless Records
,
hardcore
,
joey sturgis
,
metalcore
,
Motionless In White
,
pop punk
,
telle smith
,
The Word Alive
,
Thrice
,
Thursday
,
Tonight Alive