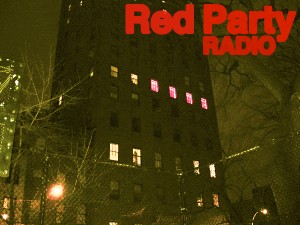 Is your playlist sounding repetitive? Want a taste of something new?
Tune in tonight to Red Party Radio, expand your horizon and discover something different.
Red Party Radio, with your host Michael Denny, Premiers tonight on idobi Radio. The show can be heard every Tuesday at 8pm EST .
About Michael Denny
Mike Denny is a native of Massachusetts' South Shore and Boston. He moved to New York City in 2003 and lived in the East Village of Manhattan for most of the time between then and now where he worked for various record labels, music websites, marketing companies, etc. He keeps a gaggle of close friends that are some of the most well rounded music and general artistic "heads" around. Mike relocated to Bushwick Brooklyn recently where he records Red Party Radio weekly and frequents an abnormal amount of comedy shows.