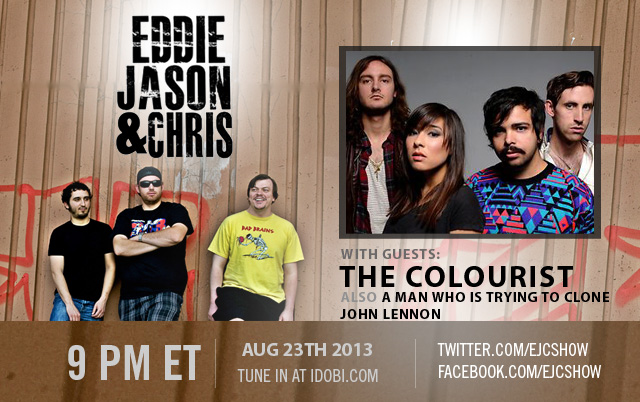 Stick around after Mike Herrera tonight (8/23), because Eddie Jason & Chris are live with another all new episode at 9p ET.
A couple of years ago, Dr. Michael Zuk purchased an old decaying molar that used to be in John Lennon's mouth. Now, he plans to attempt to clone John Lennon! We'll get the full story, and find out if this is even scientifically possible. Read about it here.
And, you're going to LOVE this band, The Colourist! Pick up their new EP, available now on iTunes:  http://smarturl.it/TheColouristLIDOiT. They'll be on the phone for a live interview, your calls are welcome.
It's an ALL NEW EJC! Tune in tonight at 9p ET / 6p PT – only on idobi Radio!
Call in:  1-888-99-IDOBI  (1-888-994-3624)
Skype:  EJCshow
Listen:  web player  /  app
Podcast:  www.EJCshow.com
The Colurist, "Little Games"

The Colourist Lido EP available now! iTunes:  http://smarturl.it/TheColouristLIDOiT
Amazon:http://smarturl.it/TheColouristLIDOAMZ