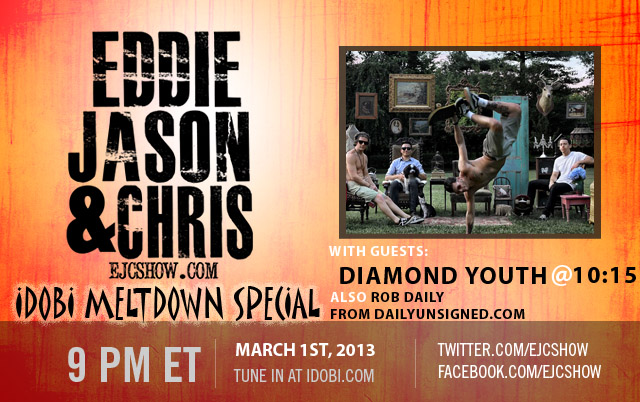 Stay tuned in after NSA with Josh Madden, because  Eddie Jason & Chris are LIVE tonight (3/01) with an all new show, featuring idobi Meltdown artists!
Get to know a couple of really cool bands before you see them play at idobi Radio's Meltdown Festival, outside of Washington, DC, one week from tomorrow! MTV Buzzworthy Band, Diamond Youth, will phone in LIVE at 10:15pm ET.
Also, Laura, from  Laura Stevenson And The Cans, said she would try to call in via a Twitter conversation. We'll see if we can get her to phone in live!
to anyone coming to see us at @idobiradio Meltdown Fest in Silver Spring, MD next week: go to bed early the night before, we play at 12:45pm

– Laura Stevenson (@LauraAndTheCans) February 28, 2013
Tune in tonight at 9p ET (6p PT), only on idobi Radio.
Buy your idobi Meltdown  tickets  before it's too late! We're expected to sell out!
Call in:  1-888-99-IDOBI  (1-888-994-3624)
Skype:  EJCshow
Listen:  web player  /  app
Podcast:  www.EJCshow.com
Diamond Youth, "Orange":