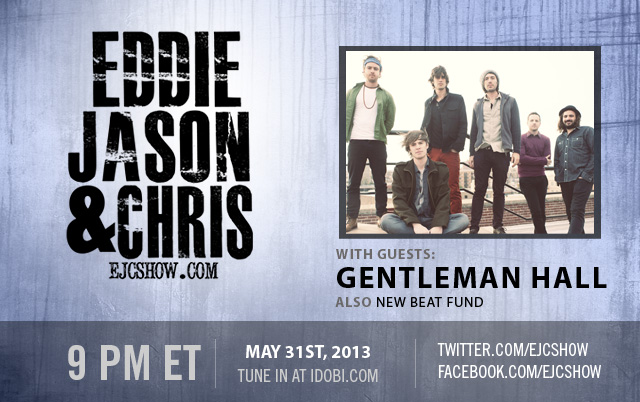 Tonight (5/24), Eddie Jason & Chris are live tonight on idobi Radio with a show that will not only make you laugh, it will make you sick to your stomach. Why did you just laugh at that? What's wrong with you?
Tonight, MTV Buzzworthy Band, or even better, EJC Noteworthy Radar Buzz Artist We Really Like in 2013: Gentleman Hall. If you have't heard of them, you'll love them. Your inner hipster will thank you for listening to EJC tonight – you'll discover them "first".
Also, we'll catch up with your old buddies from New Beat Fund, and LA band who are gearing up for their run on Warped Tour.
Tune in tonight at 9p ET (6p PT), only on idobi Radio!
Call in:  1-888-99-IDOBI  (1-888-994-3624)
Skype:  EJCshow
Listen:  web player  /  app
Podcast:  www.EJCshow.com
Gentleman Hall, "Sail Into The Sun"