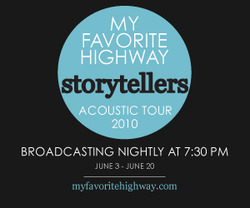 Three dates remain on My Favorite Highway's Storytellers Acoustic Tour.
Be sure to check them out if you're in Atlanta, Orlando or Ft. Lauderdale.
We've posted two songs from the tour in the media section: A new song called Pleasure of Your Company and a cover of Lady Gaga's Paparazzi.
Jun 17 – Atlanta, GA
Jun 18 – Orlando, FL
Jun 19 – Ft. Lauderdale, FL