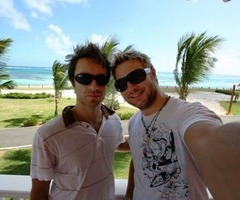 Season 8 of Man of the Hour draws to a close tonight on idobi Radio, as Seb prepares to hit the road once again. Tune in tonight at 8pm EST for some great music and a story or two to hold you over until the show returns for Season 9.
Until then, Man of the Hour reruns will air every Wednesday nights at 8pm EST on idobi Radio. You can also check out their podcast on iTunes.
About Sébastien Lefebvre
Sébastien is a guitarist for the Canadian band, Simple Plan. The band's new album, Get Your Heart On!, drops June 21.
About Patrick Langlois
Patrick was Simple Plan's videographer, and currently works for  Musiqueplus interviewing your favorite bands. He does not have an album to plug.