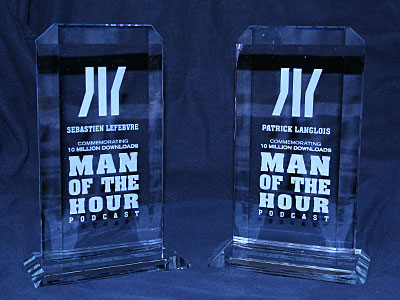 Season 7 of idobi Radio's award winning show, Man Of The Hour, returns to internet radio December 1, 2010.
Tune in every Wednesday night at 8pm EST as  Sébastien Lefebvre and Patrick Langlois inject some Canadian love into your eardrum.
You can also catch an encore presentation every Sunday at 3pm EST. The podcast will also be available on iTunes.
Why have they decided to come back? Something about vodka, gambling and undisclosed liaisons for very little money. Don't ask. Patrick is very sensitive about the subject.
About Sébastien Lefebvre
Sébastien is a guitarist for the Canadian band, Simple Plan. He also has a solo act, and currently has a holiday album out with Katie Rox called Christmas Etc.
About Patrick Langlois
Patrick was Simple Plan's videographer, and is currently a journalist for  Musiqueplus interviewing your favorite bands. He does not have an album to plug.
Update: Sorry for the technical difficulties. Those of you that stuck around heard the show at 11pm. We will re-air the show at 7pm EST on Thursday, and you can catch their usual encore on Sunday at 3pm EST. To make it up to you, I'll ask Sébastien to do a nude photo layout, just for all you fans.
Tags:
Katie Rox
,
Patrick Langlois
,
Sébastien Lefebvre