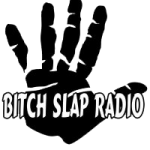 Hey Bitch Slap Radio fans! Tonight is the last show of our Winter/Spring session.
So were going out with a bang! Drew WHo-Lee-O Zac and JAmes will take to the mics to rock your world tonight
We stroll down memory lane of all the stupid shit we did this session, we look back at mom fights, cougar cruise, the new Bitch Slap Record featuring Who-Lee-O the hippy!
Also on tonight's show we talk about 4/20 i mean it was yesterday so we gotta cover it.
Then on worlds greatest Thursday who would be the one person in the musical world other than Snoop dawg you would wanna smoke with!
Get ready we go live tonight at 10:30 pm est time on idobi radio and Bitchslapradio.com
Fallow the show on twitter @bitchslapradio download  the idobi radio app to fallow us on their, and oh yea make sure you friend us on facebook Bitch Slap Radio. We got some big changes in store for summer so great ready!