Las Vegas rock band Panic! At The Disco arrived at Gallivan Plaza in downtown Salt Lake to headline the X96 FM Big Ass Show without their lead vocalist, Brendon Urie.  Urie, who with the rest of Panic! At The Disco had recently returned from a tour in Indonesia, had a fever of 105 degrees, and doctors at the Los Angeles hospital where he was being treated warned the singer against travelling, fearing malaria.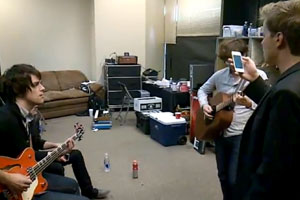 In a moment of desperation the band considered their options: cancel a sold-out festival-headlining gig, or figure out a way to play without their charismatic front man.  Luckily, Panic! At The Disco bassist Dallon Weekes caught Salt Lake City rock band King Niko's Big Ass Show set, and found in frontman Ransom Wydner the onstage persona he needed to fill in for Urie.
"It's every musician kid's dream," Wydner said, "you go to a show for this band that you love and their lead singer is sick, and they need YOU to fill in for him.  It's like a Disney movie or something, it's nuts."
Wydner's band, King Niko, performed for a standing-room-only audience earlier in the day, creating a near-riot at the end of their set.  "I was on cloud nine already with the way the show went, these kids going nuts over our CDs and trying to grab us and stuff, I really didn't think the day could get better, but the minute I stepped backstage Dallon (Weekes) came up to me, congratulated me on the show and asked me to sing with them."
King Niko has become one of the most popular bands in the state of Utah and is gaining a national audience with a recent west coast tour and the release of their latest single, "Intentions," which is in rotation on radio stations across the country.
"They're a great band and I'm really glad that Ransom stepped up to help with this," Weekes said of King Niko on X96's popular morning program "Radio From Hell."    Panic! At The Disco drummer Spencer Smith said of Wydner's performance that "(Ransom's) range and power are really great, he has a fantastic voice."
While other bands took the time before and after their sets to relax, socialize and enjoy the catering, Panic! At The Disco was hard at work backstage running through songs with Wydner and Neon Trees vocalist Tyler Glenn.  The work paid off, as the estimated 8,000 fans in attendance received the guest performances very well – notably during Wydner's performance, when fans began crowd-surfing and shouting along to lyrics.
"Who is this guy?  He sounds exactly like Brendon (Urie)," one fan was heard shouting.  In an incredible turn of events, a terrible situation became one of the most memorable concerts in the storied history of the X96 Big Ass Show thanks to Weekes' eye for talent and Wydner's versatility as a performer.
Tags:
King Niko
,
Panic! At The Disco