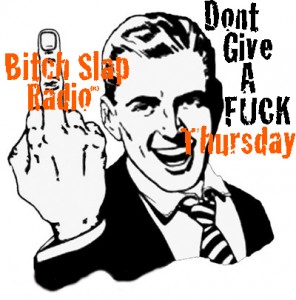 Bitch Slap Radio Fans! Tonight we just dont give a f*ck!
The show tonight will be live at 10:30… Ish on BitchSlapRadio.net and idobiRadio.com
Make sure to tune in tonight to hear Zac, James, Chelse, Drew, and maybe the return of Juliooo the Hippy
Tonight on the show
Some of the greatest F*ck You's you can do to places that have pissed you off! Were covering everything from taking a shit on someones car to leaving a bag a piss at blockbuster for "late fees"
Then on the show we go over what happens when your childhood toys get destroyed and raped by corporate america..
We also cover how stupid some people my be… Not just stupid but head flipping moments of… Uhhh did she really just say that?
All this and more on the show tonight MAke sure to tune in live! Call us at 888-99-idobi and Twitter at @bitchslapradio