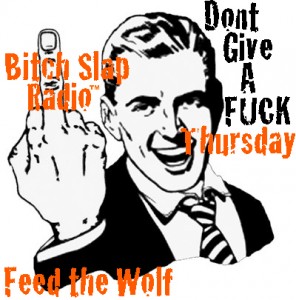 Whats up Bitch Slapers! Its that time of the week, were you just dont give a fuck. Fridays right around the corner, the weekend full of boozing and football is almost here, and all you want to do is tune in tonight live at 10:30 pm EST!
On the show tonight:
NJ returns to the show to fill in Johns shoes…
also the hunt for a new intern starts today.. No were not firing Kat but we need a new on air bitch.. The search starts now! For all of our fans of the show we are 21+ and live in the south florida area send us a msg on Facebook if you want a chance, all of your our fans will get to vote on which on air intern gets to stay!
Then on the show we talk about shitting in public places, eating brownies class, no reason boner in class.
AIM:  Bslapradio
Skype:  LoonaticTV
Twitter:  @BitchSlapRadio
Call In Line:  888-99-IDOBI  (43624)