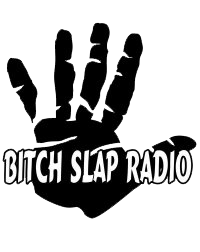 Whats up Bitch Slap Radio Fans! The day is finally here, its Dec 13th 2010, and today marks the return of Bitch Slap Radio after a nice long 4 weeks off we have returned to the airways with a show that will blow your mind!
Tonight the crew is back! On Bitch Slap Radio – Zac, James, Chelse, Fat-J all return to their roles of destroying the youth We will also have Special Guest: Jackie D in the studio, and Dirill calling in love form vegas!
Thursday Night: Dont Give a Fuck Thursday: The normal crew returns for the second season of our thursday night! John the Penguin will be making his return to the show, as well as Drew the fruit fucker (real fruits) returns!
On the show tonight we talk about some new segments on that we want to bring not only to the show, but to our website, and our facebook/twitter!
we talk about the new website segment that will allow you our fans to get more involved, its something we call Bud of the Week! We know a lot of the people smoke who catch our show monday, and thursday nights and we cant say we blame you. So We are setting up an email account where you can submit your buds for Bitch Slap Radio's Bud of the Week.  Winner of each week will get something cool.
also on the show we point to the cheaters in new york, look guys you cheat, and your team still didnt win J-E-T-S SUCK SUCK SUCK!
Then on the show we play a brand new game called Could that fit in there, we talk about some of the most strangest videos of girls sticking things in places that can only be shown on the internet!  If you got a video you wanna submit for that send it to [email protected] or post it in our facebook fan page.
Last, but surly not all we talk about people getting killed by falling ice? Yea apparently there is a death by icicle epidemic going on, so be aware!
All This in more on the BITCH SLAP RADIO! Live tonight at 10:30 pm Est/7:30 pm Pst. Tune in at Idobiradio.com or BitchSlapRadio.net!
AIM:  Bslapradio
Skype:  LoonaticTV
Twitter:  @BitchSlapRadio
Call In Line:  888-99-IDOBI  (43624)