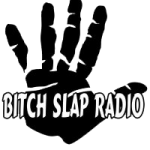 Tonight on Bitch Slap Radio its the Zac, and Drew show!
No we didnt fire everyone! There all just out of town…. Johns in Tennessee, Chelse is hanging with Steve-O, James is in Orlando pretending to be harry potter….. Yea we know..
So tonight on the show its Zac, and Drew from the DrewHEadz bring to you an hour and half of some crazy topics, conversations, and anything and everything that will get under your skin, and crawl around.
Make sure to tune in tonight at 10:30 pm Est on idobi radio!
Fallow us on Twitter @BitchSlapRadio @Drewheadz
and find us on Facebook: Bitch Slap Radio