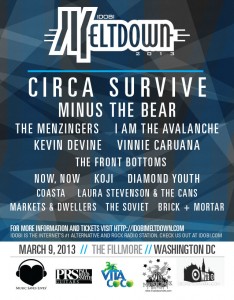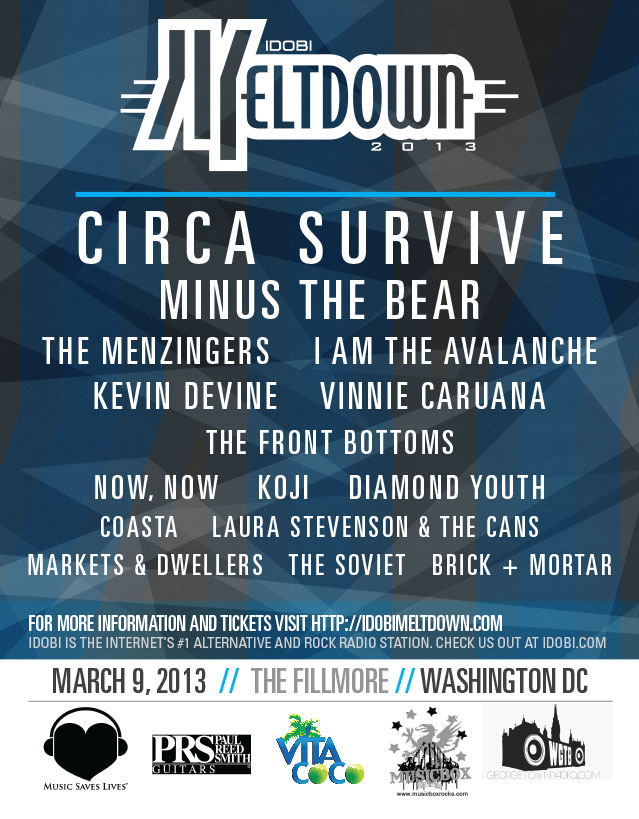 Are you coming to idobi Meltdown on March 9? Our very own Josh Madden will be DJing between sets. Tune in to First Person tonight and get a taste of what you'll be missing if you don't come.
For idobi Meltdown, we've got  Circa Survive, Minus the Bear, The Menzingers, I Am The Avalanche, Kevin Devine, Vinnie Caruana, The Front Bottoms, Now, Now, Koji, Diamond Youth, Coasta, Laura Stevenson & The Cans, Markets & Dwellers, The Soviet, and Brick + Mortar.
But that's next week. Tonight, check in with Josh for some awesome tunes, and tune in again Friday night. Josh's second show, NSA (no such name), finally has a name.
It all starts tonight at 8pm ET, only on idobi Radio.
Tags:
Brick + Mortar
,
Circa Survive
,
Coasta
,
Diamond Youth
,
I Am The Avalanche
,
Kevin Devine
,
Koji
,
Laura Stevenson & The Cans
,
Markets + Dwellers
,
Minus The Bear
,
now now
,
The Front Bottoms
,
The Menzingers
,
The Soviet
,
Vinnie Caruana