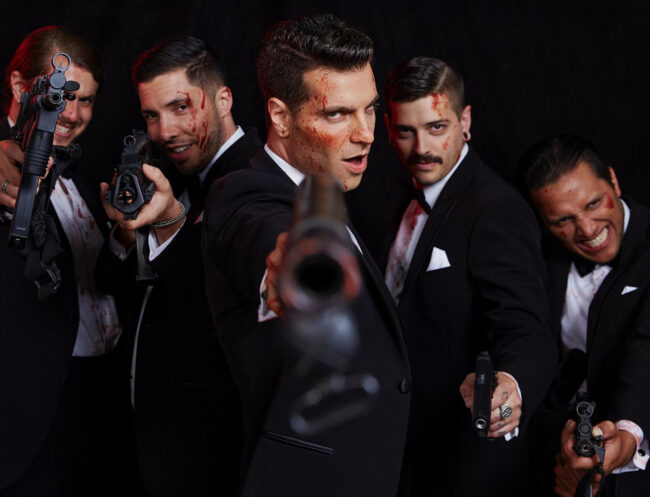 The meta-slasher franchise is back with its latest instalment: Scream 6. Horror is pretty synonymous with heavy music, whether it's the soundtrack or even the people behind the camera. This entry has a soundtrack dominated by pop music, so, it begs the question—What if the Scream 6 soundtrack was heavy? Here are a few songs that I think would make the cut:
Ice Nine Kills – "Welcome To Horrorwood"

The horror kings of metalcore are a must for this. The music video is their own mini horror movie, so it easily fits the bill. Ironically enough, vocalist Spencer Charnas can be seen in the video for Demi Lavoto's new single "Still Alive", which was made for the movie.
—
Lorna Shore – "Cursed To Die"

Cursed to die is a running theme in Scream. Even David Arquette's character Dewey met his demise in last year's entry to the franchise after being one of the originals. Once you're a target of Ghostface, you're always a target of Ghostface.
—
Dying Wish – "Cowards Feed, Cowards Bleed"

"Your demons don't lie, and neither do mine. I live inside your fucking head." Even if you survive a batch of killers, Ghostface will continue to live rent-free in your head. With the addition of Sam Carpenter (Melissa Barrera), aka Billy Loomis's (Skeet Ulrich) estranged daughter, Sam's demons stay with her always.
—
Graphic Nature – "Killing Floor"

The song title speaks for itself here. Especially with the newest movie being based in New York City, anywhere could be a safe bet for the next attack. Plus, Graphic Nature makes songs that I describe as murder music.
—
We're Wolves – "Titanium"

This fully embodies what the main antagonists of any Scream movie go through. Lyrics like "I won't lose this fight" and "These eyes have seen you for the last time" probably aren't about running away from a masked killer, but the same themes apply.
—
Spiritbox – "Rotoscope"

A song about your haunted past is a perfect fit for this horror franchise. Scream is always about your past, or family ties, coming back for its revenge. Will the main characters persevere this time?
—
Motionless In White- "Masterpiece"

The weight of your past mistakes is the main theme of this song. Sam (Barrera) originally ran away from her sister, Tara (Jenna Ortega), to protect her, but really just caused more pain. The 5th instalment resulted in Sam promising to never leave her side again, and I can't wait to see how the relationship continues to grow in 6.