As the sun set over the Hollywood hills something wicked was waking up and getting ready to rule the night. The idobi Studio had been draped in black & white, ready to entertain, the stage was set, carnival games and treats awaited: idobi's Carnival of the Damned had arrived.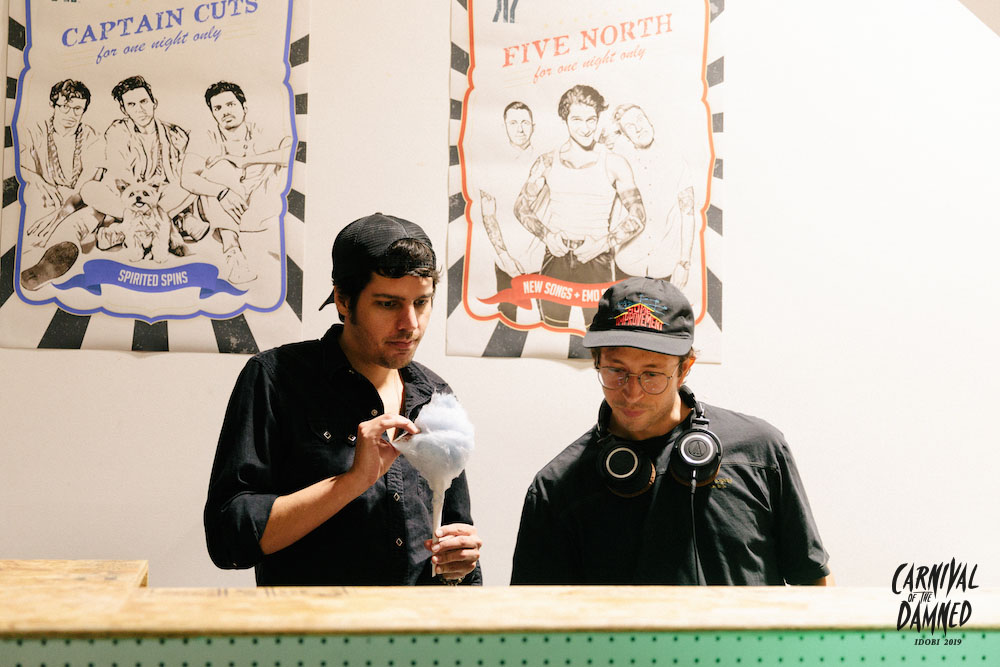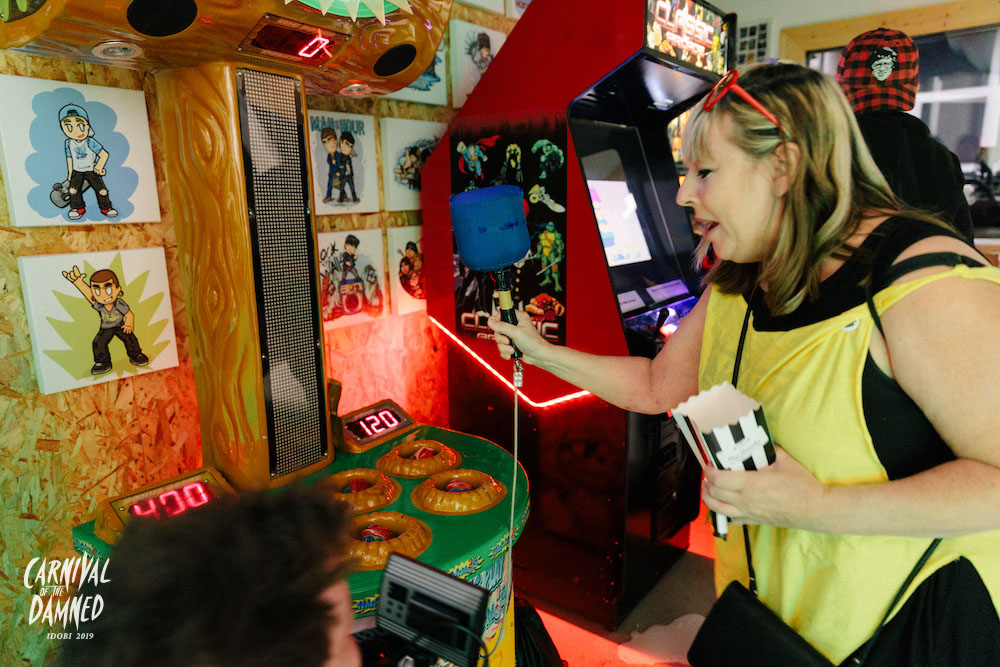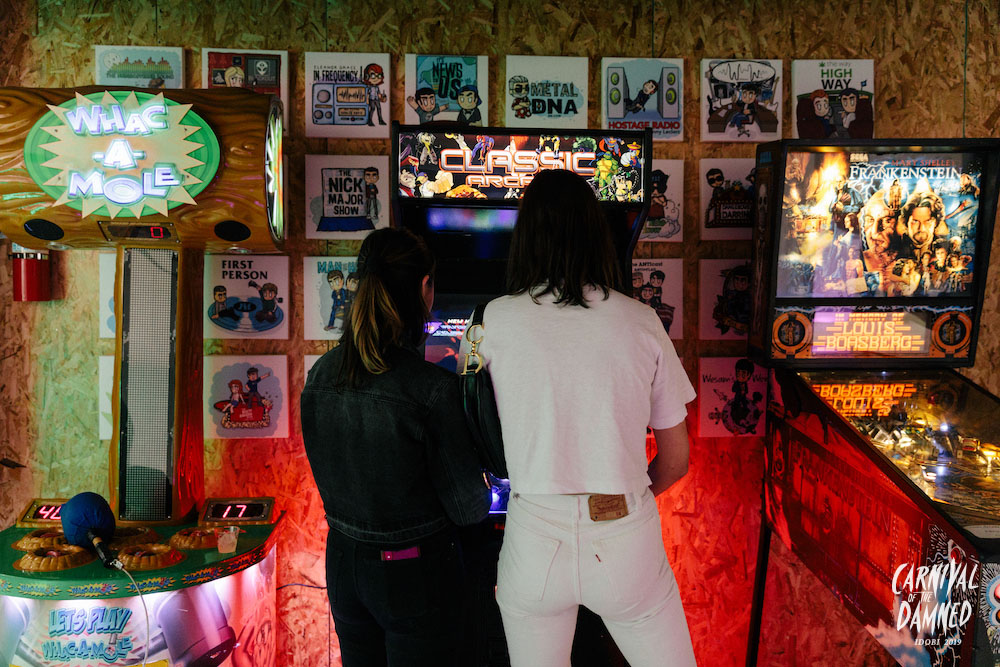 Captain Cuts kicked off idobi's first annual haunting with an epic mix that got people buzzed and dancing. The DJs barely stood still all night, keeping the energy high as they put together a seamless vibe. They spun tracks beneath a giant carnival tent complete with vintage-style posters, I'd designed to tease of the performances to come. Carnival games flashed and played to draw you in and neon lighting threw pink and green hues to make the night all the more spooky. And that was just in the first room.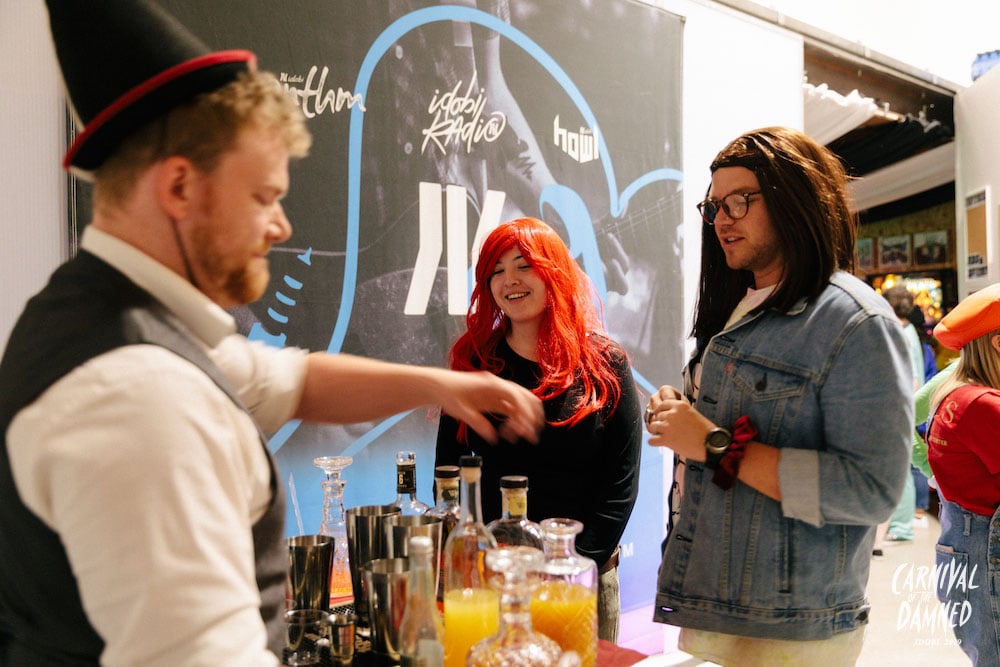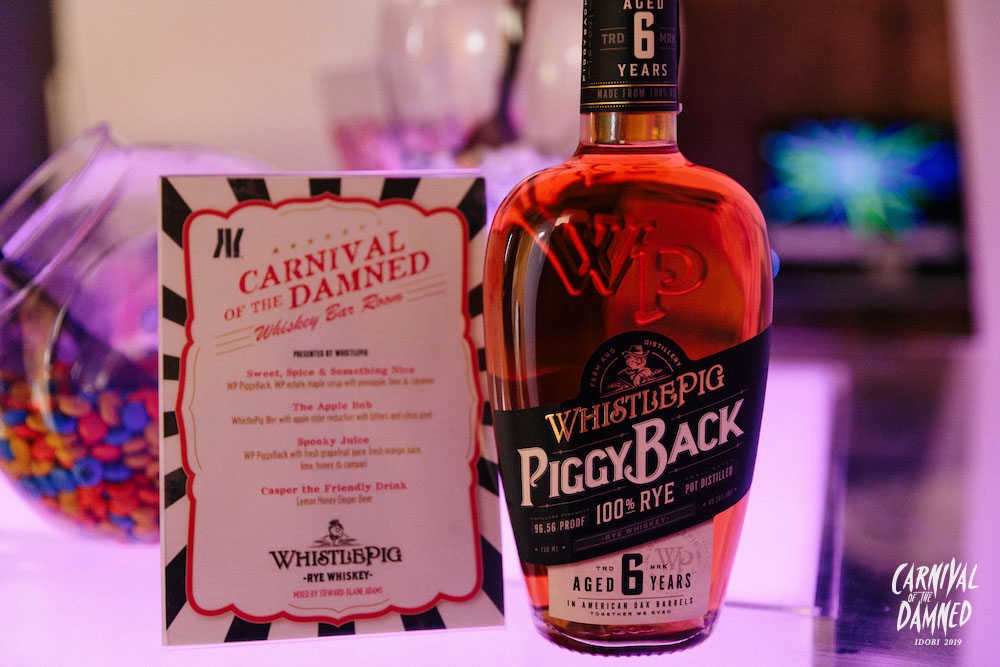 Walking through the space you'd soon find the bar run by Blaine Adams from WhistlePig, who kept the drinks flowing with his signature event cocktails. Mixed using WP Piggyback or WP 10 Year and fresh pressed juices, you could toast to the Damned with a choice of Sweet, Spice & Something Nice, The Apple Bob, or Spooky Juice (or for something a little lighter with the Casper the Friendly Drink mocktail).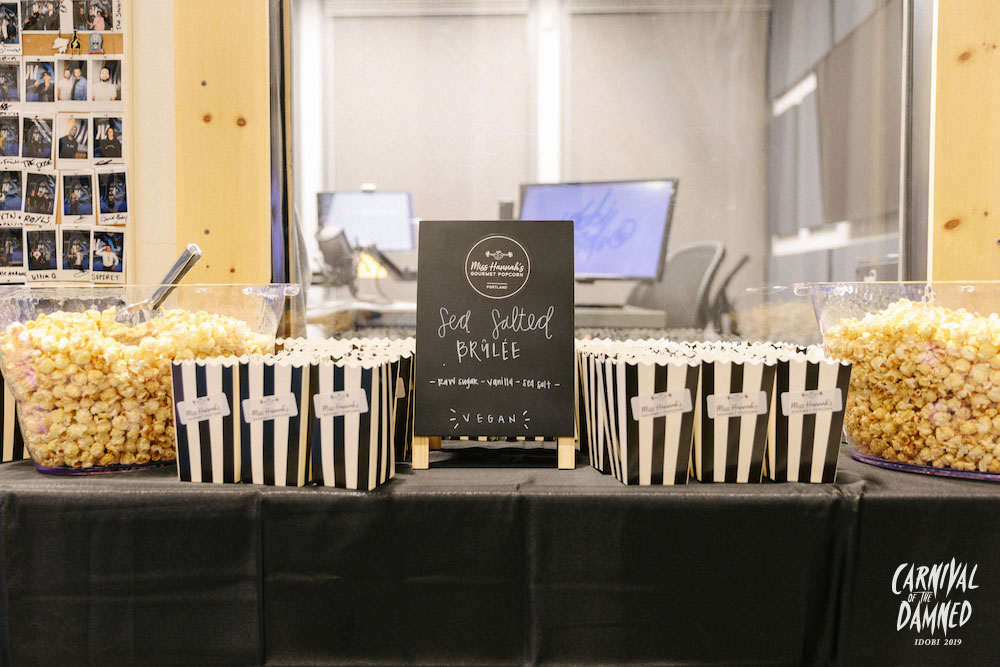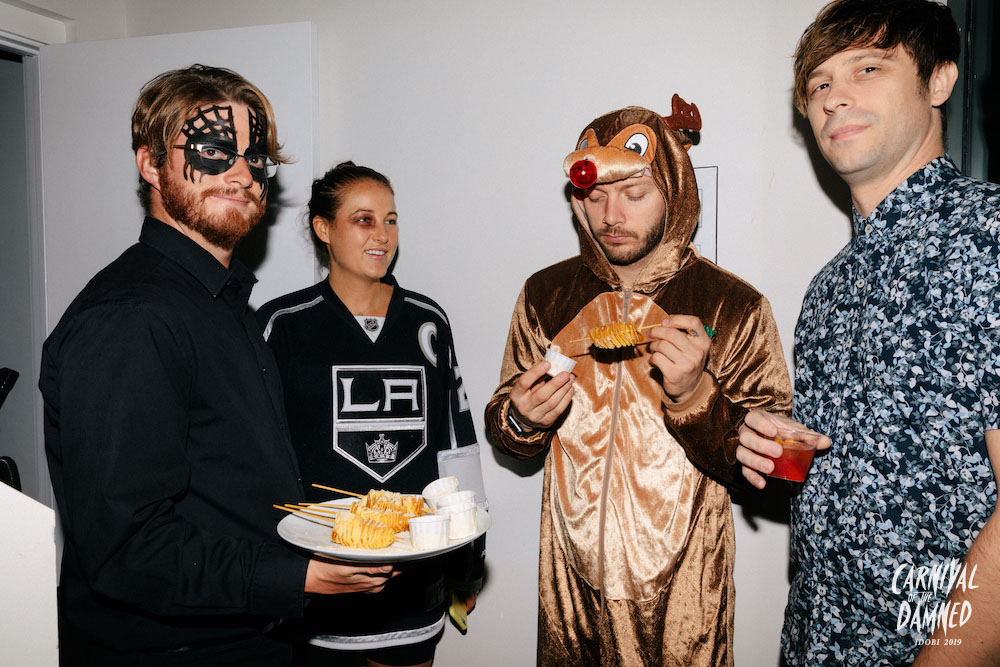 You could also find Miss Hannah's Popcorn stationed nearby—their Sea Salted Brûlée was scary addictive. As soon as you had one mouthful you couldn't stop filling up your popcorn box. Cotton Candy Girls' Katrina served up cotton candy, spider-web style in white with black glitter or in a ghoulish blue raspberry. Her dead carnie costume was as delightful as the sweet treats she was serving up. And weaving throughout the party were bite-sized carnival food, from funnel cakes to fried Oreos to Beyond sausage bites and mini corn dogs which were to die for—made by Carmelized Productions. Curating the food, drinks, and treats with idobi's Sherin Nicole and Audrey Lew was one of the highlights of putting this event together (we're all about the food, y'all!) and seeing everyone go crazy for it all made it
even better.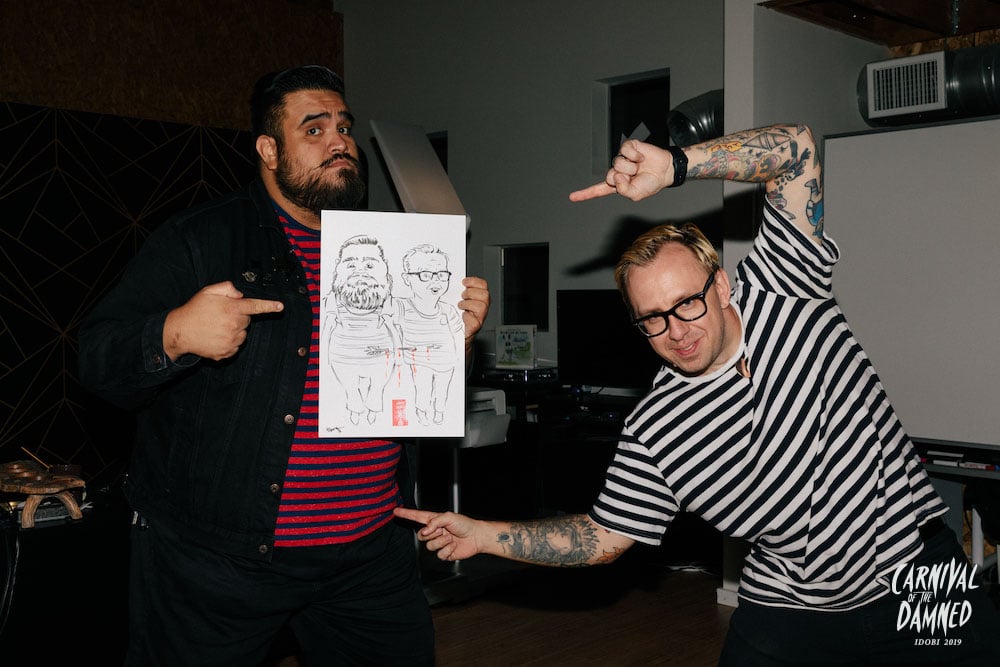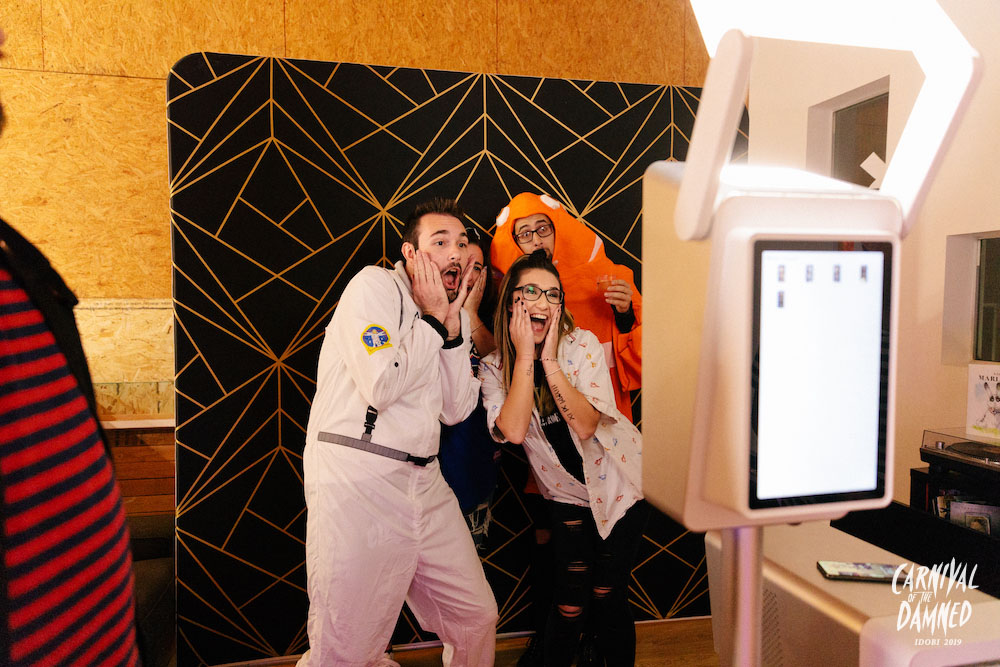 The good food & good times flowed all the way upstairs: Our Candyland level saw people scrabbling to dig out giant jawbreakers from candy jars and the sour gummy worms we laid out disappeared long before the party finished (Tyler Posey, we're looking at you). Held within the Candyland room was Sue Bielenberg, our killer caricature artist. We didn't tell anyone that they wouldn't just be getting their likeness when they sat down with Sue—they'd be getting a prediction of how they'd die in the most gloriously bloody ways. How evil is that? But for those who preferred to have the night immortalized in a different way, Photobooth X were there to help you strike your deadliest pose. Chris and Kevin ran the joint, giving everyone the chance to take pics just hanging out or cause a scene with their snaps. Cody Carson & Shay stole the show with their costumes—their photos turned out creepy as hell and we're (un)living for it.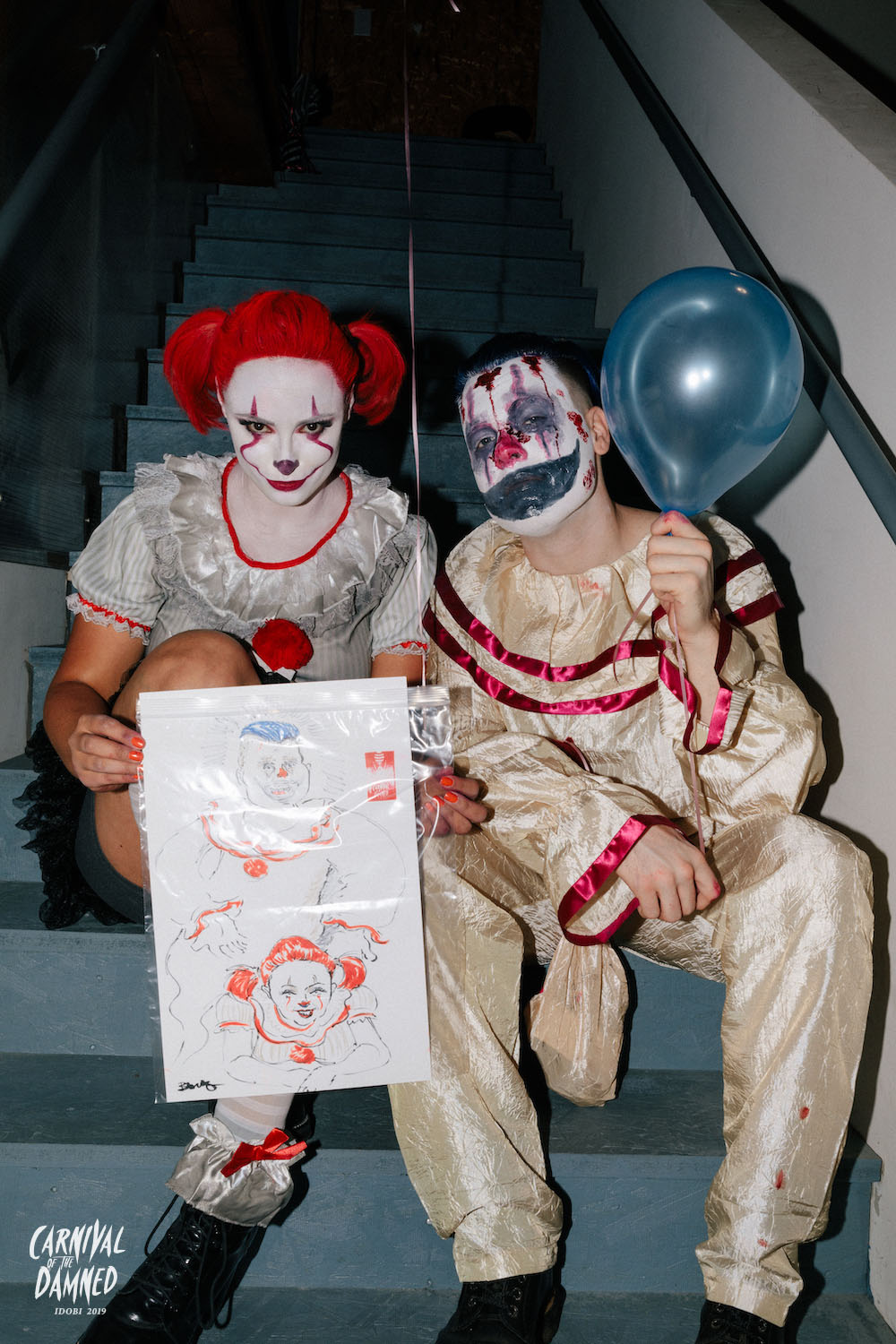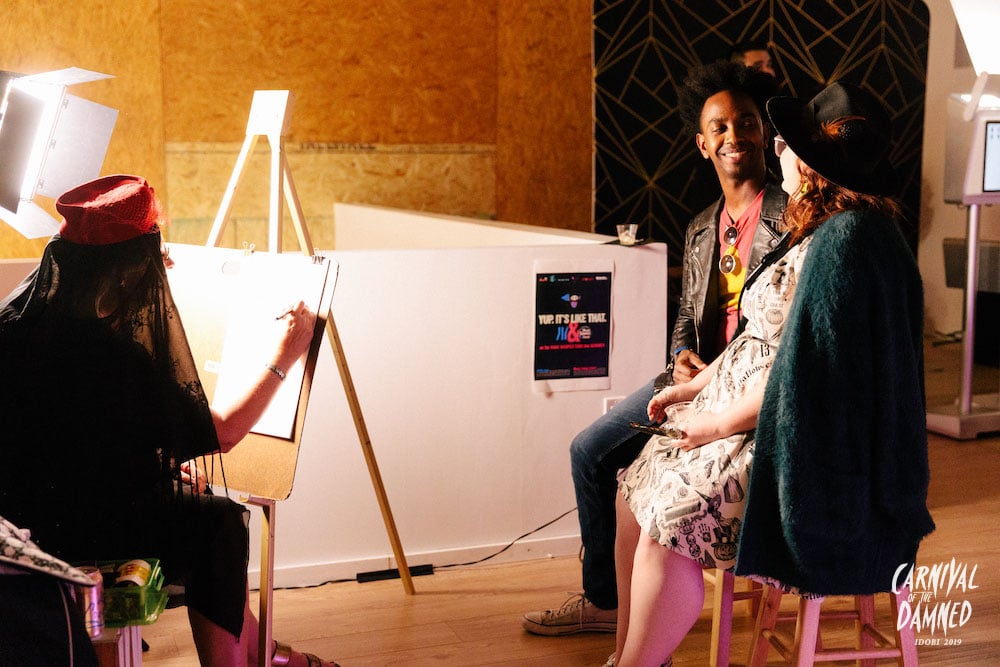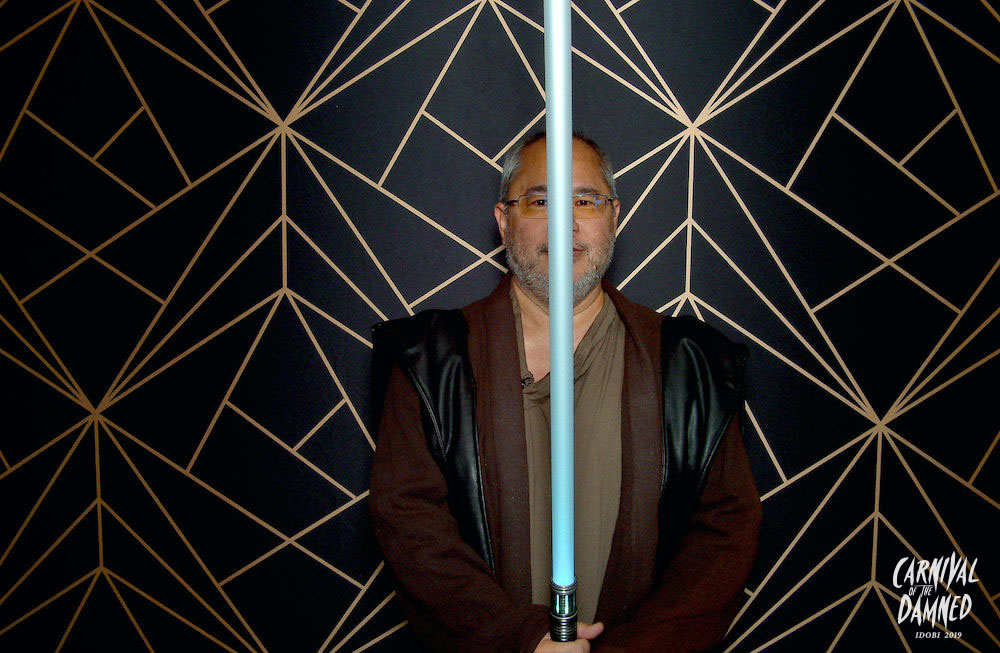 All the way at the top of the party, Cool Nerd Weed hosts Sasha and TS were ready to take you to the next level. In the High High Hopes for Unliving smoke lounge they had all the Old Pal tokes & treats you needed to keep the buzz going. There were so many different things to captivate your attention throughout the space that we each had to take a moment to believe we fit it all in.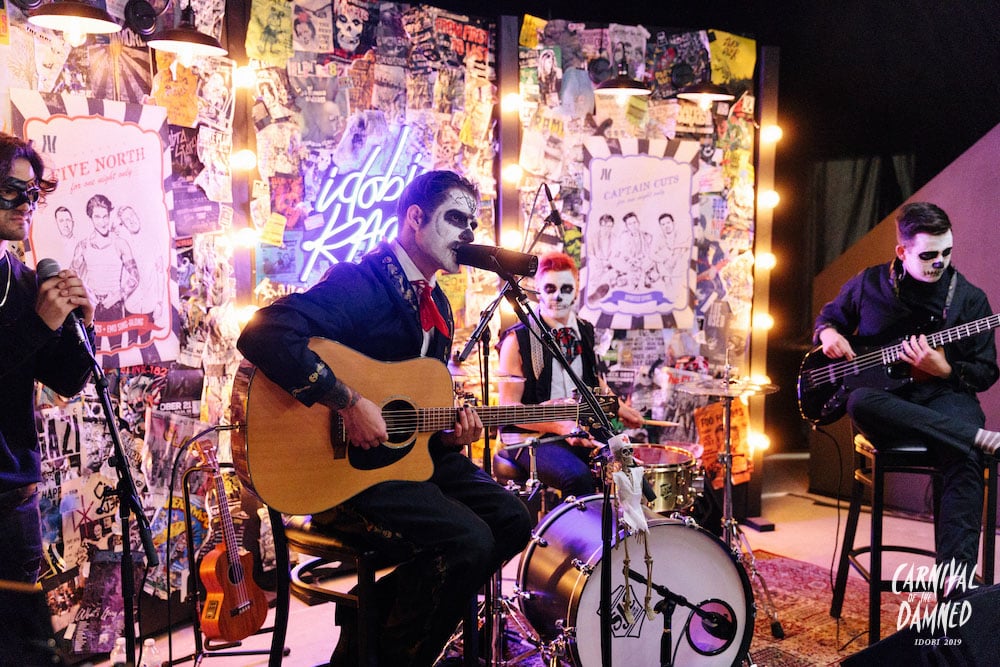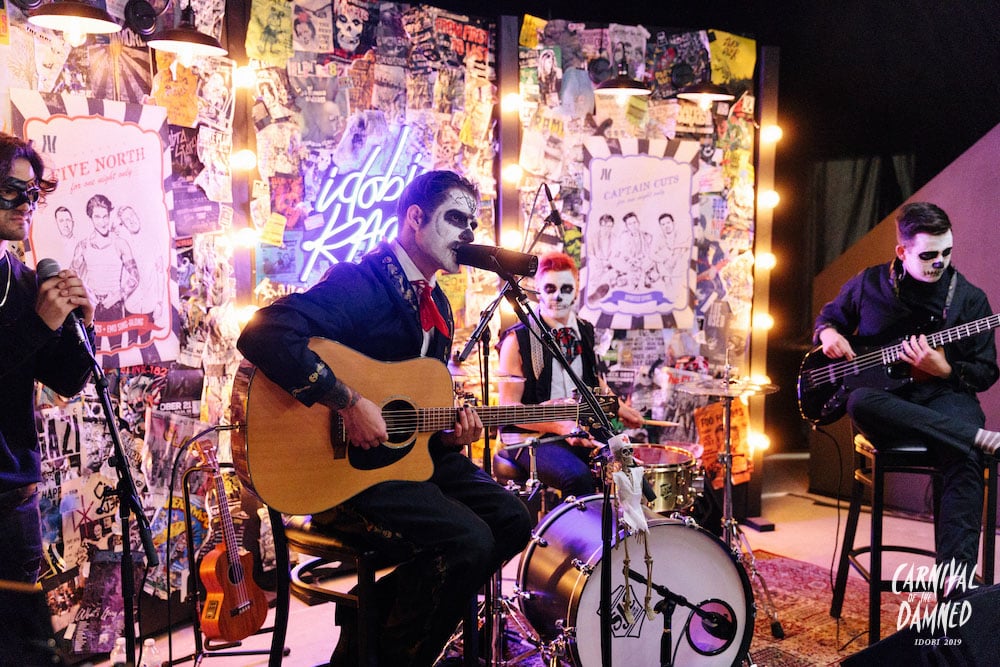 And then Five North took the stage to play an acoustic emo sing-along. Gone Fishkin host Fish really outdid himself bringing the performances and DJs in, securing the first ever live show from Five North. Yup. Not only were we treated to their own songs "This Mess" and "Same Old Story" but we also got to sing along to anthems like "Mr Brightside", "Dammit" (on ukulele!), even the Addams Family theme tune—not to mention requests from the crowd. The band dressed to kill, complete with skull makeup and Día de Muertos mariachi outfits—this band go all out, y'all. Everyone was having such a blast that Five North performed every song they knew until it was time for them to rejoin the party and take some pics of their own.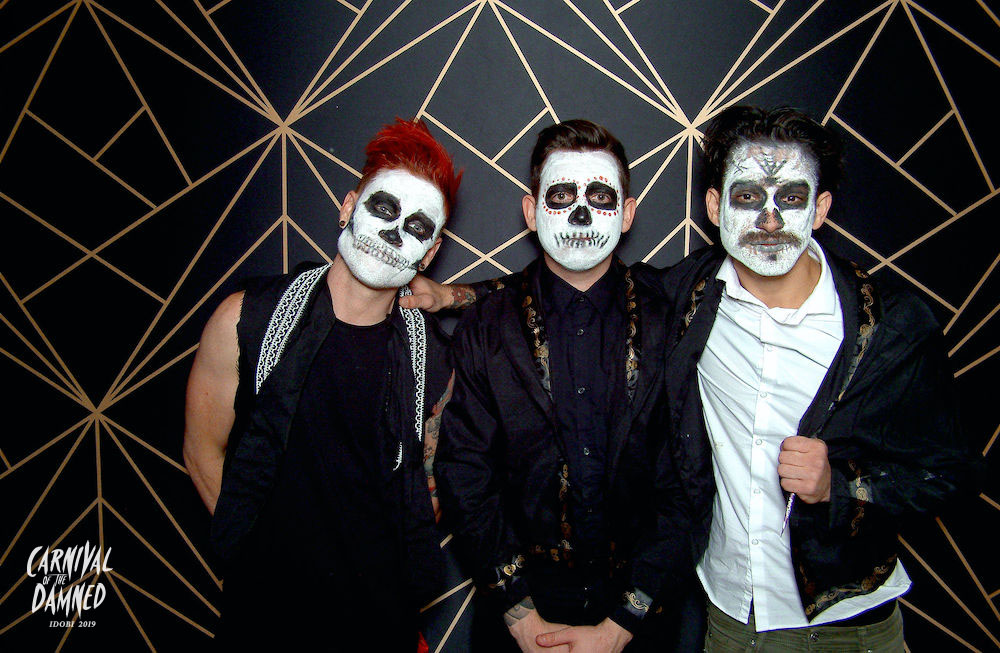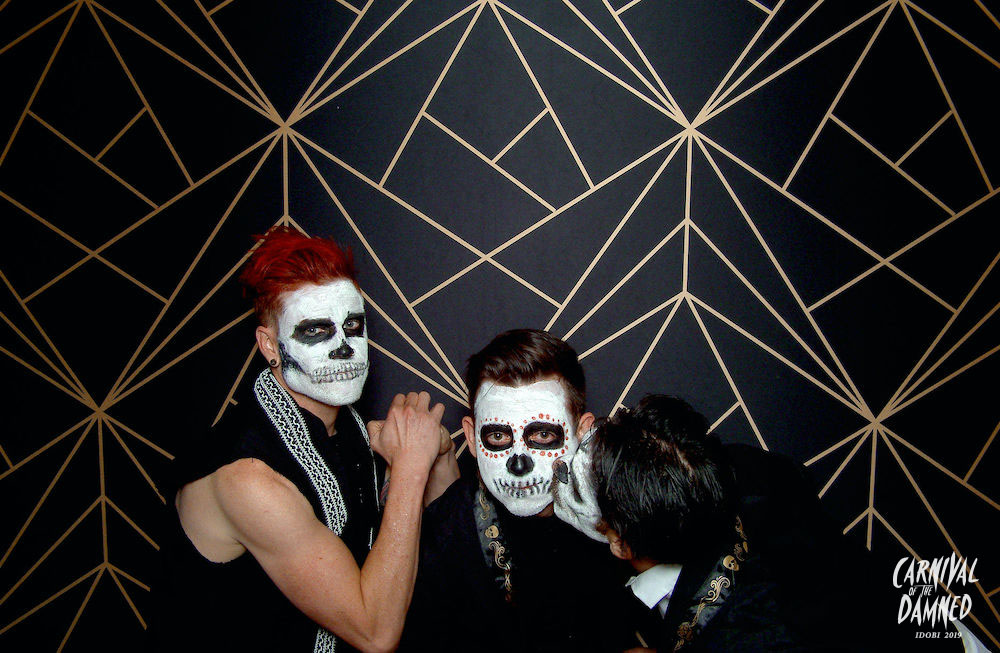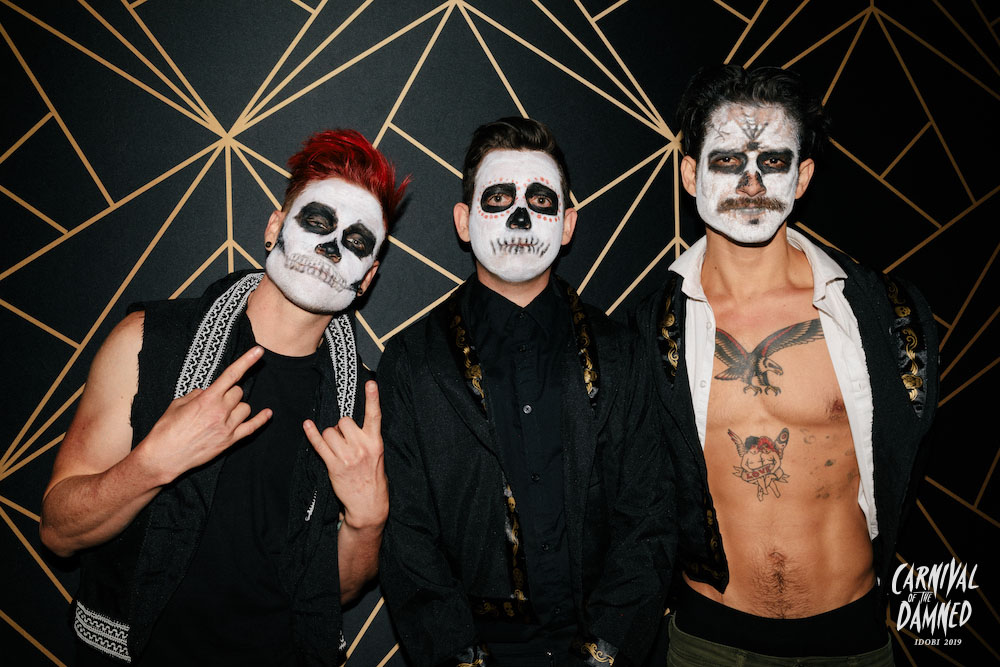 As the night began to wind down, the gift bags appeared to keep the party spirit going. Each one was stocked with a hefty bottle of WhistlePig 10 Year Rye Whiskey, some delicious Miss Hannah's popcorn, and the Crystal Lake Pomade and Fletcher Skin Balm from the wonderful Shear Revival. And to top it all off, the gift bags came with our signature idobi Carnival of the Damned 2019 glass, made from up-cycled wine bottles with a deathly imprint. Sherin and Audrey (along with yours truly) upped the game with this year's selection—and in putting the entire Carnival together with an assist from Fish—and we have not stopped getting love for it since.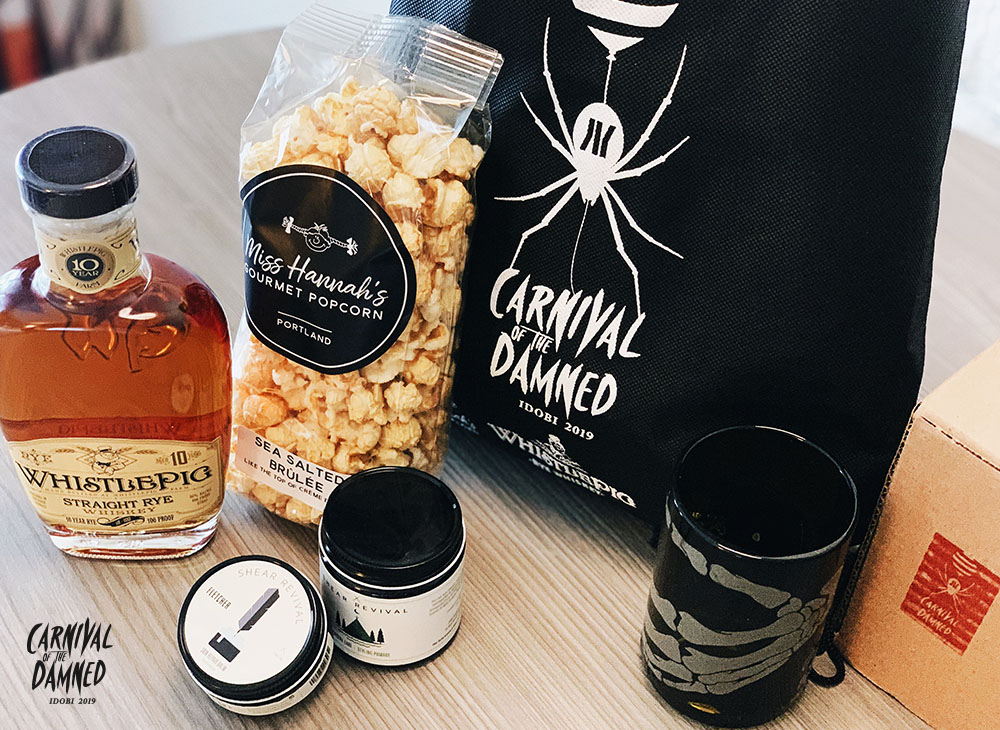 Catch Nick Major's incredible video recap above, scroll through Courtney Coles' amazing photos, then start summoning all your demons to ask why the hell you weren't at idobi's Carnival of the Damned.
Cheers to the broken, the beaten, and the Damned! See you next time, witches…