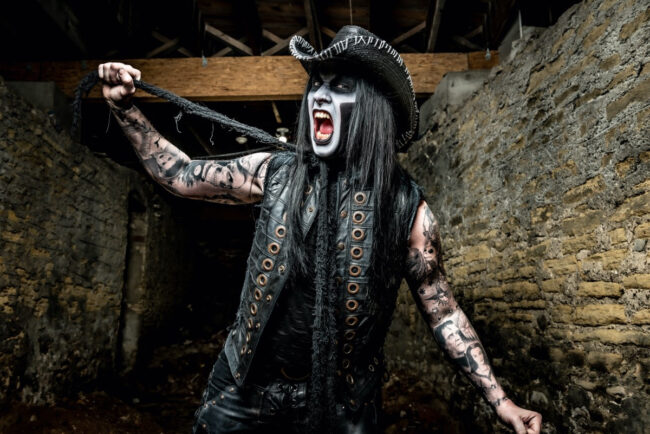 Today the duke of spook, Wednesday13, has announced a fall 2023 US headline tour to celebrate 21 years of his former band, revered glam punk icons, Murderdolls. Wednesday13 and his current band – which features former Murderdolls alumni Roman Surman and Jack Tankersley – will perform a full set of Murderdolls songs, taken from the band's celebrated 2002 debut album, Beyond The Valley Of The Murderdolls and their 2010 sophomore album, Women And Children Last. The former won them the Revolver Golden Gods 'Comeback Of The Year' Award. In the metallic glam punk outfit, 13 was the frontman and songwriter, alongside Murderdolls guitarist and his creative partner-in-crime, Joey Jordison.
Wednesday13 shares: "After 21 years since its release, and the recent sad and premature passing of Joey, it only feels right to go out and celebrate these songs. We made two amazing albums that I was very proud of, and unfortunately much of the world didn't get a chance to hear the songs live. In 2018, we all got together at Joey's house and discussed plans and possibilities for the future, but we both had other immediate plans. We will be performing tracks from both Murderdolls albums on this upcoming tour and celebrating the legacy of the band."
Guitarist Roman Surman adds: "We're really excited to do a tour that Joey would be genuinely happy to see us do."
Check out the list of dates below. Tickets go on sale this Friday, April 21 at 10:00 AM EDT and can be snagged here.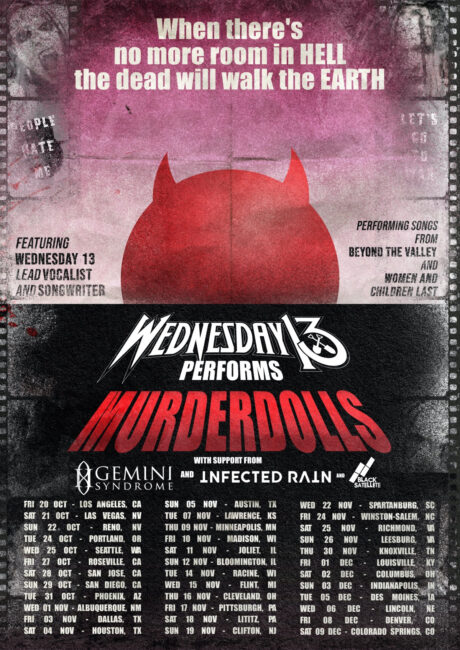 Oct. 20 – LOS ANGELES, CA – The Whisky
Oct. 21 – LAS VEGAS, NV – Count's Vamp'd
Oct. 22 – RENO, NV – Virginia Street Brewhouse
Oct. 24 – PORTLAND, OR – Bossanova Ballroom
Oct. 25 – SEATTLE, WA – El Corazon
Oct. 27 – ROSEVILLE, CA – Goldfield Trading Post
Oct. 28 – SAN JOSE, CA – The Ritz
Oct. 29 – SAN DIEGO, CA – Brick By Brick
Oct. 31 – PHOENIX, AZ – The Nile Theater
Nov. 1 – ALBUQUERQUE, NM – Launch Pad
Nov. 3 – DALLAS, TX – Sundown At Grenada
Nov. 4 – HOUSTON, TX – Warehouse Live
Nov. 5 – AUSTIN, TX – Come And Take It Live
Nov. 7 – LAWRENCE, KS – The Bottleneck
Nov. 9 – MINNEAPOLIS, MN – Skyway Theater
Nov. 10 – MADISON, WI – The Annex
Nov. 11 – JOLIET, IL – The Forge
Nov. 12 – BLOOMINGTON, IL – Castle Theater
Nov. 14 – RACINE, WI – Route 20
Nov. 15 – FLINT, MI – Machine Shop
Nov. 16 – CLEVELAND, OH – The Foundry
Nov. 17 – PITTSBURGH, PA – Crafthouse
Nov. 18 – LITITZ, PA – Mickey's Black Box
Nov. 19 – CLIFTON, NJ – Dingbatz
Nov. 22 – SPARTANBURG, SC – Ground Zero
Nov. 24 –  WINSTON-SALEM, NC – Millennium Center
Nov. 25 – RICHMOND, VA – Canal Club
Nov. 26 – LEESBURG, VA – Tally Ho
Nov. 30 – KNOXVILLE, TN – The Concourse
Dec. 1 – LOUISVILLE, KY – Headliners Music Hall
Dec. 2 – COLUMBUS, OH – The King Of Clubs
Dec. 3 – INDIANAPOLIS, IN – Hi Fi Annex
Dec. 5 – DES MOINES, IA – Lefty's Live Music
Dec. 6 – LINCOLN, NE – Bourbon Theater
Dec. 8 – DENVER, CO – Oriental Theater
Dec. 9 – COLORADO SPRINGS, CO – Black Sheep