This week: Michael McIntyre: Showman, Challenger: The Final Flight, Sing On!, The American Barbecue Showdown, Jurassic World: Camp Cretaceous, Ratched, PEN15, Lovecraft Country
Michael Mcintyre: Showman
Tues Sept 15
On Netflix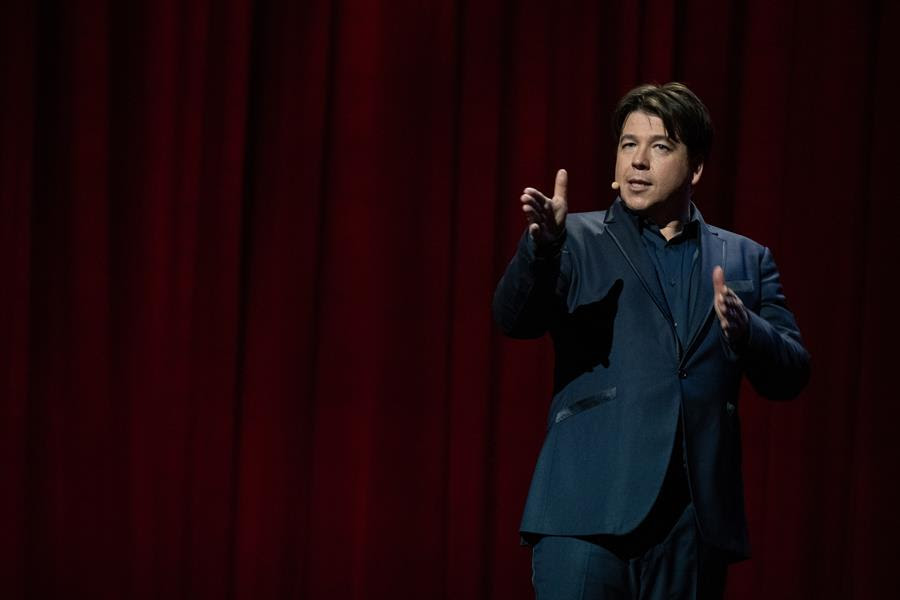 Michael McIntyre isn't afraid to admit he's getting older. It has its perks…and its hilarious stories. The British comedy legend brings his trademark long and winding tales that'll keep you cackling. Whether it's a slice of home life or an account from the road, McIntyre manages to make each story ring with relatable truths. No matter if you're a longtime fan or you're just looking for some super-British laughs, Showman is McIntyre doing what he does best (not just "he didn't disappoint").
Watch Michael McIntyre: Showman on Netflix tomorrow.
From Netflix:
Multi-award winning comedian Michael McIntyre makes his Netflix Original stand-up comedy special debut with Michael McIntyre: Showman. Fresh off his 'Big World Tour,' playing to over 800,000 fans in sold out arenas across the globe, the comedic superstar recalls international encounters like avoiding shark attacks in Australia, New Zealanders' strange relationship with vowels, the difference between performing for a US audience vs. a British audience, as well as his trademark tales of family life. The special was filmed at the iconic London Palladium.
—
Challenger: The Final Flight
Season 1
Wed Sept 16
On Netflix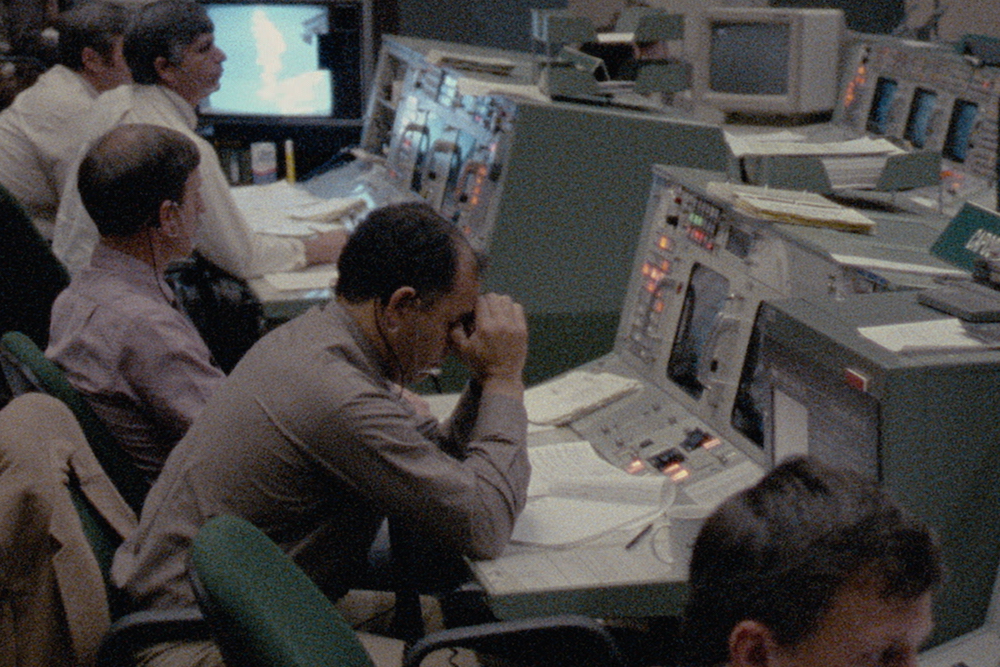 It was a terrible accident watched around the world. What was meant to be a joyous moment in history on January 28, 1986 ended in disaster when the Space Shuttle Challenger broke apart 73 seconds into its flight, killing all seven crew members aboard. Three decades on, Netflix is taking us into the fateful days leading up to the mission. The documentary interviews the crew's and high school teacher Christa McAuliffe's surviving family members, as well as former NASA officials, and engineers who warned the government the shuttle would explode. Challenger: The Final Flight adds layers to the event by painting a poignant picture of the astronauts and the groundbreaking civilian involved, which will make you feel deeply sad and angry at the mission that should never have gone ahead.
Stream Challenger: The Final Flight on Netflix on Wednesday.
From Netflix:
Executive produced by J.J. Abrams and Glen Zipper, CHALLENGER: THE FINAL FLIGHT is a four-part docuseries that examines the 1986 Challenger space shuttle, which tragically broke apart 73 seconds after launch as millions of Americans—many of them schoolchildren— watched live on television. The series offers an in-depth look at one of the most diverse crews NASA assembled, including high school teacher Christa McAuliffe, who was selected to be the first private citizen in space.
—
Sing On!
Season 1
Wed Sept 16
On Netflix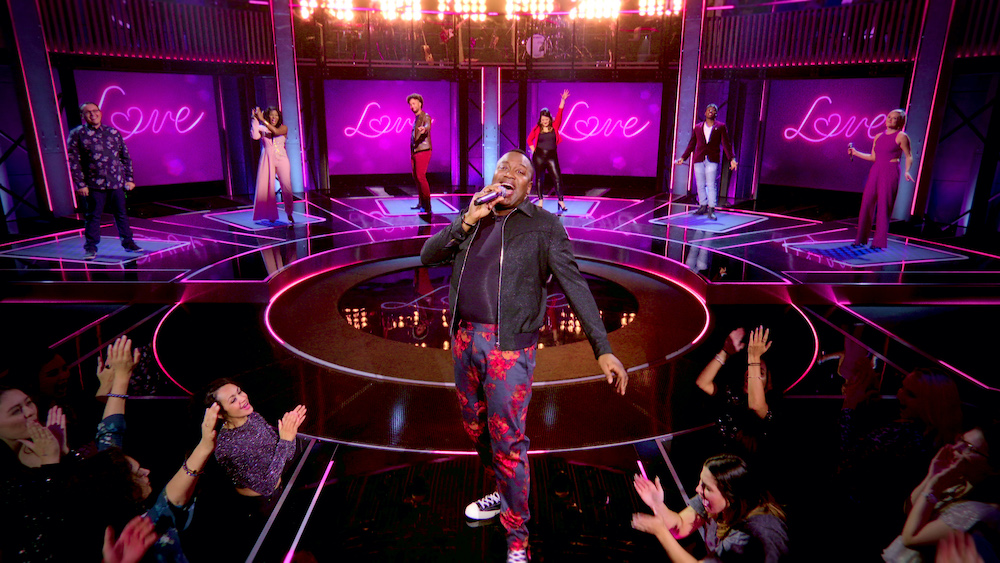 Tituss Burgess hosting a karaoke show? Foop, sign us up! In Sing On!, a group of contestants have to perform random parts of a pop song—they don't know what lines they'll be given until the performance—and they're ranked on how well they match the original tune. It's like playing the Rock Band video game live, for money, and then ousting your opponents. The catch is, you could be an amazing singer but matching someone else's pitch and style is a talent all in itself…which makes for some rather jarring notes. It's cheesy and a little bit awkward but with Tituss bringing his usual sparkle, Sing On! is a whole lotta fun.
Sing On! hits Netflix on Wednesday.
From Netflix:
Hosted by the hilarious and talented Tituss Burgess, this eight-episode series is a karaoke-lover's dream. In each themed episode, six contestants belt out the biggest hits from that genre while being judged by a vocal analyzer comparing their vocal performance to the original artist's. The more they sing in tune, the more cash they add to a collective jackpot worth up to $60,000. The first round is worth $10,000 and lyrics are randomly assigned so contestants must be ready for anything – the highest scoring contestant moves on, while the remaining singers vote one fellow contestant out. For five more rounds, the stakes get higher and the jackpot gets bigger, and the final two contestants face off in a head-to-head battle to win the grand prize. Perfect for an at-home sing-a-long, viewers of all ages will find themselves off the couch, belting their favorite tunes and having a sing-off of their own.
—
The Devil All the Time
Wed Sept 16
On Netflix
Stay tuned for our review!
Watch The Devil All the Time on Netflix on Wednesday.
From Netflix:
In Knockemstiff, Ohio and its neighboring backwoods, sinister characters — an unholy preacher (Robert Pattinson), twisted couple (Jason Clarke and Riley Keough), and crooked sheriff (Sebastian Stan) — converge around young Arvin Russell (Tom Holland) as he fights the evil forces that threaten him and his family. Spanning the time between World War II and the Vietnam war, director Antonio Campos' THE DEVIL ALL THE TIME renders a seductive and horrific landscape that pits the just against the corrupted.
—
The American Barbecue Showdown
Season 1
Fri Sept 18
On Netflix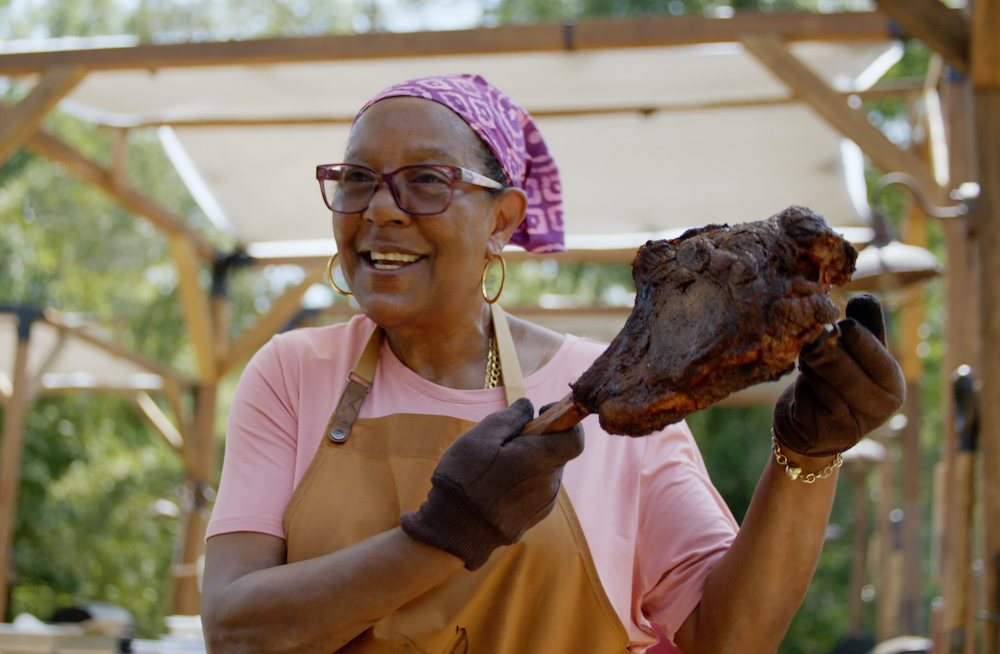 Show me the meat! Netflix is damn good at making you hungry. Their latest (and most delicious) cooking show is The American Barbecue Showdown, which challenges its contestants to make the smokiest juiciest meats. Each cook brings flavors from their respective states and families, while telling stories to go along with each plate. Oh, and challenges are thrown at them midway through each cooking round just to make things a lil more spicy. Start taking notes because all these creations and combo plates will make your mouth water and give you new recipes to try out (or order in).
The American Barbecue Showdown heats up Netflix on Friday.
From Netflix:
American Barbecue Showdown is an eight episode food competition series that follows the country's best backyard smokers and competitive barbecuers as they compete for the title of American Barbecue Champion. The series is hosted by Rutledge Wood and Lyric Lewis, with judging duties falling on barbecue legends Kevin Bludso and Melissa Cookston. Each episode, Kevin and Melissa will task the cookers with a challenge that will test their barbecue skills in ways they couldn't possibly imagine. From unique meats to old school techniques, they will have to prove they have the skills to smoke another day.
—
Jurassic World: Camp Cretaceous
Season 1
Fri Sept 18
On Netflix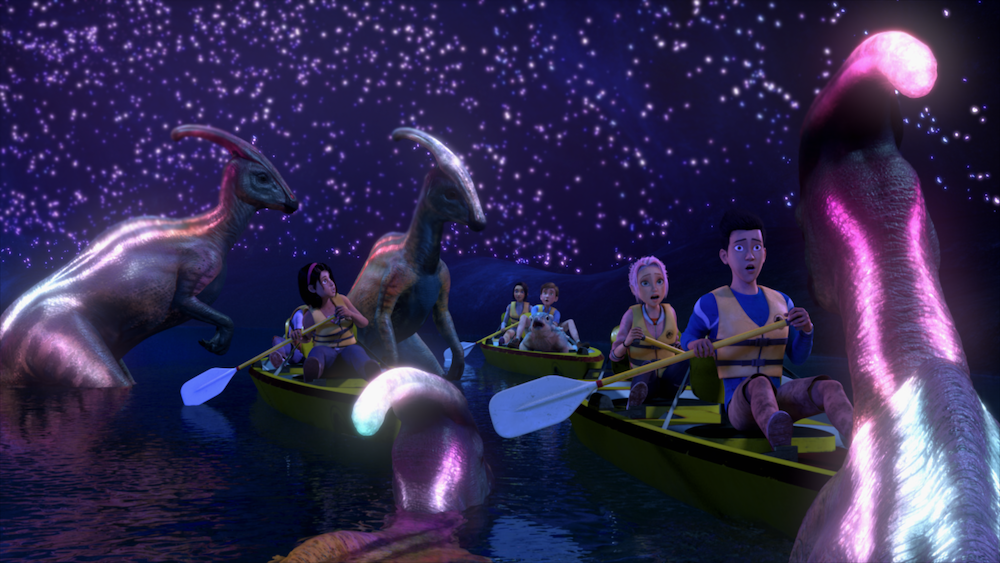 We know Jurassic Park is meant to be a franchise for kids…but it might be a bit scary for some of the younger ones—so Camp Cretaceous is the perfect compromise. The animated spinoff follows a group of teenagers who win a trip to an adventure camp on the opposite side of Isla Nublar (where Jurassic World was set). This series runs in tandem to Jurassic World so, when the Indominus Rex (still frightening in animated form) escapes, the kids are trapped on the island and no help is coming. Okay, so it still might be a little scary at times but, for the most part, Camp Cretaceous embraces the sense of fun and wonder that makes this franchise so special.
Get into Jurassic World: Camp Cretaceous on Netflix on Friday.
From Netflix:
Jurassic World: Camp Cretaceous follows a group of six teenagers chosen for a once-in-a-lifetime experience at a new adventure camp on the opposite side of Isla Nublar. But when dinosaurs wreak havoc across the island, the campers are stranded. Unable to reach the outside world, they'll need to go from strangers to friends to family if they're going to survive.
—
Ratched
Season 1
Fri Sept 18
On Netflix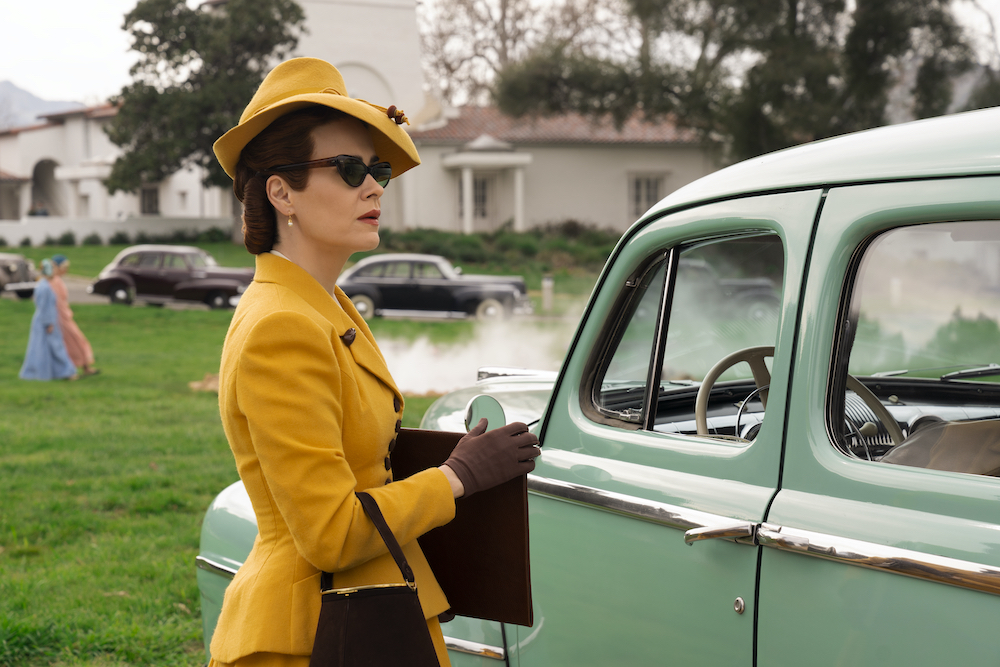 Ryan Murphy has proven many times over he knows how to make horror stories thrilling. With Ratched, he's adding another chilling feather to his cap. American Horror Story alum Sarah Paulson takes center stage here as the possibly psychotic psychiatric nurse Mildred Ratched, inspired by the character of the same name from both the book and movie versions of One Flew Over The Cuckoo's Nest. Set in the 1940s—long before mental health was truly understood or properly regulated—Nurse Ratched joins a leading psychiatric hospital under suspicious circumstances. The hospital conducts horrendous experiments on its inpatients in the name of science, which is terrible enough, but the Nurse also has some experiments of her own to try.
What starts off as unsettling quickly devolves into bloody violence and sinister plots, tied together with suspense-fueled moments of silence. It'll be too much horror for some but you won't be able to tear your eyes away from the screen. Paulson has such poise and presence you cannot help but get pulled into the nightmare of Ratched's design, wondering just how far the Nurse will go on her merciless mission of revenge and cruelty.
Ratched comes to Netflix on Friday.
From Netflix:
From Ryan Murphy and Ian Brennan, RATCHED is a suspenseful drama series that tells the origin story of asylum nurse Mildred Ratched. In 1947, Mildred arrives in Northern California to seek employment at a leading psychiatric hospital where new and unsettling experiments have begun on the human mind. On a clandestine mission, Mildred presents herself as the perfect image of what a dedicated nurse should be, but the wheels are always turning and as she begins to infiltrate the mental health care system and those within it, Mildred's stylish exterior belies a growing darkness that has long been smoldering within, revealing that true monsters are made, not born.
—
PEN15
Season 2
Fri Sept 18
On Hulu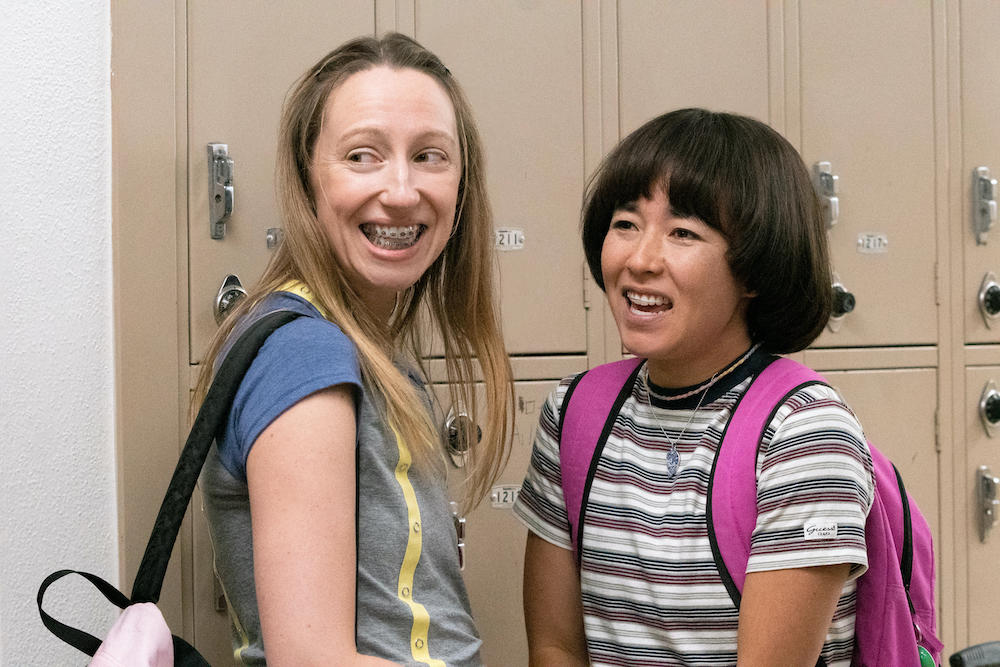 The current state of the world seems like the perfect time to backslide to your childhood with S2 of PEN15. BFFs Maya Erskine and Anna Konkle are back and they're soooo grown up. Like, totally matured after S1. Which gives them a new plan: To get new boyfriends. Okay, maybe this isn't a new plan but they're more ready than ever (or so they think). PEN15 continues to induce every awkward cringe-inducing flashback you thought you'd forgotten. From pool parties to wrestling, spreading rumors to practising kissing, the girls' middle school antics are too true not to giggle at. It's more of the same as S1. So yes, you'll definitely get more second-hand embarrassment but that's because Erskine and Konkle are so convincing at being a little bit clueless, a little bit obsessed, and totally tween best friends.
PEN15 returns to Hulu on Friday.
From Hulu:
Pen15 is middle school as it really happened in the year 2000. Anna Konkle and Maya Erskine play versions of themselves as thirteen year old outcasts, surrounded by actual thirteen year olds.
—
Lovecraft Country
"Meet Me in Daegu" – Season 1, Episode 6
Sun Sept 20 – 9PM
On HBO
Lovecraft Country airs on HBO on Sunday.
From HBO:
In the throes of the Korean War, nursing student Ji-Ah crosses paths with a wounded Atticus, who has no recollection of their violent first encounter.