This week: Reservation Dogs, Motherland: Fort Salem, Phil Wang: Philly Philly Wang Wang, Untold, The Kissing Booth 3, What If…?, Bake Squad, Titans, Grown-ish, Star Trek: Lower Decks, Brooklyn Nine-Nine, Monster Hunter: Legends of the Guild, Modern Love, CODA, Brand New Cherry Flavor, Spin
Reservation Dogs
Season 1
Mon Aug 9
On FX on Hulu
Watch Reservation Dogs on FX on Hulu.
From FX:
From Sterlin Harjo and Taika Waititi, Reservation Dogs is a half-hour comedy that follows the exploits of four Indigenous teenagers in rural Oklahoma who steal, rob and save in order to get to the exotic, mysterious and faraway land of California. The show's first-of-its-kind Indigenous creative team invites audiences into a surprisingly familiar and funny world.
—
Motherland: Fort Salem
"Delusional" – Season 2, Episode 8
Tues Aug 10 – 10PM
On Freeform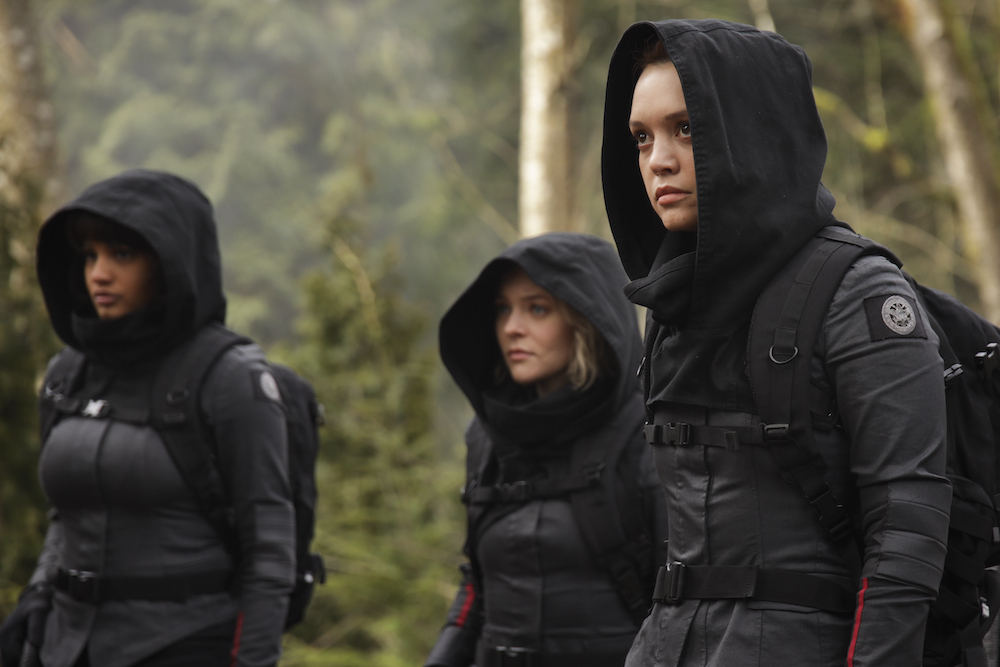 Photo: Freeform/Jeff Petry
Motherland: Fort Salem is about to pull at your heartstrings, only to snatch them right on out. Raelle (Taylor Hickson) is recovering from the trauma of being captured and grieving all over again. She may finally get some answers—or at least a chance to work out her feelings. Abigail (Ashley Nicole Williams) is like a momma bear taking care of her…and she's not about to let Scylla (Amalia Holm) weasel her way back in. But does she have a choice? When Tally (Jessica Sutton) gets a chance to test her strength and lead the Bellweather Unit on a new mission, she needs all the help she can get. They're all about to be tested in an episode that quickly spirals out of control into downright disturbing. As each member of the group has to face their demons, it will take every last ounce of power they have—alone and together. "Delusional" lights a fire that fuels our witches and shows them what they're truly capable of. And it does it by reminding us why we fell in love with the show in the first place: Through sisterhood and the magic they pull from within.
Motherland: Fort Salem airs on Freeform tomorrow.
From Freeform:
Tally leads the unit on a mind-bending mission to find Nicte Batan – but is the unit strong enough to withstand Nicte's defenses?
—
Phil Wang: Philly Philly Wang Wang
Tues Aug 10
On Netflix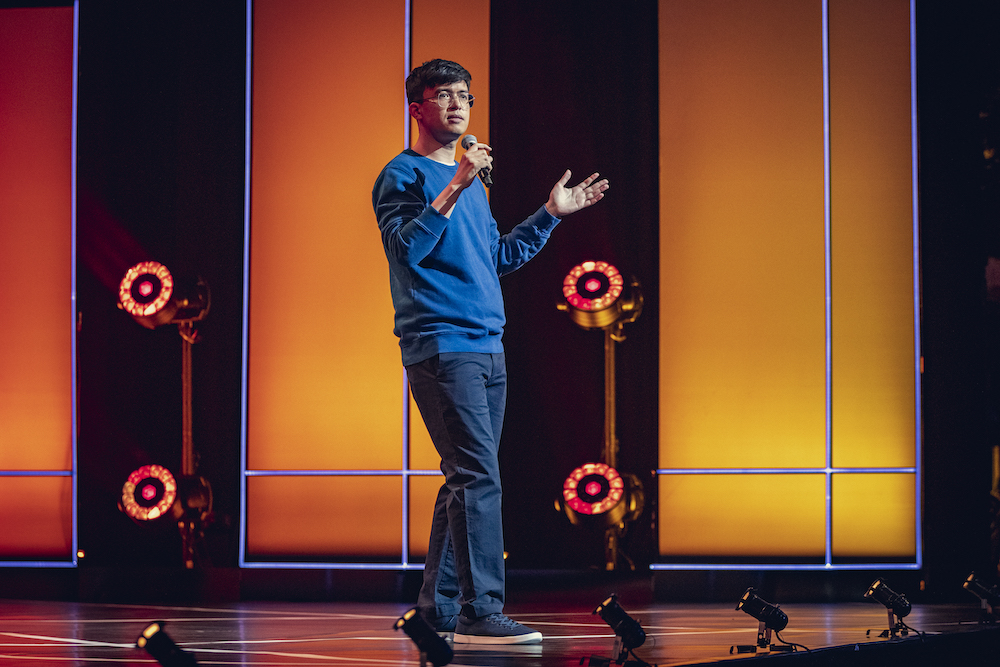 Photo Credit: Matt Frost
Phil Wang is going through changes. From getting older to changing his habits during lockdown, he's got lots to talk about for his return to the stage. He makes wry observations about relationships and society, making you chuckle with the truth. He also leans into any misconceptions and stereotypes of Asian British people and flips them with style. Any times Phil pokes at sensitive topics he does it with wit and smart humor that will keep you entertained. We've missed him and, indeed, a live, in-person, audience-filled, standup comedy special!
P.S. Calling the show Philly Philly Wang Wang is proof that you miss 100% of the shots you don't take.
Phil Wang: Philly Philly Wang Wang hits Netflix tomorrow.
From Netflix:
Multi-award winning comedian Phil Wang makes his first hour Netflix Stand-up comedy special debut with Phil Wang: Philly Philly Wang Wang. Following countless appearances on shows including Live at the Apollo, QI and Netflix's The Comedy Lineup, the comedic star takes centre stage at the sold-out London Palladium, exploring race, romance, politics, and his mixed British-Malaysian heritage.
—
Untold
Season 1
Tues Aug 10
On Netflix
Photo courtesy of Netflix © 2021
We all know the media loves to create a narrative about those in the public eye, often reducing stars down to caricatures. In the sports world, that narrative is usually focused around the way they play the game—whether they're an underdog, a reigning champion, a fallen star, or a comeback kid. Untold seeks to tell different narratives about some of sports' biggest names, going behind the headlines of the pivotal moments of their careers. From Olympian Caitlyn Jenner to boxer Christy Martin to tennis player Mardy Fish, each episode takes you into their lives and how they felt competing at the top level. Featuring in-depth interviews with the champions and those around them, the series offers fresh insight and allows them to speak for themselves. You get to hear how much drive really went into becoming the best and how much of a toll it took on them both physically and mentally. Untold is a fascinating watch as it unpacks each athlete to give you different layers of what you thought you knew about them and about sport in general.
Watch Untold on Netflix tomorrow.
From Netflix:
From the creators of WILD WILD COUNTRY, comes a five-part docuseries event that brings fresh eyes to tales from the wide world of sports. From tennis to boxing to basketball, these stories aren't the ones you've heard before, even if you think you have. Premiering weekly, each film kicks off at a pivotal moment — the big fight, the Olympics, the playoffs — and then delves deep into what happened beyond the headlines, as told by those who lived it, to reveal the grit, resilience, heartbreak, triumph, violence, comedy and pathos beneath the sweat. Whether it's the famous "Malice at the Palace" Pacers-Pistons brawl finally being unraveled by those who were on the inside, Olympian Caitlyn Jenner reflecting on her journey to winning gold, boxer Christy Martin in the fight of her life outside the ring, professional tennis player Mardy Fish opening up about his struggles with mental health, or a misfit band of hockey players known as the Trashers taking orders from the teenage son of an alleged mob boss, UNTOLD gets to the heart of the passion and single mindedness it takes to be a champion and the ways in which the triumphs can be undone off the field. Films are directed by Chapman Way and Maclain Way (Wild Wild Country), Floyd Russ (Zion), Laura Brownson (The Rachel Divide, Lemon) and Crystal Moselle (Betty, The Wolfpack).
—
The Kissing Booth 3
Wed Aug 11
On Netflix
Stream The Kissing Booth 3 on Netflix on Wednesday.
From Netflix:
It's the summer before Elle heads to college, and she's facing the hardest decision of her life: whether to move across the country with her dreamy boyfriend Noah or fulfill her lifelong promise to go to college with her BFF Lee. Whose heart will Elle break?
—
What If…?
Season 1
Wed Aug 11
On Disney+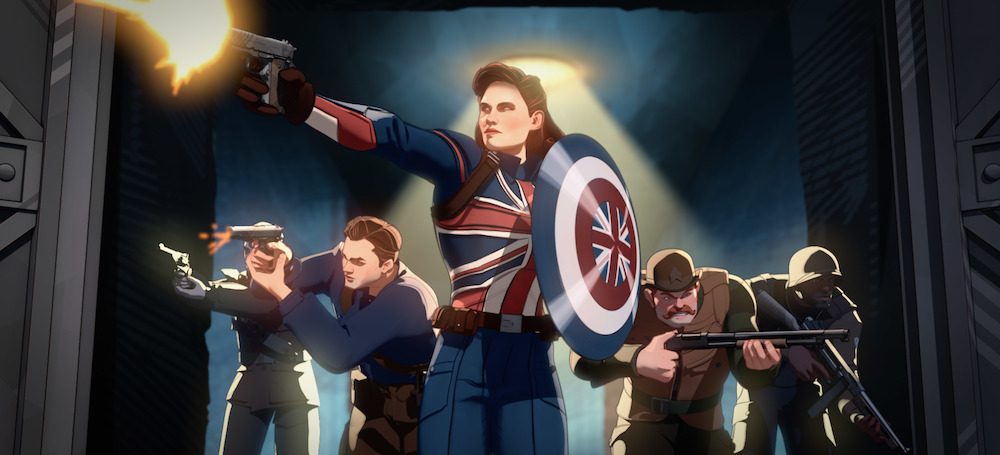 Photo © Marvel Studios 2021
I'll be honest, from the previews of the show, What If…? didn't look that interesting or impressive. At times the toon-shaded CG animation style can turn me off. Here, though, it works because it still has that Disney Animation level of quality—that doesn't always end up on their TV stuff. What really sticks out is the characters look like the actors. Coming out of the gate, the first episode is centered around the Captain America: The First Avenger film. With most of the actors also reprising their roles, it is very easy to fall into the story. The expressions and design of the faces feel familiar. Yet it's also different, since Marvel superheroes animated in the Disney feature style is something you'd only see on Tumblr fanart pages before now. (read Julian Lytle's review)
What If…? debuts on Disney+ on Wednesday.
From Disney:
"What If…?" flips the script on the MCU, reimagining famous events from the films in unexpected ways. Marvel Studios' first animated series focuses on different heroes from the MCU, featuring a voice cast that includes a host of stars who reprise their roles. The series is directed by Bryan Andrews; AC Bradley is head writer.
—
Bake Squad
Season 1
Wed Aug 11
On Netflix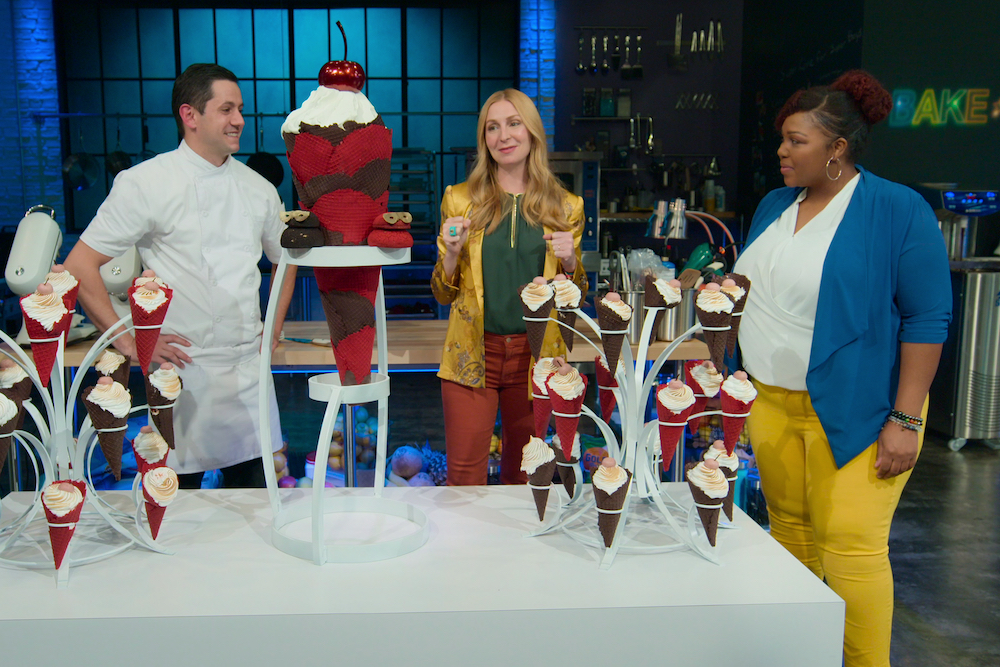 Photo courtesy of Netflix © 2021
If you're anything like us, you also dream of eating the perfect cake. Now Netflix is trying to make those dreams come true, baby! Bake Squad challenges four bakers at the top of their game to create some desserts to celebrate their client's special day. The competition is fierce but always fun and there's nothing but winners when cake is involved. Whether it's snack-related tier cakes or rainbow smash cakes, there's some eye candy on display of the confection kind and you'll be simultaneously amazed and drooling over the sweet treats being served up.
Watch Bake Squad on Wednesday, only on Netflix.
From Netflix:
In each episode of Bake Squad, four individually brilliant bakers will battle it out to see whose dessert will be chosen for someone's extra special big day. These bakers have been personally selected by Milk Bar founder Christina Tosi, who built an empire on delicious cookie dough. For her next sweet trick, Tosi has built this squad of bakers who have one mission and one mission only: Make dessert dreams come true!
—
Titans
Season 3
Thurs Aug 12
On HBO Max
Titans returns to HBO Max on Thursday.
From HBO:
TITANS follows young heroes from across the DC Universe as they come of age and find where they belong. In season three, circumstances draw our heroes to Gotham City, where they will reunite with old friends and face new threats.
—
Grown-ish
"Put Your Hands Where my Eyes Could See" – Season 4, Episode 6
Thurs Aug 12 – 8PM
On Freeform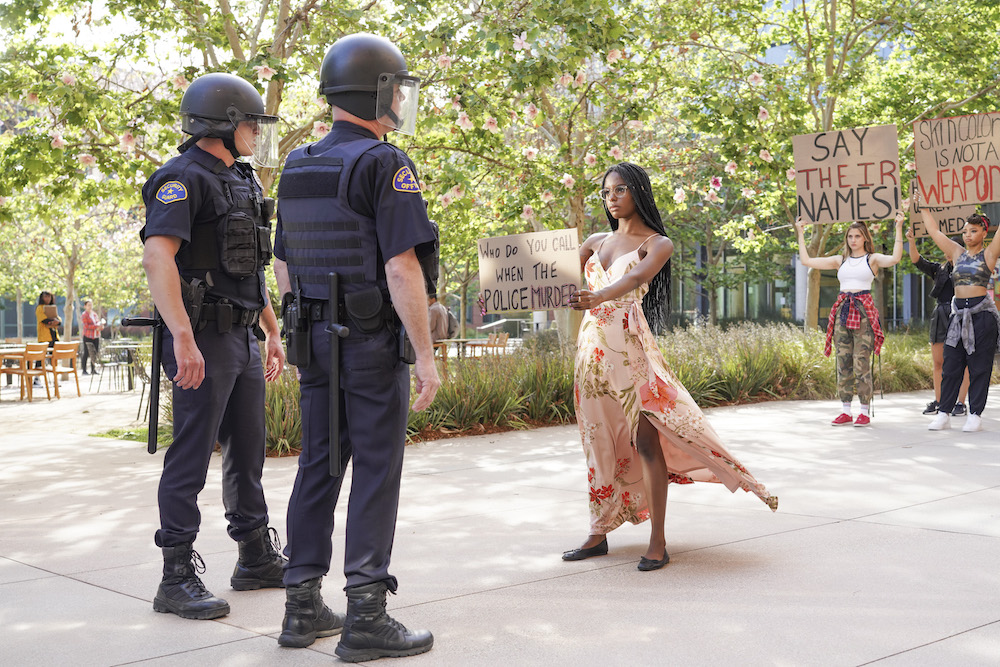 Photo: Freeform/Tiffany Roohani
No justice, no peace. "Put Your Hands Where My Eyes Could See" opens with a tribute to the famous 2016 photograph from Baton Rouge featuring Ieshia Evans, who stood unarmed, alone, calm in the face of a wall of police officers, heavily armed in head-to-toe riot gear. You know the one. In grown-ish, we see a reflection of the protests that took place around the world in 2020 and the years of unrest leading up to it—and the show does it to devastating effect. When Aaron (Trevor Jackson), Doug (Diggy Simmons), Luca (Luka Sabbat), and Kiela (Daniella Perkins) head downtown to march peacefully with their city, they face vicious reactions by police. You feel the frustration, anger, and sense of despair that at all times threaten to wipe out the push for better—and how we can never let it.
Back on campus, Zoey (Yara Shahidi), Jazz (Chloe Bailey) & co. discuss the right to protest and what it means to be an ally. Through conversations with Nomi (Emily Arlook), Javi (Henri Esteve), and Ana (Francia Raisa), grown-ish demonstrates how to recognize and dismantle inherently racist thinking and shows how being anti-racist is an active process. If you're an ally and this episode makes you uncomfortable and defensive, you need to examine why. It'll definitely make you angry and heartbroken to see the 2020 marches play out once more, knowing that this is still happening even when it's no longer front page news. Grown-ish once again proves why it's one of the best TV shows on right now, refusing to shy away from tough conversations, instead choosing to inspire hope, dialogue, and action.
Grown-ish airs on Freeform on Thursday.
From Freeform:
The crew hits the streets of Los Angeles to fight for racial justice and equality. Nomi confronts her White Fragility, while Ana and Javi reach a boiling point in their relationship.
—
Star Trek: Lower Decks
Season 2
Thurs Aug 12
On Paramount+
Star Trek: Lower Decks is back on Paramount+ on Thursday.
From Paramount:
Star Trek: Lower Decks is an animated comedy series that follows the support crew on one of Starfleet's least important ships, the U.S.S. Cerritos, in 2380.
—
Brooklyn Nine-Nine
Season 8
Thurs Aug 12 – 8PM
On NBC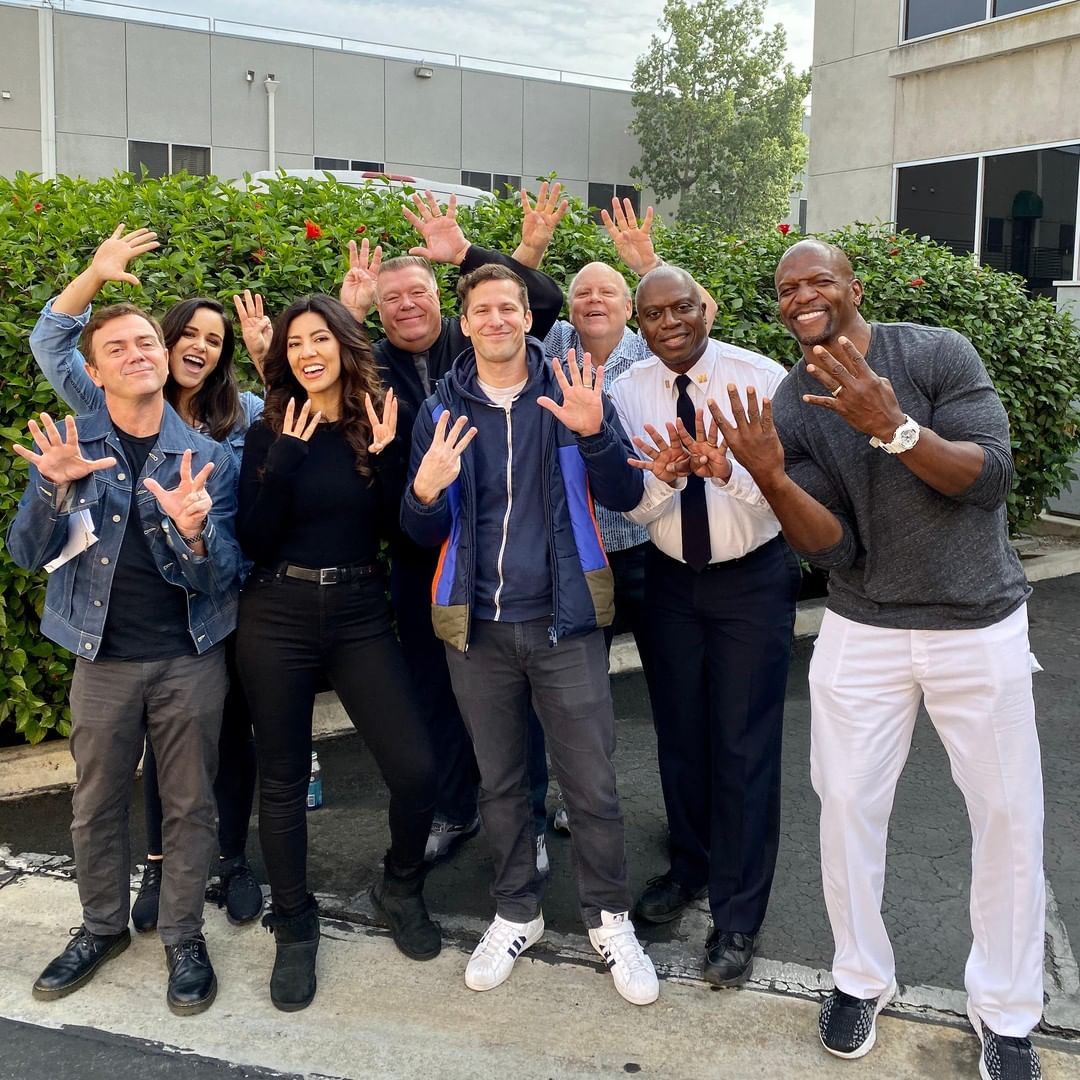 Photo via Instagram
Brooklyn Nine-Nine returns for one last round. In the S8 double-premiere, the 99 deal with COVID-19, which not only removes their ability to high-five but it also forces them to re-evaluate their lives. In "The Good Ones", we see Jake (Andy Samberg) and Rosa (Stephanie Beatriz) team up on a difficult case, addressing the fact that B99 is a comedy about cops during a time when police brutality is under the spotlight. Kudos to them for talking about the problems within the system—even if it's only lightly touched on within the confines of their sitcom setup.
"The Lake House" follows up on a lighter note as the gang heads on a weekend trip to the countryside for some…yawn…bird-watching. That trip includes some edibles, no wi-fi (the horror), AND some Boyle-style-babysitting (Joe Lo Truglio)…yeahhhhh, there's a lot going on. As the group are pushed out of their comfort zones, it's a chance to highlight their weirdly adorable group dynamic. The two episodes are a noice re-entry to the B99 world and they give each character their own moment to shine.
Brooklyn Nine-Nine returns to NBC on Thursday.
From NBC:
In this final season of the series, Jake and the squad must try to balance their personal lives and their professional lives over the course of a very difficult year.
—
Monster Hunter: Legends of the Guild
Thurs Aug 12
On Netflix
Stream Monster Hunter: Legends of the Guild
on Thursday on Netflix.
From Netflix:
A young man named Aiden, who calls himself a hunter, protects his isolated village. One day, he learns that his village is threatened by an Elder Dragon, a monster cloaked in mystery. Needing to find a way to save his village, Aiden leaves his home and sets off on a journey into the unknown alongside Julius, a first-rate hunter and member of the Hunter's Guild, and his companions… Thus begins an original story that shines the spotlight on characters in the world of Monster Hunter who have remained in the background until now.
—
Modern Love
Season 2
Fri Aug 13
On Amazon Prime Video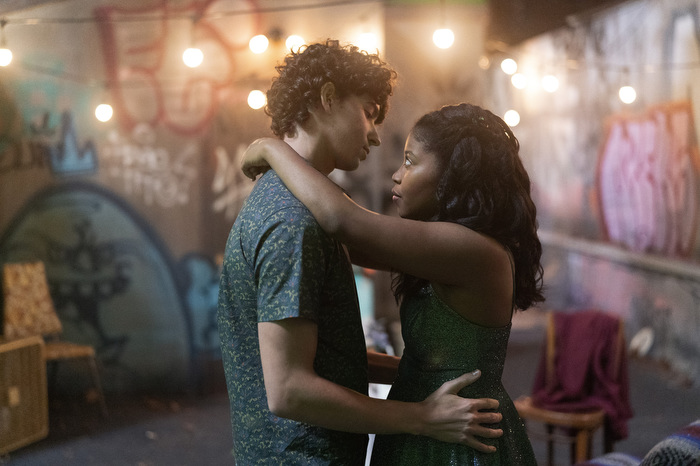 Photo courtesy of Amazon Studios
Modern Love is back to bring you all the different kinds of messy, brilliant, painful, joyous, complicated matters of the heart. And things have only gotten more complicated with lockdown looming large—how do you follow your feelings when it means breaking all the rules? The anthology takes us through New York, London, Ireland, and beyond to explore the rush of new connections and the highs & lows of deep bonds formed through the test of time. Each episode pulls you in, painting a rich portrait of each couple and the hopes and dreams they weave together and apart. It ultimately leaves you to write your own story long after the credits roll. It's satisfying yet still softly enticing so you want just a little bit more…and so you'll keep on hitting play, getting drunk on the giddy thrill of Modern Love.
Modern Love returns to Amazon Prime Video on Friday.
From Amazon:
Love breaks all the rules. Each episode of this anthology series brings to life different stories of relationships, connections, betrayals and revelations — all inspired by true events.
—
CODA
Fri Aug 13
On Apple TV+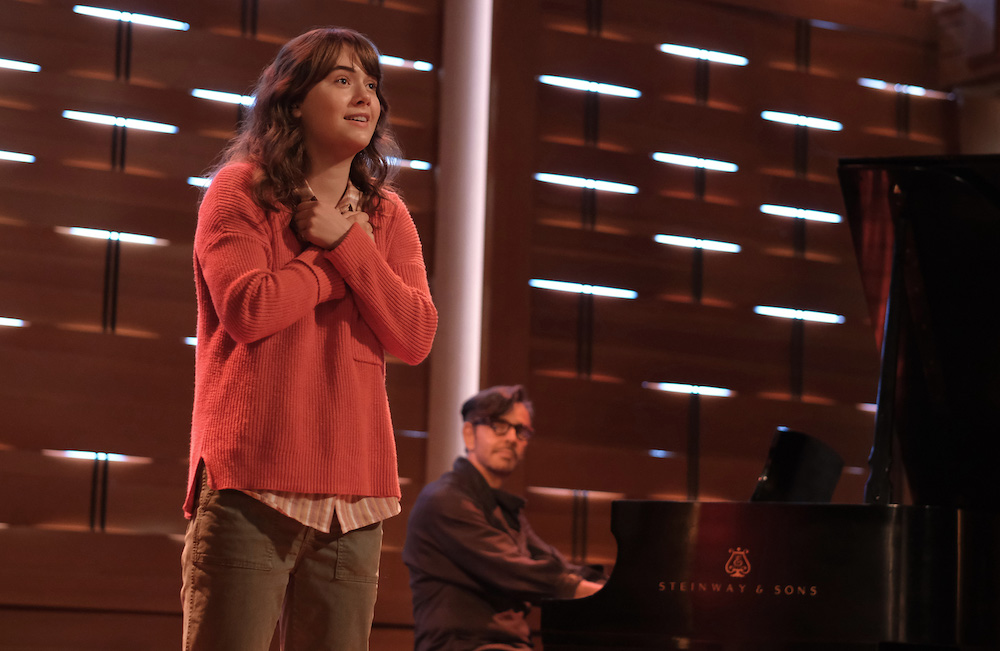 Photo courtesy of Apple Studios
Ruby (Emilia Jones) is a child of deaf adults (CODA)—she's the sole hearing member of her family. At just 17 she helps out her parents' fishing business and communicates on behalf of them to the community at large, all while balancing schoolwork and trying to follow her passion of singing. When she joins the school choir and begins to work on her voice, she receives mixed reactions from those around her. Her teacher, the irritable but immensely passionate Bernardo Villalobos (Eugenio Derbez) pushes her to trust herself and have hope for the future. Her parents (Marlee Matlin, Troy Kotsur) are divided on letting her look beyond her life of helping them run the family business, which is close to failing. And her singing partner Miles (Ferdia Walsh-Peelo) is unsure of their pairing at first but tries his best to be open.
CODA is a stunning film. It tells a story about what it means to love and take care of each other. And it features people with disabilities who have rich, full lives and strong bonds that you can feel beyond what you see on screen. To ensure CODA was told the way it needed to be, director Sian Heder learned ASL and worked with two deaf collaborators, Alexandria Wailes and Anne Tomasetti, while writing the script. And, with the help and insistence of Marlee Matlin, deaf actors were hired to play Ruby's family. The cast is excellent, portraying working class life in small-town Massachusetts in all its charm and all its hardships, always with their own tenacity. CODA will hold your attention from the very beginning, pulling you in with its real and down-to-earth human connection, turning the simple trope of "high schooler with dreams of singing" into something much more nuanced and beautiful.
Watch CODA on Apple TV+ on Friday.
From Apple:
Seventeen-year-old Ruby (Emilia Jones) is the sole hearing member of a deaf family – a CODA, child of deaf adults. Her life revolves around acting as interpreter for her parents (Marlee Matlin, Troy Kotsur) and working on the family's struggling fishing boat every day before school with her father and older brother (Daniel Durant). But when Ruby joins her high school's choir club, she discovers a gift for singing and soon finds herself drawn to her duet partner Miles (Ferdia Walsh-Peelo). Encouraged by her enthusiastic, tough-love choirmaster (Eugenio Derbez) to apply to a prestigious music school, Ruby finds herself torn between the obligations she feels to her family and the pursuit of her own dreams.
—
Brand New Cherry Flavor
Season 1
Fri Aug 13
On Netflix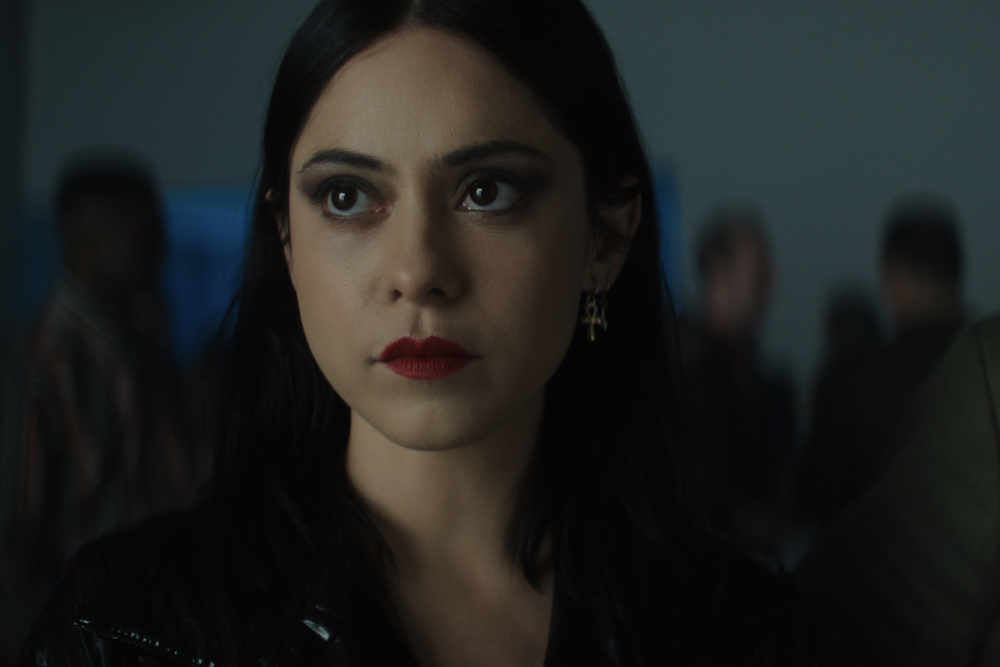 Photo courtesy of Netflix © 2021
LA is the place where dreams can be achieved beyond your wildest fantasies…but you don't always get what you wish for. Brand New Cherry Flavor explores the darker parts of desire in a psychological thriller that twists the knife in deeper with every episode. The series follows Lisa Nova (Rosa Salazar) who comes to LA to direct her debut movie…but she ends up making shady deals that she doesn't understand the gravity of until it's too late. It's an incredibly slow burn with flashes of jump-scare horror twists to make sure you're paying attention. Brand New Cherry Flavor has the vibes of Jennifer's Body but with an even darker, grittier edge that may leave you hanging at times, only to snap you back into its sinister clutches. Enjoy—just beware, it might leave a bad taste in your mouth…
Stream Brand New Cherry Flavor on Netflix on Friday.
From Netflix:
An aspiring film director in the sun-drenched but seamy world of 1990 Los Angeles embarks on a mind-altering journey of supernatural revenge.
—
Spin
Fri Aug 13
On Disney Channel
Spin comes to Disney Channel on Friday.
From Disney:
Rhea (Avantika), is an Indian American teen who discovers her passion for creating DJ mixes that blend the rich textures of her South Asian culture and the world around her. Her life revolves around her eclectic group of friends, Molly, Watson and Ginger, her after-school coding club, her family's Indian restaurant, and her tight-knit, multi-generational family. Everything changes when she falls for aspiring DJ Max and her long lost fervor for music is re-ignited. Rhea discovers that she has a natural gift for creating beats and producing music, but must find the courage to follow her true inner talent.