This week: Only Murders in the Building, Sparking Joy with Marie Kondo, How to Be a Cowboy, grown-ish, Q-Force, The D'Amelio Show, Cinderella
Only Murders in the Building
Season 1
Tues Aug 31
On Hulu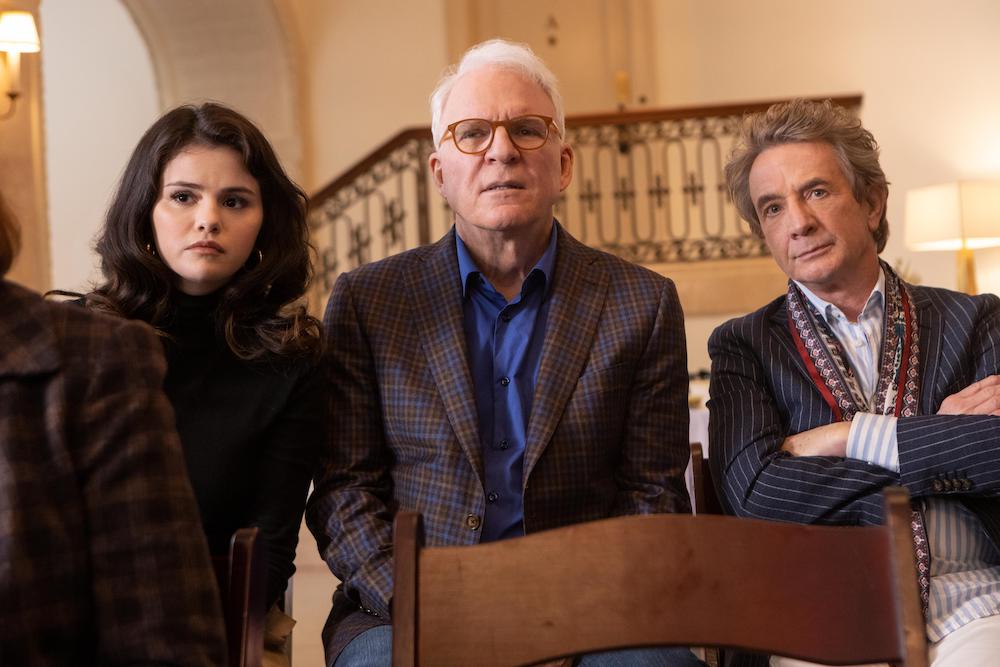 Photo: Craig Blankenhorn/Hulu
We all love a bit of true crime. But what happens when you get so involved with your obsession that it becomes real life? Three strangers (Steve Martin, Martin Short, and Selena Gomez) who live in the same building first meet through their love of a good murder-mystery podcast. But their mutual interest is really piqued when one of their neighbors turns up dead. Was it really a suicide? As the unlikely trio begin to investigate—and start their own true crime podcast—the revelations about the victim and his neighbors come pouring out and they race to figure out who the killer is before the killer finds them. With an ever-growing list of suspects, the self-proclaimed detectives have plenty to fuel their search (and they have plenty of secrets and shortcomings of their own too). 
Only Murders in the Building has a whimsical yet dark humor to it, like a wink from an old friend right before you feel the sting of a knife in your back. Martin, Short, and Gomez play off each other well, each bringing their own character's baggage and motives until you're questioning whether they know more than they're letting on. It makes for an Agatha Christie style mystery romp, where you'll have plenty of fun watching them bumble about even as sinister events begin to take hold. Settle in and start drawing your own conclusions, true crime buffs!
Only Murders in the Building hits Hulu tomorrow.
From Hulu:
From the minds of Steve Martin, Dan Fogelman and John Hoffman comes a comedic murder-mystery series for the ages. "Only Murders In The Building" follows three strangers (Steve Martin, Martin Short and Selena Gomez) who share an obsession with true crime and suddenly find themselves wrapped up in one. When a grisly death occurs inside their exclusive Upper West Side apartment building, the trio suspects murder and employs their precise knowledge of true crime to investigate the truth. As they record a podcast of their own to document the case, the three unravel the complex secrets of the building which stretch back years. Perhaps even more explosive are the lies they tell one another. Soon, the endangered trio comes to realize a killer might be living amongst them as they race to decipher the mounting clues before it's too late.
—
Sparking Joy with Marie Kondo
Season 1
Tues Aug 31
On Netflix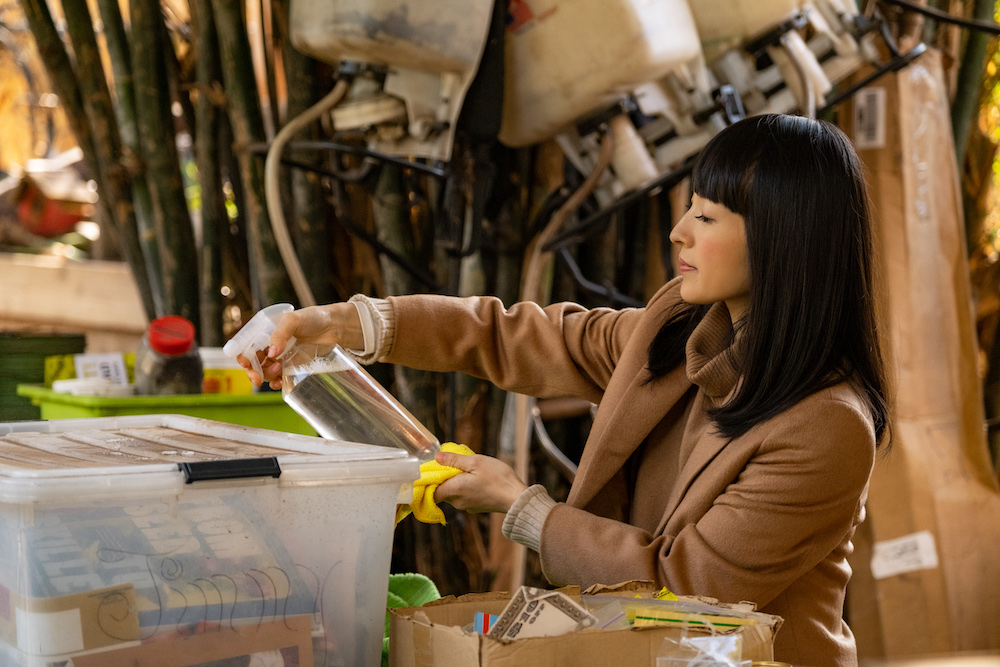 Photo: Adam Rose/Netflix
It's been two years since we all cleared our homes of clutter thanks to Marie Kondo. And now she's about to inspire you to declutter all over again. With Sparking Joy, she shows how much our environments can affect every aspect of our lives. Being stuck at home over the past year really underscores this feeling—and Marie is applying that to our workplaces too. She helps people solve the clutter and organization issues in their businesses and, in turn, helps them come together as a unit. Her gentle and sunny approach allows her to approach each person with tact and grace, without encroaching on their life. We also see how Marie sparks joy in her own home, which will make you smile as you see how happy she is around her family. It'll give you some good cleaning ideas and remind you how much having a tidy space will help to truly spark joy.
Stream Sparking Joy with Marie Kondo on Netflix tomorrow.
From Netflix:
Global organization icon and best-selling author Marie Kondo takes her signature approach to tidying up a step further in her new, transformational Netflix series, Sparking Joy. Marie shows us how the fundamentals of her method can affect our businesses, relationships and communities. The impacts of tidying are surprising, emotional and transformative in the lives of the people Marie meets. Throughout the process, viewers will also step into Marie's own home, meet her family, and get a glimpse into how she sparks joy in her daily life!
—
How to Be a Cowboy
Season 1
Wed Sept 1
On Netflix
Photo courtesy of Netflix
At some point when you were a kid, you probably wanted to be a cowboy…and now, Netflix is bringing a series about some grown-ups who fulfilled that childhood dream. These cowboys spend their days herding cattle on horseback, training for bull riding, and gearing up for a rodeo. Dale Brisby and his crew work hard to keep the cowboy traditions alive by training a new generation—and now by teaching you a few lessons about how to ranch. How to Be a Cowboy might just change some of the stereotypes you had in your mind about cowboys (bet you never thought you'd hear 'em talking about ghosting or keto diets). What makes the series truly shine, though, is its strong sense of community that will welcome you in from the very beginning.
How to Be a Cowboy comes to Netflix on Wednesday.
From Netflix:
Dale Brisby uses social media savvy and rodeo skills to keep cowboy traditions alive — and now he's teaching the world how to cowboy right.
—
Grown-ish
"You Beat Me to the Punch" – Season 4, Episode 9
Thurs Sept 2 – 8PM
On Freeform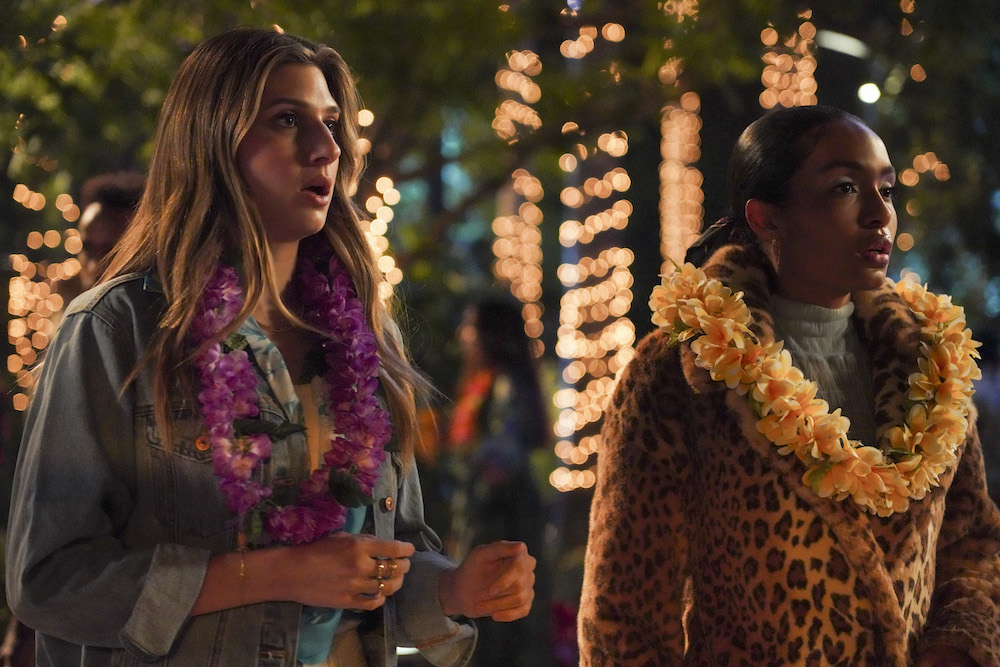 Photo: Freeform/Tiffany Roohani
Relationships are hard, y'all. Between navigating boundaries to making compromises, there's a lot to clash over (but fiery arguments mean the make-ups are extra steamy). Zoey (Yara Shahidi) and Aaron (Trevor Jackson) are about to clash in a major way, especially when Luca (Luka Sabbat) sticks his nose in where it doesn't belong. He offers Zoey an opportunity that is about to upset Aaron—big time. At a luau party with the crew, emotions are running high and each character is forced to face the truth (or to get drunk and run from it). Leave it up to Vivek (Jordan Buhat) to be the life of the party in this episode, making it his personal mission to help his single friends get laid. How far will he go? Ooh, no spoilers but there's more than a few jaw-dropping moments. Pour yourself a double shot of drama, 'cause grown-ish is turning up the burn. Cheers to that!
Grown-ish airs on Freeform on Thursday.
From Freeform:
At a luau party with the crew, Zoey accepts Luca's career advice, making Aaron uncomfortable. Doug and Kiela navigate a roadblock in their relationship, while Vivek tries to help Nomi and Ana take their minds off the LSATs.
—
Q-Force
Season 1
Thurs Sept 2
On Netflix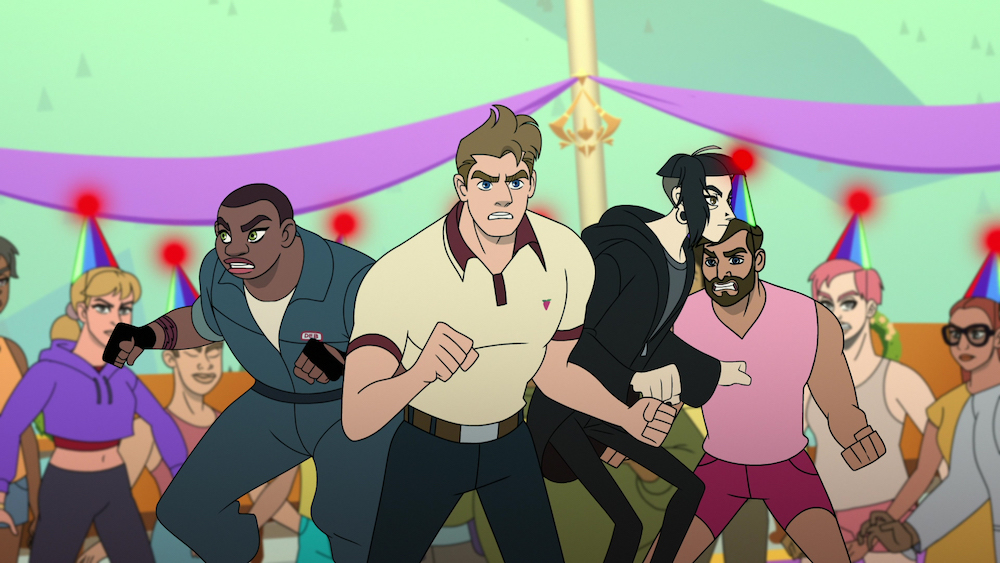 Photo courtesy of Netflix ©2021
Steve Maryweather (Sean Hayes) is the badass agent graduating at the top of his class—but when he announces that he's gay, the American Intelligence Agency (AIA) derails his promising career and sends him off to West Hollywood to await a mission that never comes. Yup, the A in AIA stands for assholes (both of them). Steve doesn't give up hope, instead assembling a team of fellow LGBTQ+ geniuses—mechanic Deb (Wanda Sykes), drag and disguise aficionado Twink (Matt Rogers), and hacker Stat (Patti Harrison)—known as Q-Force. All they need is a chance to prove themselves—and so Steve goes rogue and achieves begrudging approval from The AIA (with the help of Laurie Metcalf's Agent V). BUT to stay in the agency they're forced to take on straight-guy Agent Buck (David Harbour) who is one of those aforementioned Assholes. 
Q-Force is unabashedly extra and action-packed, where each squad member brings their own skills that are honed and uplifted by the LGBTQ+ community surrounding them. With an all-star voice-cast, the snappy dialogue is on point and the social commentary is strong. Q-Force proves you can be fierce in every sense of the word and you don't have to compromise who you are to kill it. 
Watch Q-Force on Thursday, only on Netflix.
From Netflix:
Steve Maryweather, AKA Agent Mary, was once the Golden Boy of the American Intelligence Agency (AIA), until he came out as gay. Unable to fire him, the Agency sent him off to West Hollywood, to disappear into obscurity. Instead, he assembled a misfit squad of LGBTQ+ geniuses. Joining forces with the expert mechanic Deb, master of drag and disguise Twink, and hacker Stat, together they're Q-Force. But, after a decade of waiting for their first official mission from The AIA, Mary becomes hell-bent on proving himself to the Agency that turned its back on him, and decides to go rogue with Q-Force. After finding their own case, and solving it on their own terms, they get the reluctant approval of The AIA, and are officially upgraded to Active Secret Agents in the field. But, that approval comes with one major caveat— they must put up with a new member of the squad: straight-guy Agent Buck.
—
The D'Amelio Show
Season 1
Fri Sept 3
On Hulu
The D'Amelio Show debuts on Hulu on Friday.
From Hulu:
From relative obscurity and a seemingly normal life, to overnight success and thrust into the Hollywood limelight overnight, the D'Amelios are faced with new challenges and opportunities they could not have imagined. Charli, who at 16 became one of the biggest celebrities with over 150 million followers combined and #1 on the TikTok platform in less than a year, has the world at her fingertips and is working to balance fame and family, life with dancing, running a budding empire, making new friends in LA and battling the naysayers online. Her sister Dixie, is now 19 and experiencing her own overnight rise to fame with over 78 million followers combined, one of the fastest growing YouTube channels and ranked within the Top 10 Most Followed Creators on TikTok. Dixie is now pursuing a music career in LA. For mom Heidi and dad Marc, raising teenagers is hard enough before adding in a cross-country move, supporting their daughters' dreams and doing the best they can to stay close as a family and protect their girls from the dark side of fame, while also trying to adjust to life in Hollywood. 
—
Cinderella
Fri Sept 3
On Amazon Prime Video
Stay tuned for our review!
Cinderella comes to Amazon on Friday.
From Amazon:
Cinderella is a musically-driven bold new take on the traditional story you grew up with. Our heroine (Cabello) is an ambitious young woman whose dreams are bigger than the world will allow, but with the help of her Fab G (Billy Porter), she is able to persevere and make her dreams come true.