This week: Motherland: Fort Salem, Reservation Dogs, Clusterf**k: Woodstock '99, Wedding Season, Luck, The Sandman, The Outlaws
Motherland: Fort Salem
"She Returns" – Season 3, Episode 7
Tues Aug 2 – 10PM
On Freeform
The pressure is building on Motherland: Fort Salem. Not everyone agrees with the Cession's militia, leading to some ugly backlash. But it may be too late because Silver (Victor Webster) is forcing war onto everyone, even if the soldiers he's using don't agree with his orders. Abigail (Ashley Nicole Williams) and Adil (Tony Giroux) take a huge risk and tackle the invasion head-on—their bravery and leadership will give you chills. Tally (Jessica Sutton) and Scylla (Amalia Holm) team up to help put a stop to some nefarious plans, which shows off their incredible work skills. They make a damn good team. Meanwhile, Alder (Lyne Renée) is out for answers about the first song—and she will stop at nothing to get what she wants. The tide is about to turn in Fort Salem and you'll be on the edge of your seat when things get real. Watching the witches protect each other no matter the cost will hit you deep in your feels, especially when you see the payoff for their sacrifices. And it'll make you wonder how they're all going to survive when the stakes are this damn high.
Motherland: Fort Salem airs on Freeform tomorrow.
From Freeform:
Allies converge to protect the Cession from occupation. The Camarilla march on the Cession, ready to invade under the guise of smoking out our fugitives. Tally and Scylla team up while Abigail, Adil and Anacostia seek out President Wade.
–
Reservation Dogs
Season 2
Wed Aug 3
On Hulu
Reservation Dogs returns to Hulu on Wednesday.
From Hulu:
After the death of the fifth member of the Reservation Dogs, the crew took to stealing, scheming and saving in order to vicariously fulfill his dream of reaching the exotic, mysterious and faraway land of California. But after a promising start to their criminal endeavors, including the legendary heist of a Flaming Flamers chips truck, swiping some old lady's weed edibles and some low-grade grand theft auto, the plan went bust. The gang disbanded, with everyone trying to forge their own paths.
–
Clusterf**k: Woodstock '99
Series premiere
Wed Aug 3
On Netflix
When you think of Woodstock, what comes to mind? Peace and love, hippies and rock & roll, drugs and sex? Woodstock '99 sought to bring back the reverence of that legendary festival for a new generation but, much like most of history, it should have stayed in the past. The event looked set to be amazing—four days of partying and music from the likes of ​​Red Hot Chili Peppers, Rage Against the Machine, The Offspring, Rage, Metallica, DMX, and many more huge artists. However, what should have been a weekend of amazing memories quickly devolved into rioting, fires, and assault.
Clusterf**k: Woodstock '99 attempts to understand just what went wrong that year, talking to those involved with the festival as well as performers and attendees. Mixed in with archival footage from before and after the s#!t hit the proverbial fan, the docuseries constructs a vivid portrait of the greed, toxicity, and chaos behind the scenes and on the festival grounds that caused such a clusterf**k. And you'll be sucked right in—we all love a good downward spiral and this series has a perfect storm of [email protected]$k-ups to keep you shaking your head in disbelief all while hitting that "Next Episode" button.
Watch Clusterf**k: Woodstock '99 on Netflix on Wednesday.
From Netflix:
Woodstock '99 was supposed to be a millennium-defining celebration of peace, love and great music. Instead, the festival degenerated into an epic clusterf*ck of fires, riots and destruction. Utilizing rare insider footage and eyewitness interviews with an impressive list of festival staffers, performers and attendees, this docuseries goes behind the scenes to reveal the egos, greed and music that fueled three days of utter chaos.
–
Wedding Season
Thurs Aug 4
On Netflix
Just like the other "greeting card" romances you love, it's not a matter of "if" but "when" the two leads will get together and Wedding Season has a lot of fun dancing its way there. As they attend a summer's worth of gorgeous weddings, we get to watch Asha and Ravi fall for each other, while they work through their illusions and their insecurities. It's hard not to ship them when their chemistry is so natural. And you'll smile (and roll your eyes) at how much you'll resonate with how well they dodge the invasive but well-meaning questions about their future nuptials & nurseries (seriously, can't the aunties talk about anything else?). (read our mini-review)
Stream Wedding Season on Netflix on Thursday.
From Netflix:
After breaking off her engagement, leaving a successful banking career behind in the city, and moving to New Jersey for a fresh start, Asha (Pallavi Sharda) couldn't feel more alive. Her mother, on the other hand, thinks that her oldest daughter is about to miss a lifetime of happiness if she doesn't take her focus away from her new startup job and place it on finding a husband instead. Taking matters into her own hands, Asha's mother creates an online dating profile in order to set Asha up with a "perfect" match. Enter Ravi (Suraj Sharma) — or rather Ravi's parents — who have the exact same idea for their son. Asha and Ravi's reluctant first date is a bust, and they quickly discover that each is in a seemingly different place in their life right now. After realizing her mother is relentless and will not give up, Asha proposes a plan to Ravi that would be a win-win for both: a pretend relationship to be each other's date to get through the upcoming wedding season. Through countless invitations, dances and dresses in the next three months, Asha and Ravi slowly come to find that they might have more in common than they think. Maybe their parents were onto something after all.
–
Luck
Fri Aug 5
On Apple TV+
When it comes to entertainment, the theme of this week is fate versus luck. From Sandman to Bullet Train, from Prey to Luck (the new animated feature from Skydance and Apple TV+) those themes are king. Unlike the others, with so much streaming content arriving so quickly, Luck might not have made it onto your TBW (to be watched) List—but if you're looking for family fun that will make you bop along to Madonna's "Lucky Star" while cheering for the newest orphaned heroine, that is exactly as Luck would have it. (read Sherin Nicole's review)
Luck debuts on Apple TV+ on Friday.
From Apple:
From Apple Original Films and Skydance Animation comes the story of Sam Greenfield, the unluckiest person in the world! Suddenly finding herself in the never-before-seen Land of Luck, she must unite with the magical creatures there to turn her luck around.
–
The Sandman
Season 1
Fri Aug 5
On Netflix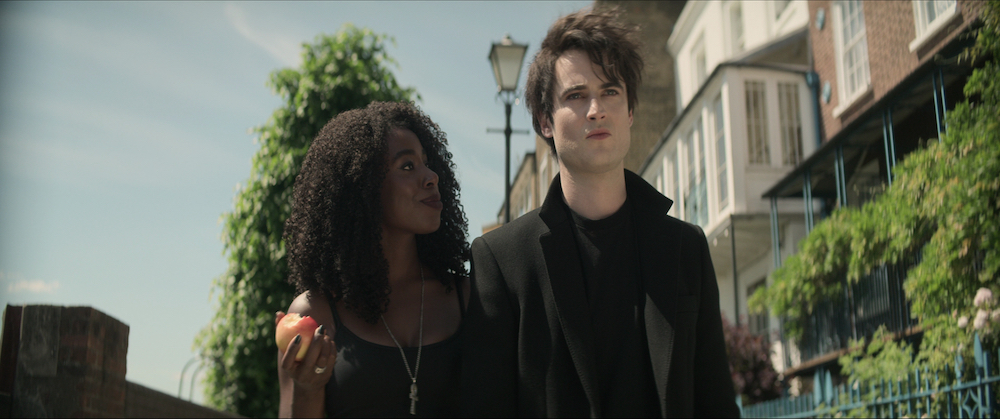 The Sandman Series arrives as if the comics have opened up onto our screens and flooded out (the way our dreams and nightmares often do). The production design AND the cast AND all those little things we'd hoped would make it in are there. This adaptation is as starlit, sanguinary, and sinister as you want it to be. Yet, even if you've never flipped through those original pages, you'll be seduced. (read Sherin Nicole's review)
The Sandman hits Netflix on Friday.
From Netflix:
A rich blend of modern myth and dark fantasy in which contemporary fiction, historical drama and legend are seamlessly interwoven, The Sandman follows the people and places affected by Morpheus, the Dream King, as he mends the cosmic — and human — mistakes he's made during his vast existence.
–
The Outlaws
Season 2
Fri Aug 5
On Amazon Prime Video
The Outlaws are back—and this time, it's personal all about the money. The rag-tag crew may still be serving their sentences but the life of crime still has a hold on them. All that money they stole stumbled upon in S1? Yeah, uh, there's a drug lord who wants his cash back. Not to mention they've all got some secrets primed to blow the group apart once again—including just where all that money went. When threatened, we know the outlaws don't make the most sensible decisions but it sure does get them into wacky situations.
The Outlaws remains wholly entertaining, keeping up its trademark weird vibe with sparkling wit to keep you giggling. But what's most fascinating is watching this bunch of misfits—who are scattered all the way along the moral compass—begin to develop a new sense of right and wrong, no matter how wonky their logic may be. And that might get them in more trouble than they were in in the first place—isn't the irony *chefs kiss* delicious? The dichotomies that slice up each character and their actions are what keep this show on top form once again.
The Outlaws is back on Amazon on Friday.
From Amazon:
Picking up a few months after the climax of Season One, in Season Two, the Outlaws still have time to serve on their sentences, but quickly realize the criminal underworld isn't done with them yet—not by a long shot. This ragtag group of misfits' shared past comes back to haunt them, in the shape of a terrifying London drug lord out for blood—The Dean.