This week: I Think You Should Leave with Tim Robinson, Motherland: Fort Salem, Monsters at Work, Dogs, Cat People, Gossip Girl, Grown-ish, Central Park, Black Widow, Atypical, Virgin River, The Snoopy Show, This Way Up
I Think You Should Leave with Tim Robinson
Season 2
Out now
On Netflix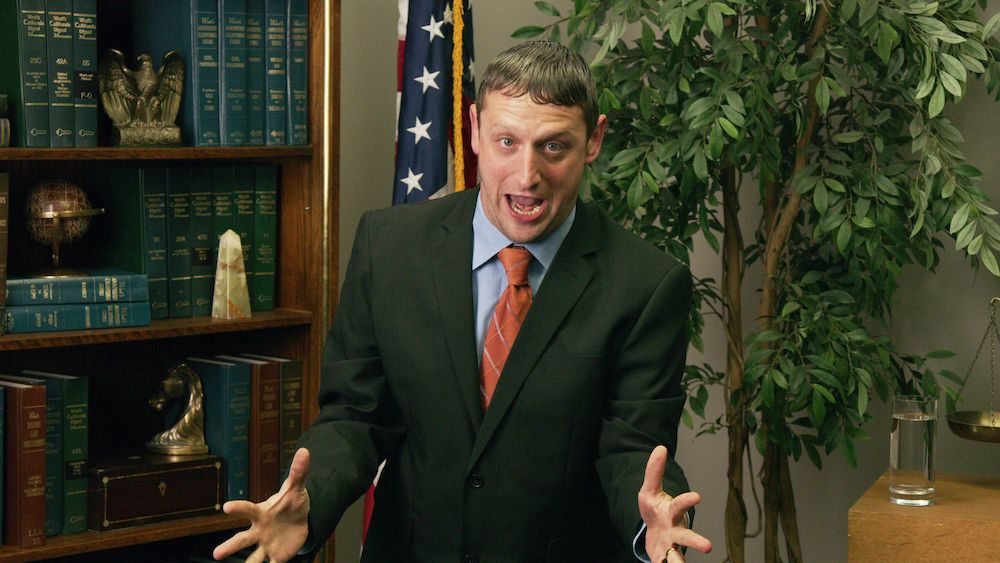 Photo courtesy of Netflix
Tim Robinson is back at it again with I Think You Should Leave where the hijinks and shenanigans come through in style. From sneaking hot dogs into meetings to making fun of Shark Tank, each absurdist and wacky sketch will have you questioning "WTF did I just watch?" followed by "I gotta watch it again." Robinson delivers punch after punch of silliness with an edge of truth that makes it way smarter than you might give it credit for. Even when he takes jokes too far and drives them into the ground, you can't help but chuckle as you roll your eyes at the show's chaotic energy.
I Think You Should Leave with Tim Robinson
is back on Netflix.
From Netflix:
Detroiters star and Saturday Night Live alum Tim Robinson's hilarious new six-part series, I Think You Should Leave with Tim Robinson, pokes fun at life's most bizarre and mundane situations. Viewers will see Robinson and a few of his famous friends navigate awkward workplace drama, host an intervention in a Garfield themed house, talk their way out of a babysitter's fake hit and run, and much more.
—
Motherland: Fort Salem
"A Tiffany" – Season 2, Episode 3
Now streaming
On Freeform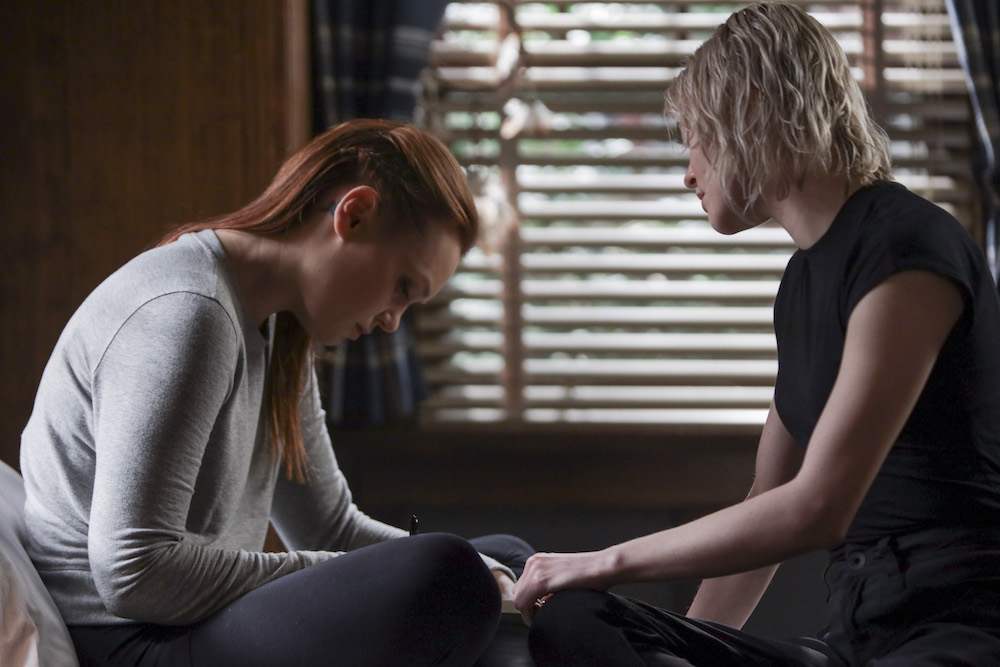 Photo: Freeform/Jeff Petry
You either die a hero or live long enough to see yourself become the villain. But when you've lived for centuries, what side are you truly on? General Adler (Lyne Renée) is making moves on the government and there's no way to tell what she's really planning. But when she comes up against another matriarch, their faceoff will give you chills once you realize how deeply rooted the army's beliefs are. It raises questions about the Bellweather Unit's future, which makes them all kinds of uncomfortable. Meanwhile, Raelle's (Taylor Hickson) individual training intensifies…and she gets more than she bargained for. What is her newfound power capable of?
Off base, Scylla (Amalia Holm) and Anacostia (Demetria McKinney) continue their secret mission to find out more about the growing anti-witch movement. Watching each character find new strings of connection that lead them on separate paths is fascinating. Watching them interact and create new work is even more enthralling. And watching the reactions of those around them…well, if you're not terrified you're not paying attention. Motherland: Fort Salem is pushing the witches to their limits and the cracks are definitely starting to show…
Motherland: Fort Salem airs every Tuesday on Freeform.
From Freeform:
Raelle prepares to show her ability to the top brass, while Abigail struggles with her new role. Tally begins to question her unsettling dreams. Anacostia and Scylla form a plan to infiltrate the enemy further.
—
Monsters at Work
Season 1
Wed July 7
On Disney+
Watch Monsters at Work on Disney+.
From Disney:
"Monsters At Work" takes place the day after the Monsters, Incorporated power plant started harvesting the laughter of children to fuel the city of Monstropolis, thanks to Mike and Sulley's discovery that laughter generates ten times more energy than screams. It follows the story of Tylor Tuskmon, an eager young monster who graduated top of his class at Monsters University and always dreamed of becoming a Scarer until he lands a job at Monsters, Incorporated, and discovers that scaring is out and laughter is in. After Tylor is temporarily reassigned to the Monsters, Inc. Facilities Team(MIFT), he must work alongside a misfit bunch of mechanics while setting his sights on becoming a Jokester.
—
Dogs
Season 2
Wed July 7
On Netflix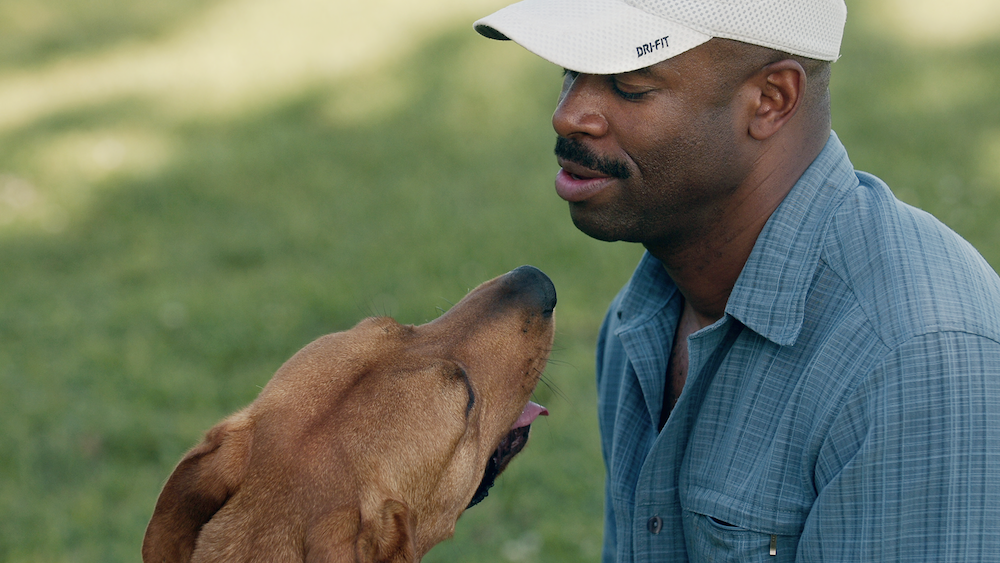 Photo courtesy of Netflix
Netflix's hit documentary Dogs is back to once again win your heart. Ranging from whimsical to emotional—but at all times charming—the documentary meets new dogs and their humans and shows how they've bonded to become inseparable. Even though they can't talk (in human language, at least), dogs have a way of understanding without words. This is shown through each story, paired with wonderful vignettes and close ups of the dogs as they live life to the fullest. Each episode takes us on a journey through the lives of pups and their owners to show how intertwined they've become—how they enrich and support each other through the highs and lows. It'll make you smile, and cry a little, and want to go cuddle with the pup in your life—because Dogs will really make you appreciate how special that bond is.
From Netflix:
Our beloved best friends are back! Dogs returns to explore the powerful bond between humanity and dogs in four new intimate, heartwarming episodes. Whether it's the story of an astronaut, a priest, a military contractor, or the handler of a legendary university mascot, Dogs shows us how these beautiful animals occupy the same place in all of our hearts — one reserved not just for pets, but for family.
—
Cat People
Season 1
Wed July 7
On Netflix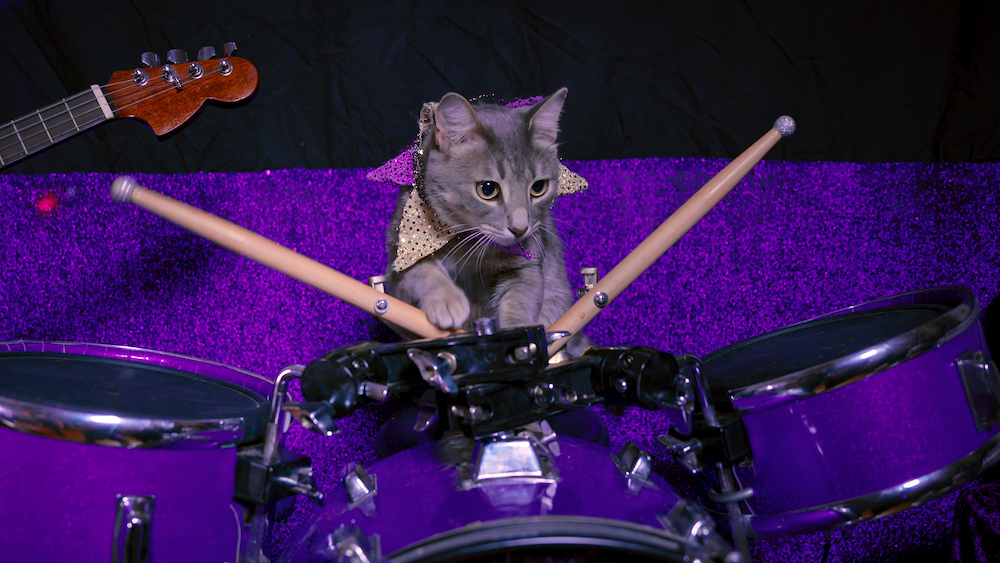 Photo courtesy of Netflix
If you're more of a cat person, Netflix has got you covered too. Cat People is on a mission to challenge what you think "cat people" means—to show you how amazing felines are as companions. From showcats to cat rap, there are plenty of surprises and quirky fun but at the heart of this show are the relationships between cats and their owners. Cat People looks at how, even if kitties don't always show it, they have a lot of love for us (and we definitely have love for them). Get ready to say aww and giggle at this adorable and playful show that could make anyone into a cat person.
Stream Cat People on Netflix now.
From Netflix:
Dogs may get credit for being humanity's best friend, but to many people cats are just as much our loyal partners — even though if you asked cats they might not admit it! CAT PEOPLE explores our fascinating relationship with cats through the lens of some of the most remarkable and surprising "cat people" in the world, defying the negative stereotypes of what it means to be a cat person while revealing the fundamental truths of what it means to have deep bonds with these fiercely independent, mysterious creatures.
—
Gossip Girl
Season 1
Thurs July 8
On HBO Max
Watch Gossip Girl on HBO Max on Thursday.
From HBO:
Based on the original CW show (2007-2012) and bestselling novels by Cecily von Ziegesar, the reimagined drama finds a new generation of New York private school teens being introduced to social surveillance eight years after the original blogger's website went dark.
—
Grown-ish
"Ugh, Those Feels Again" – Season 4 premiere
Thurs July 8 – 8PM
On Freeform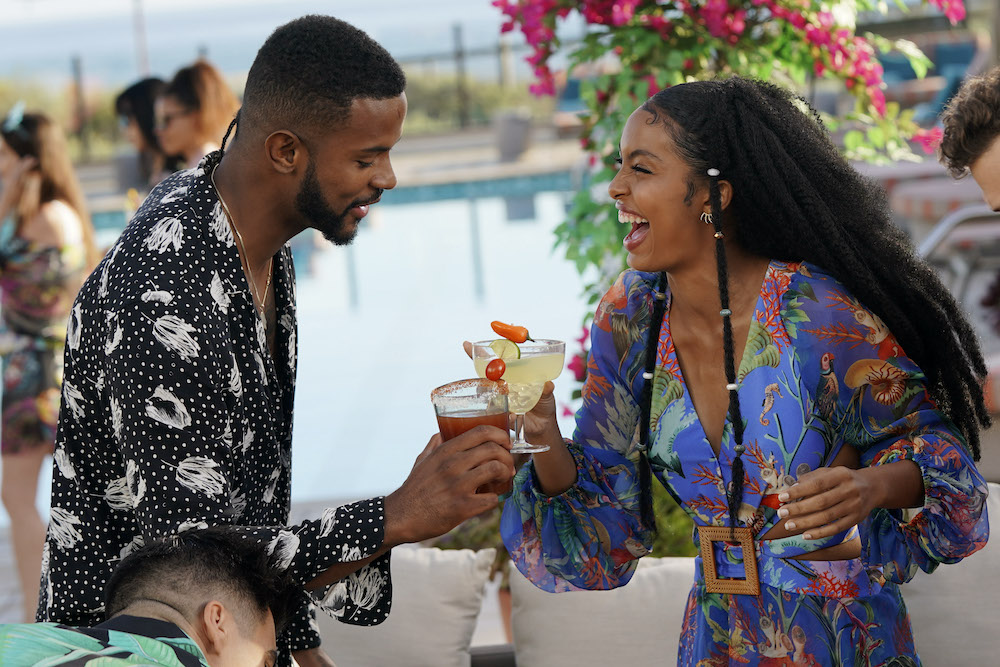 Photo: Freeform/Eric McCandless
Our crew are headed on a Mexico getaway…but they're not ready to party as a group. A "you do you" weekend is exactly what they each need—because forcing them all to be together is primed to explode. From the amount of exes and unresolved arguments and relationship troubles, the drama is more fiery than the summer sun. But Zoey (Yara Shahidi) & co. are going to need support from the whole group when rash decisions come in to smack 'em (and you) in the face. grown-ish is back with a bang for an episode that doesn't even deal with the fallout of S3 but rather tries to brush over it until it bursts in spectacular fireworks and jaw-dropping revelations. Damn, we missed this!
Grown-ish returns to Freeform on Thursday.
From Freeform:
Summer is heating up. In part one of the season four premiere, Zoey and the gang head to Mexico for a summer getaway filled with drinking games, new hook-ups, some relationship drama … and even a wedding!
—
Central Park
"Down to the Underwire" – Season 2, Episode 5
Fri July 9
On Apple TV+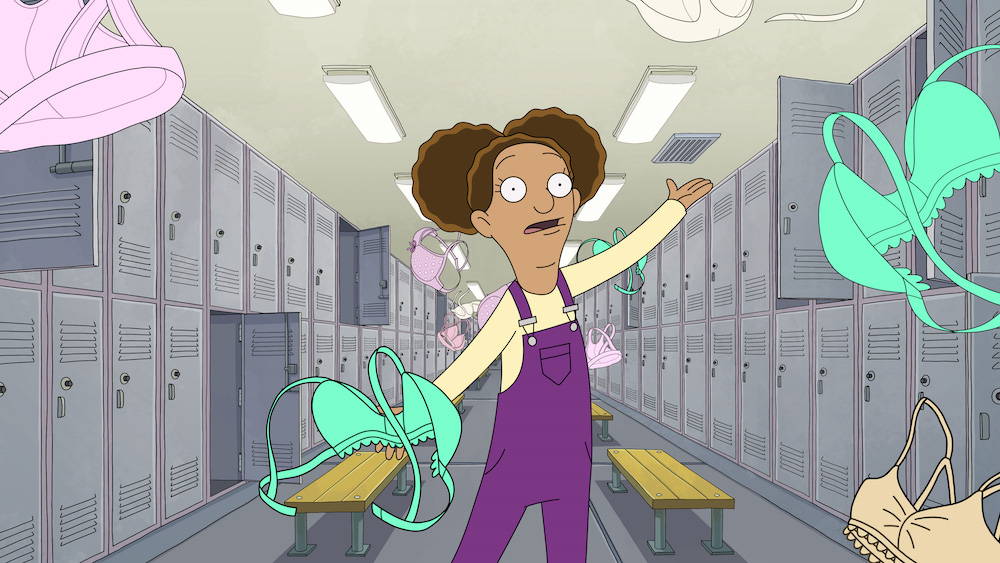 Photo courtesy of Apple Studios
Remember when Paige (Kathryn Hahn) ran that story about Bitsy (Stanley Tucci) hiring a man to plant a fake fish in the park in S1? Well, Bitsy sure does—and she attempts to make good on her promise to buy the paper…which spells trouble for Paige. While she attempts to block the sale and keep her job, on the other side of town Helen (Daveed Diggs) is trying to keep hers. When she loses an important key she "accidentally" (read: totally) stole from Bitsy, she's in a race to find it—and calls on Cole (Tituss Burgess) for help. Meanwhile, Molly (Emmy Raver-Lampman) needs a new bra—we told you she was growing up. Owen (Leslie Odom Jr.) steps up to help her shop and…it's about as awkward as you'd expect. He handles it like a champ (mostly), which leads to a fantastic set of songs and some great father-daughter bonding time. "Down to the Underwire" is S2's sparkliest episode yet, giving you all smiles as you cheer on each character as they race towards their goal—you got this, Tillerman fam & co!
Watch Central Park on Friday on Apple TV+.
From Rotten Tomatoes:
When Molly needs a new bra, Owen takes her shopping. Helen finds a key that could finally reveal whether she's in Bitsy's will.
—
Black Widow
Fri July 9
On Disney+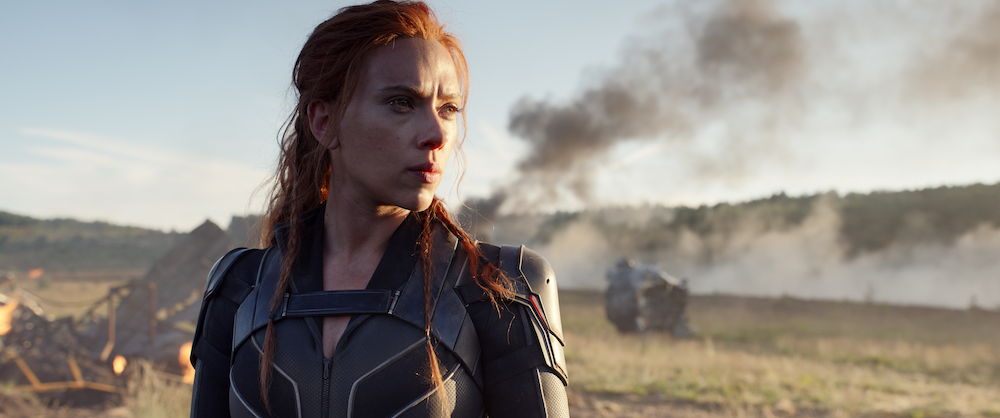 Photo © Marvel Studios 2021
Black Widow is strong. Not just the character but the ensemble; the storytelling and found family dynamics, framed by action set pieces and unexpected jolts of droll. Nothing here feels overblown but when the action sequences hit they have an epic feel within a semi-real world logic. The combat choreography has weight and impact, while each character fights with a style matched to who they are. This is a backstory I can lift my thumbs for. Director Cate Shortland gets it—the stakes continue to escalate, the espionage inspired twists keep coming—and Jac Schaeffer and Ned Benson (on the story) with Eric Pearson (on the scripting) are worthy accomplices. There may be a few too many Russian villain/anti-hero stereotypes but, you know, that's what we do in these here Americas. (read Sherin Nicole's review)
Black Widow hits Disney+ on Friday.
From Disney:
In Marvel Studios' action-packed spy thriller "Black Widow," Natasha Romanoff aka Black Widow confronts the darker parts of her ledger when a dangerous conspiracy with ties to her past arises. Pursued by a force that will stop at nothing to bring her down, Natasha must deal with her history as a spy and the broken relationships left in her wake long before she became an Avenger.
—
Atypical
Season 4
Fri July 9
On Netflix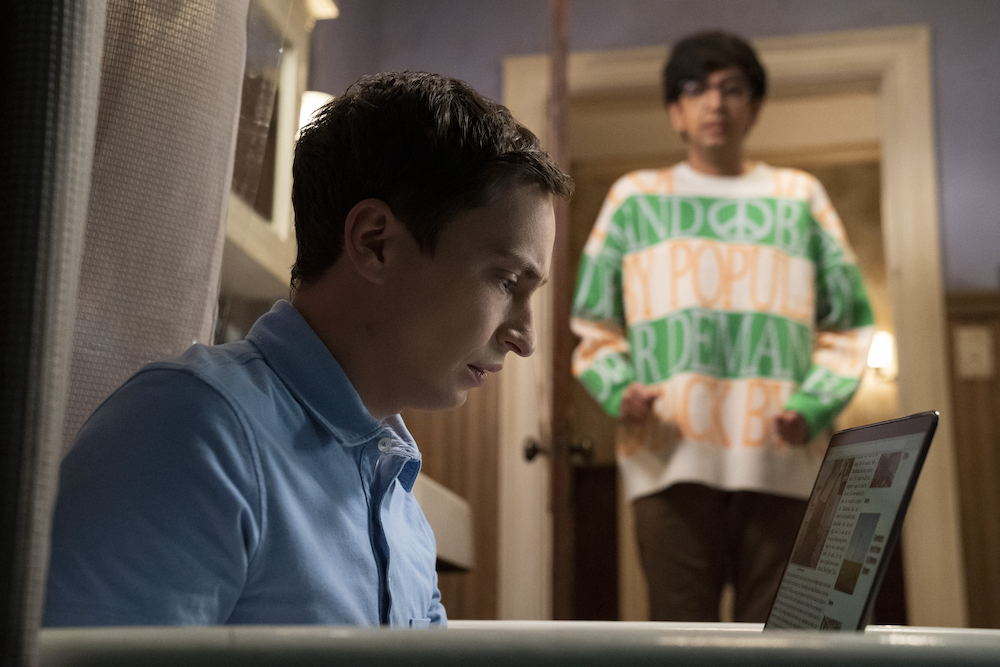 Photo: Greg Gayne/Netflix © 2021
Sam (Keir Gilchrist) is moving into his own place and feels he's ready to start the next chapter of his life. Adjusting is tough…but is his mom having an even harder time with the change? Or will his new roommate Zahid (Nik Dodani) have the hardest time adjusting…especially when Sam discovers the perks of "ground rules." Meanwhile Casey (Brigette Lundy-Paine) wrestles with telling her dad about her new relationship with Izzie (Fivel Stewart). Between studying issues and reaching new relationship milestones, S4 has plenty of challenges and exciting steps forward. Communication is key and our characters continue to learn the best ways to express their needs to one another. And watching that kind of growth is what makes Atypical shine.
Atypical is back on Netflix on Friday.
From Netflix:
Atypical tells the story of Sam Gardner (Keir Gilchrist), a young man on the autism spectrum looking for love and independence. In the fourth and final season, each character faces a challenge they never anticipated and Sam sets his sights on a nearly impossible goal. Jennifer Jason Leigh stars as his mother, Elsa, Michael Rapaport plays his father, Doug, and Brigette Lundy-Paine plays Sam's sister, Casey.
—
Virgin River
Season 3
Fri July 9
On Netflix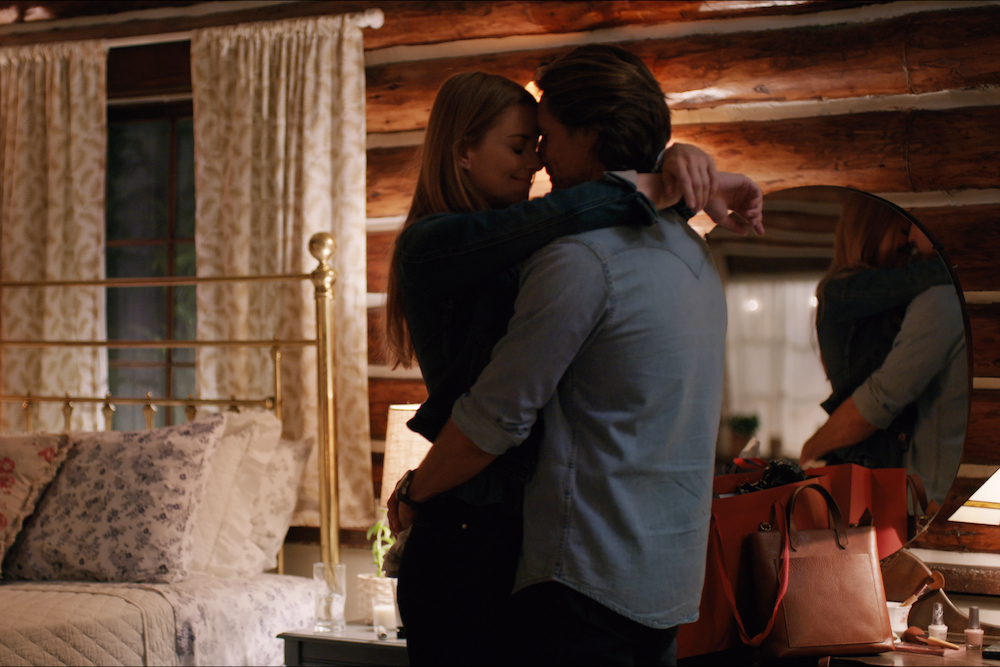 Photo courtesy of Netflix © 2021
We don't know how Virgin River keeps managing to up the drama but S3 is in fine form. Small town life has never looked so interesting—and there are so many answers we've been dying to know. Who shot Jack (Martin Henderson)? And will he and Mel (Alexandra Breckenridge) make it work this time? What is the medical news Doc Mullins (Tim Matheson) has for Hope (Annette O'Toole)? The new season starts off surprisingly lighthearted, all things considered, but there are so many revelations working their way to the surface, so settle in with the popcorn and enjoy each secret as it comes spilling out.
Dive into Virgin River on Friday, only on Netflix.
From Netflix:
In Virgin River season three, we've got even more drama in store for our beloved characters. Highlights include, a funeral, a fire, a divorce, a hurricane and a new romance, in a twist-packed season that'll keep fans on the edge of their seats.
—
The Snoopy Show
Season 2 premiere
Fri July 9
On Apple TV+
Stream The Snoopy Show on Apple TV+ on Friday.
From Apple:
"The Snoopy Show" is a new animated series for kids and families that stars the internationally beloved beagle and his feathered best friend Woodstock as they tackle all-new adventures. Snoopy may seem like just a happy-dancin', bone-lovin', doghouse-sittin' pup, but he's much more than that. He's Joe Cool: hippest kid in school. He's surfer king and famed arm wrestler Masked Marvel. He's a World War I flying ace who battles the Red Baron. All of his bold, beloved personas are on full display in this brand-new animated comedy.
—
This Way Up
Season 2
Fri July 9
On Hulu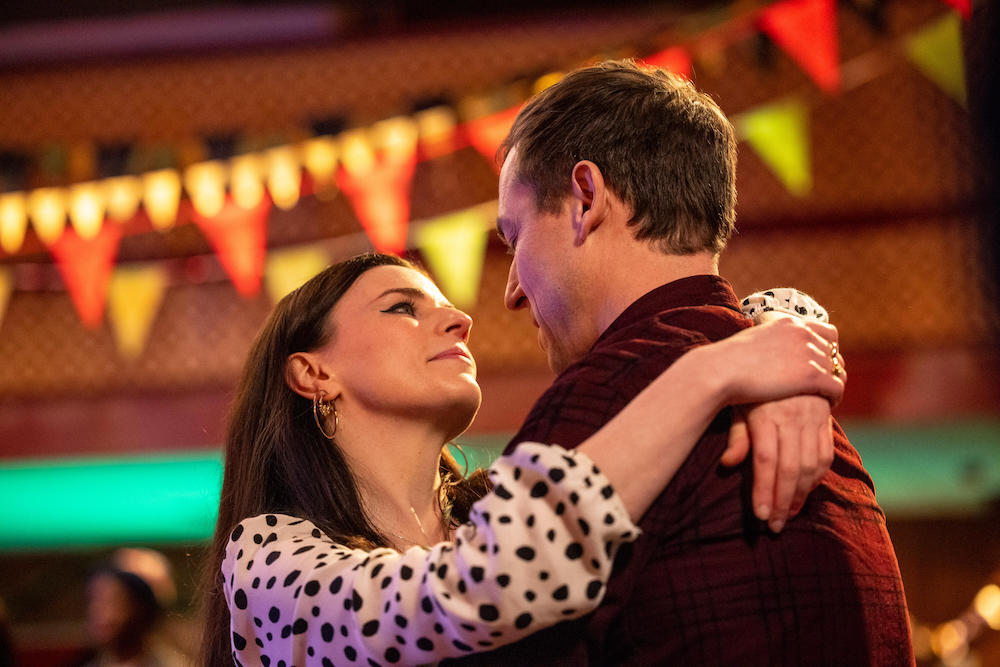 Photo courtesy of Channel 4
Aine (Aisling Bea) is trying her best to put her past behind her and start a new chapter of her life—but it might be more than she can handle right now. Her blossoming relationship with Richard (Tobias Menzies) is a rush of emotions. Although going from an employer/client relationship to dating is trickier than expected, especially when she's offered new professional opportunities. There's a lot of complicated emotions in the air as Shona (Sharon Horgan) plans her wedding to Vish (Aasif Mandvi) in spite of her feelings for Charlotte (Indira Varma). As the pressure builds, both sisters worry about things moving too fast. This Way Up continues to quietly and delicately explore the nuances of relationships and mental health. The series opens up a conversation about what "getting back to normal" means, which is a question that many of us have been asking lately. It's subtle and at times funny in its exploration but it keeps things honest and real, which is what keeps this series truly engaging.
This Way Up returns to Hulu on Friday.
From Hulu:
Season two of the BAFTA award-winning series is set after the events of the season one finale, with things in flux for Aine (Aisling Bea, "Living With Yourself;" "Quiz") and her sister, Shona (Sharon Horgan, "Catastrophe;" "Military Wives"). Aine's starting to leave her time in rehab behind and live less cautiously, which may not be entirely wise. Will she and Richard (Tobias Menzies, "The Crown;" "Game of Thrones") make a go of it? Or continue to exist in the odd tension of the employer and employee? How will Shona and Charlotte (Indira Varma, "Game of Thrones;" "Luther") manage running a new business together and having feelings for each other? Will Shona be able to go through with marrying Vish (Aasif Mandvi, "Evil;" "The Brink")? Planning a wedding? Can she tell him what happened? Is there anything more to tell?