This week: Mighty Oak, Jim Jefferies: Intolerant, Stateless, Doom Patrol, The Bold Type, The Old Guard, Central Park, Little Voice, Palm Springs, Snowpiercer, P-Valley
Mighty Oak
Tues July 7
On Paramount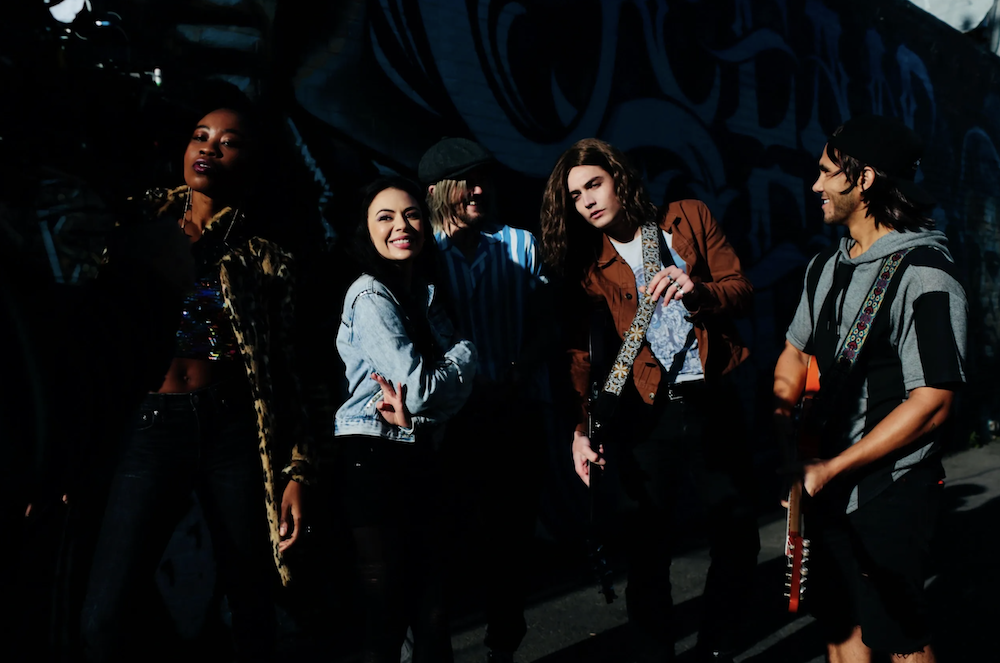 Army of Love was San Diego's hottest indie rock band. They were even booked to open for Arcade Fire. But tragedy struck before the group could hit the big time—a car accident took the lead singer Vaughn (Levi Dylan) from the world and his sister Gina (Janel Parrish) was left to pick up the pieces. Fast-forward ten years and the band are broken up and Gina is in a dark place. Until a kid named Oak (Tommy Ragen) wanders into her life, picking up her brother's old guitar and absolutely shredding. Gina believes Vaughn has been reincarnated in this ten-year-old's body and so she asks Oak to be the new Army of Love frontman if she gets the band
back together.
Managed by Gina, Army of Love is made up of the coolest bass player Alex (Nana Ghana), the perpetually drunk English drummer Darby (Ben Milliken), and the guy who totally has Gina's number, guitarist Pedro (Carlos PeneVega). Together they make awesome music and, more importantly, they heal each other. Mighty Oak shows the power of music and its ability to bring people together. It helps the group face even the hardest moments together. In amongst the feel good tunes the film deals with some difficult issues including addiction and depression. It'll touch your heart by showing the world through Oak's young eyes—he might not understand what's happening yet but you will and it'll make you ache. While we wish Mighty Oak dug a little deeper into those issues and didn't lean so heavily on clichés, it's still a solid Sunday night movie. It's cheesy but fun and sometimes that's all you need. Mighty Oak will make you relive the days of band posters on your wall coupled with the feeling that the perfect song really can save you.
Mighty Oak hits streaming platforms via Paramount tomorrow.
From Paramount:
Janel Parrish plays music manager Gina Jackson whose life is shattered when her brother and lead vocalist, Vaughn (Levi Dylan), is killed in a tragic accident. Ten years later, when a young guitar prodigy Oak Scoggins (Tommy Ragen) enters her orbit, she becomes convinced that this young man is the reincarnation of Vaughn, but is he?
—
Jim Jefferies: Intolerant
Tues July 7
On Netflix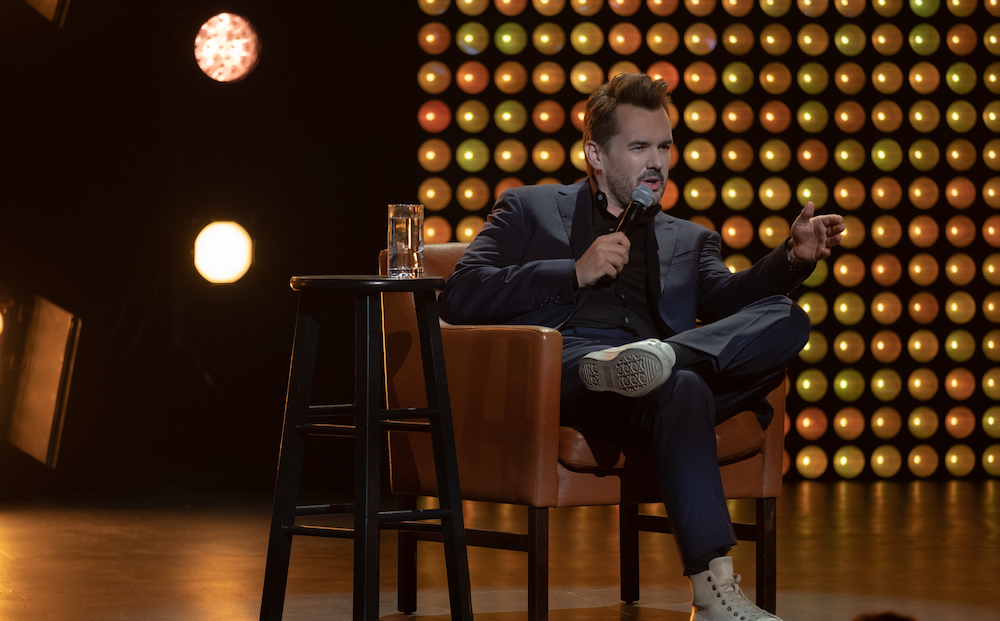 Jim Jeffries is coming for millennials. And he's got a point—we are lowkey obsessed with selfies—but our generation is also much more progressive and accepting. While he goes a bit far in describing how, soon, we'll be the "bigots" as more progressive generations come along, there's some truth to it. If you think society's gone mad, turn on Jim Jeffries' latest special for some out-there opinions and to learn why he's just about Intolerant of everything.
Jim Jefferies: Intolerant comes to Netflix tomorrow.
From Netflix:
Jim Jefferies returns to Netflix with his fourth Netflix Original stand-up special, Jim Jefferies: Intolerant. Filmed at The Wilbur in Boston, the Australian comedian toes the 'comedy line' with sharp and unapologetic jokes about his intolerance of lactose, germaphobes, and people with peanut allergies.
—
Stateless
Season 1
Wed July 8
On Netflix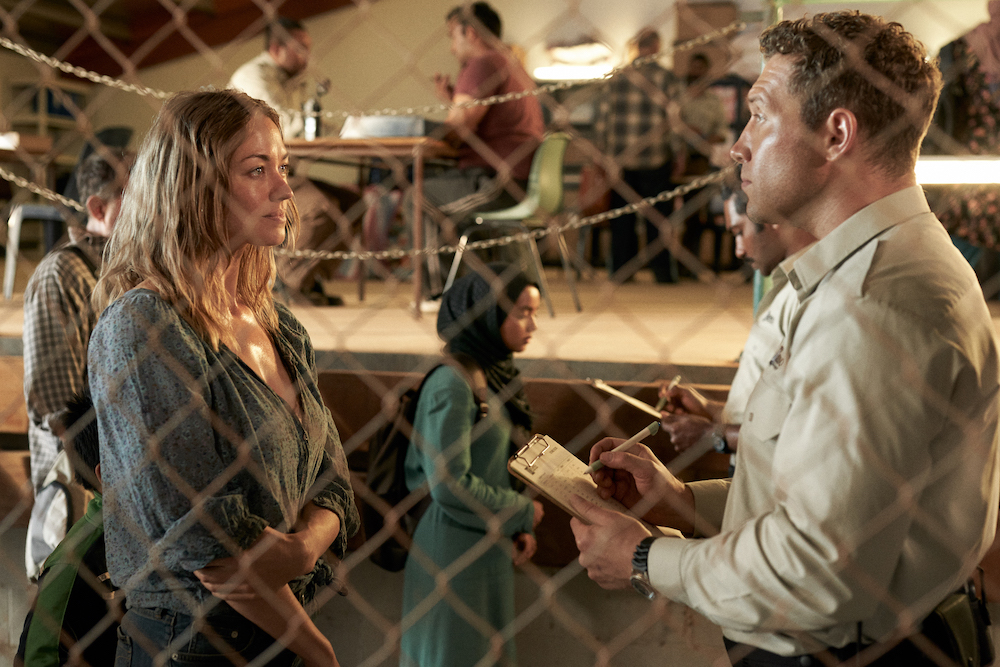 Stateless brings together themes that should be on our minds right now. Based on a true story, the series takes a dramatized look at what life is like in an Australian immigration detention center. Each character in the story found themselves held at the center through very different circumstances—there's an Australian dancer trying to escape the toxic people around her, an Afghan family fleeing persecution, a new detention center officer looking to help, and a bureaucrat trying to cover everything up. As you might expect, the refugees and immigrants being detained are barely given any information as to whether they'll ever see the outside world again. They're forced to live in the compound indefinitely, separated by gender, in fear of deportation or violence at the hands of the people running the center.
When Sofie Werner (Yvonne Strahovski) arrives, the center becomes the focus of harsh media attention when it's revealed she is an Australian resident. That shines a light on other cracks in the system but the secrets are covered up at every turn. The officers, led by new recruit Cam Sandford (Jai Courtney), are portrayed as struggling between doing their job and keeping the center away from the press. But there is rot throughout the system and it hardens the hearts of everyone there. Some turn to violence and humiliation, others draw the line but are forced to stay silent—and the system enables this to continue. It'll leave you with a bad taste in your mouth as you compare the series to the current state of immigration centers in the US and elsewhere. Especially when the only reason this center gets attention is because a white citizen is wrongfully detained there. The attempt to humanize the immigration enforcement team will make you deeply uncomfortable—the people in power are not the victims here and never should be portrayed as such—but Stateless shows there are good and bad people in every part of a system that is deeply broken and needs
to change.
Stateless debuts on Netflix on Wednesday.
From Netflix:
STATELESS is a powerful and timely series about four strangers whose lives collide at an immigration detention center in the middle of the Australian desert: an airline hostess on the run from a dangerous cult, an Afghan refugee and his family fleeing persecution, a young father escaping a dead-end job and a bureaucrat running out of time to contain a national scandal.
—
Doom Patrol
"Finger Patrol" – Season 2, Episode 5
Thurs July 9
On DC Universe & HBO Max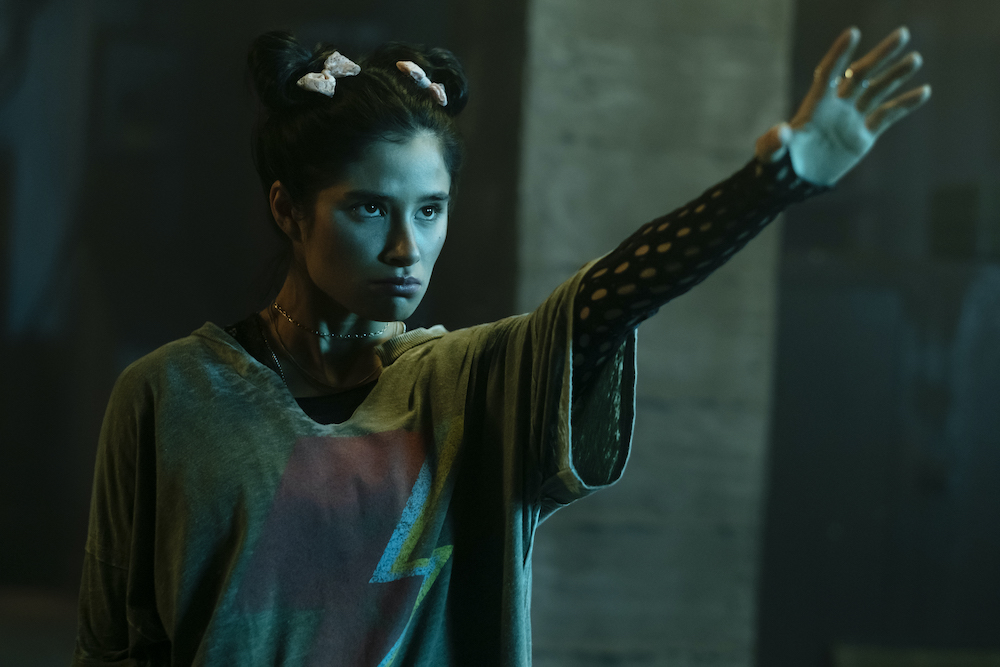 In case you hadn't guessed already, each member of the Doom Patrol is trapped in their own personal hell. Vic (Joivan Wade) has some twisted dreams that make him question himself. Rita (April Bowlby) brings her personal experiences to an acting audition…a little too much. Cliff (Brendan Fraser) discovers some plans from the Chief (Timothy Dalton) that give him some hope for his future—and some heroic ambition. And Larry (Matt Bomer) reconnects with the family he long thought he'd left behind. But it's Jane (Diane Guerrero) who we truly feel for this week—she's trapped with 64 different personalities who are all angry with the decisions she's made. So she turns to the Chief to help. He asks Jane to let her other personalities come out in order to help her heal as a whole…and that brings her closer to Dorothy (Abigail Shapiro). Ooh, when Dorothy and Jane's Baby Doll personality mix that's a recipe for disaster…or at the very least it'll annoy the rest of the team. Diane Guerrero is phenomenal in portraying each of her identities, especially when they start to clash in some deeply chilling ways.
Doom Patrol hits DC Universe & HBO Max on Thursday.
From DC Universe:
Dorothy finally finds a friend in Baby Doll – until playtime goes awry. Cliff discovers that Niles plans to give him human-like upgrades. Vic devises a plan to win Roni back. After Rita has a lousy audition, Larry brings her along to meet his family and learns more about the life he left behind.
—
The Bold Type
"Love" – Season 4, Episode 15
Thurs July 9 – 10PM
On Freeform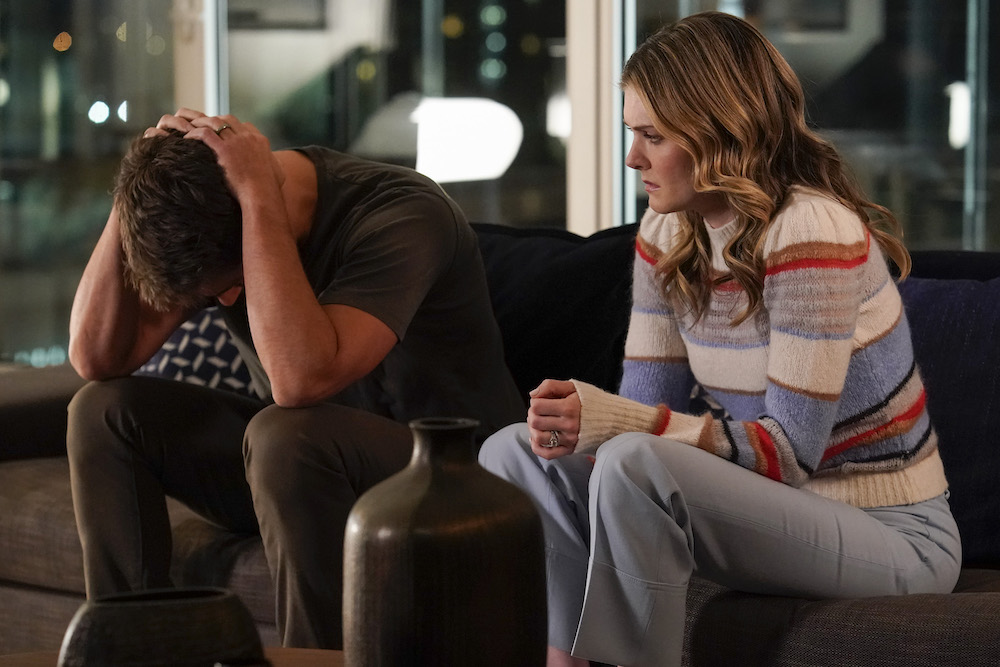 This week The Bold Type looks at the core relationships that fuel the story and puts them to the test. Sutton (Meghann Fahy) and Richard (Sam Page) get real honest with each other which is painful to watch. When Sutton stops answering her phone, Kat (Aisha Dee) and Jane (Katie Stevens) are left wondering what happened but their work keeps pulling them away from finding out. Kat has to launch her podcast and Jane needs to cover a breaking news story…and then things get heated for both of them. Will they focus on what's important?
Running parallel to Sutton and Richard's fight is Jacqueline (Melora Hardin) and Ian's (Gildart Jackson) conflict—they're still having communication issues and work keeps getting in the way. Can the two couples fix their troubles? We're not sure but they'll break your heart while they figure things out. "Love" shows the importance of open conversation and putting the work into keeping relationships strong. It'll make you tear up as you watch each couple fight for—and against—each other.
The Bold Type hits Freeform on Thursday.
From Freeform:
In five short love stories, Kat, Jane, Sutton, Jacqueline, and Alex confront challenges in their various relationships, bringing newfound understanding of their partners or creating irreparable rifts between them.
—
The Old Guard
Fri July 10
On Netflix
Stream The Old Guard on Netflix on Friday.
From Netflix:
Led by a warrior named Andy (Charlize Theron), a covert group of tight-knit mercenaries with a mysterious inability to die have fought to protect the mortal world for centuries. But when the team is recruited to take on an emergency mission and their extraordinary abilities are suddenly exposed, it's up to Andy and Nile (KiKi Layne), the newest soldier to join their ranks, to help the group eliminate the threat of those who seek to replicate and monetize their power by any means necessary. Based on the acclaimed graphic novel by Greg Rucka and directed by Gina Prince-Bythewood (LOVE & BASKETBALL, BEYOND THE LIGHTS), THE OLD GUARD is a gritty, grounded, action-packed story that shows living forever is harder than
it looks.
—
Central Park
"Hot Oven" – Season 1, Episode 8
Fri July 10
On Apple TV+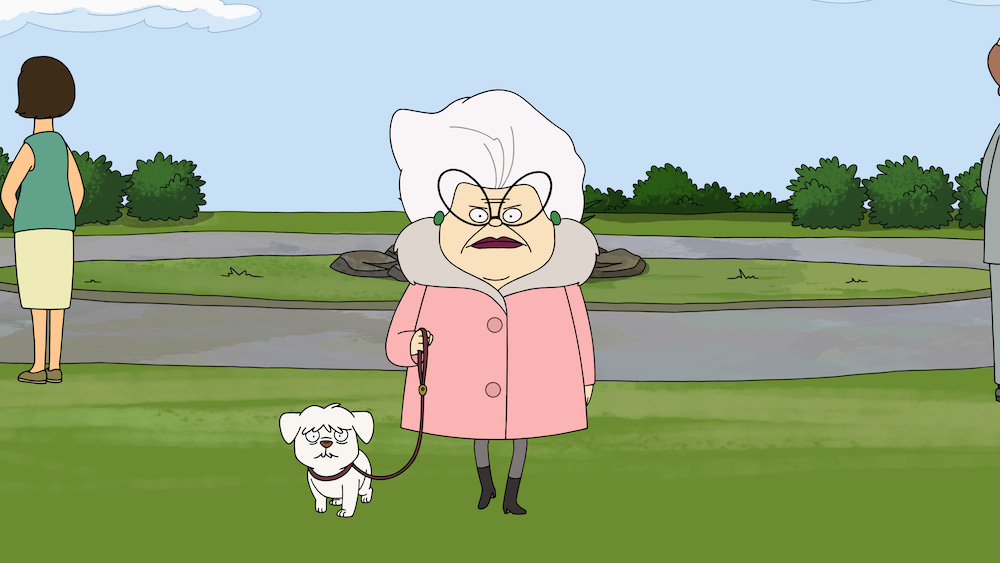 Molly (Kristen Bell) is in a perfect relationship with Brendan (it must be "perfect" because they sing a song about it and everything). She doesn't want to ruin things by…you know…introducing Brendan (Eugene Cordero) to her family. Especially when secrets come out about him that make the Tillerman family act even weirder than usual. One of the highlights of the episode is Owen (Leslie Odom Jr.) who simply wants to impress Brendan with his (in)famous homemade pizza…which goes spectacularly wrong. Speaking of spectacularly wrong, Bitsy (Stanley Tucci) tries to connect with her dog through therapy and the results are hilarious. Particularly when Helen (Daveed Diggs) tries her best to sabotage the bonding moments. It's a fun episode that shows the importance of being honest and finding common ground—even if that common ground is kinda-bad-but-kinda-awesome pizza. 
New episodes of Central Park hit Apple TV+ every Friday.
From Apple TV+:
In this animated musical comedy, Owen Tillerman and his family live an unconventional life in New York's bustling Central Park, which Owen manages.
Now, they'll have to fend off a wealthy hotel heiress who wants to turn the park
into condos.
—
Little Voice
Series premiere
Fri July 10
On Apple TV+
Watch Little Voice on Apple TV+ on Friday.
From Apple TV+:
A love letter to the diverse musicality of New York, "Little Voice" explores the universal journey of finding your authentic voice in your early 20s. Sara Bareilles ("Waitress") will provide original music for this fresh, intensely romantic tale of the search to find your true voice … and then the courage to use it.
—
Palm Springs
Fri July 10
On Hulu
Palm Springs hits Hulu on Friday.
From Hulu:
When carefree Nyles (Andy Samberg) and reluctant maid of honor Sarah (Cristin Milioti) have a chance encounter at a Palm Springs wedding, things get complicated when they find themselves unable to escape the venue, themselves, or each other.
—
Snowpiercer
"Train Demanded Blood" & "994 Cars Long" – Season 1, Episodes 9 & 10
Sun July 12 – 9PM
On TNT
Snowpiercer airs on TNT on Sunday.
From TNT:
The rebel forces are on their heels when a dangerous foe joins them. A plan is hatched to take the train, but it may destroy them all. In the revolution's aftermath, Layton and Melanie realize the greatest threat to their survival is right over
their shoulder.
—
P-Valley
"Perpetratin'" – Series premiere
Sun July 12 – 9PM
On STARZ
Watch P-Valley on STARZ on Sunday.
From STARZ:
Down deep in the Mississippi Delta lies an oasis of grit and glitter in a rough patch of human existence where beauty can be hard to find.