This week: Motherland: Fort Salem, Maggie, Moonhaven, Boo, Bitch, The Wonderful Summer of Mickey Mouse
Motherland: Fort Salem
"Oh Elayne…" – Season 3, Episode 3
Tues July 5 – 10PM
On Freeform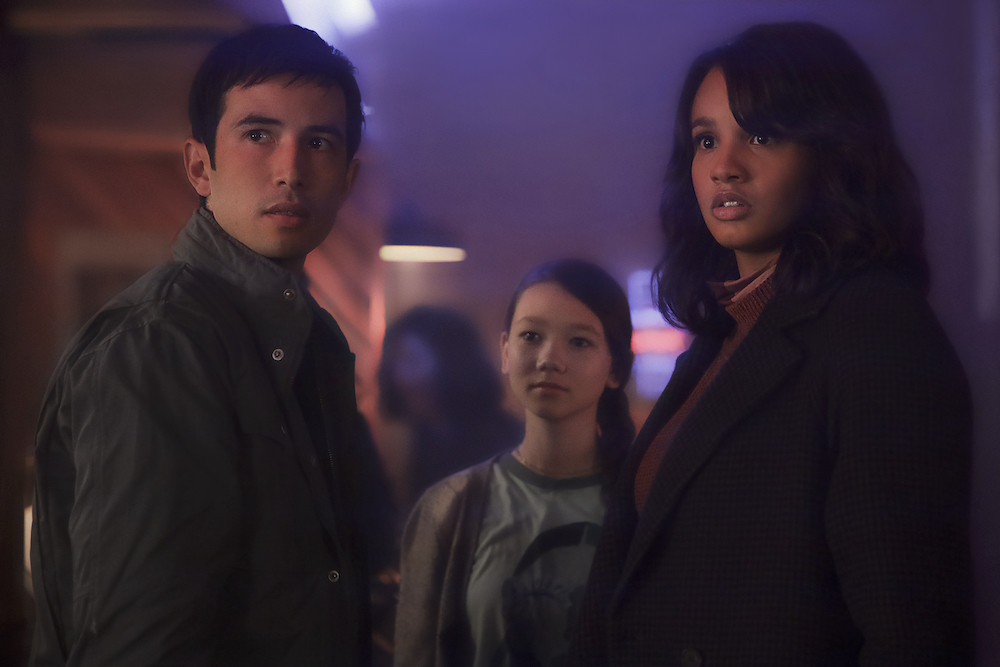 The witches are being hunted…and the Marshal is everywhere they turn. The chase is tantalizingly slow, which keeps the tension high throughout the episode. Michael Horse makes a fantastically ominous figure, able to chill you to the bone with just one look. As the group splits up, they find themselves in unexpected places, even running into some surprises that will leave your mouth hanging all the way open.
Tally (Jessica Sutton) in particular wants answers but she may unravel more questions than she's ready for. Abigail (Ashley Nicole Williams) and Adil (Tony Giroux) head on a desperate quest into a dangerous trap to find Khalida (Kylee Brown). Back in Washington, DC, the army prepares for an impending Camarilla infiltration…but what if they're already inside? That tension is primed and ready to explode at any moment. "Oh, Elayne" sees S3 dive deep down, down, down the rabbit hole until you can't tell which way is up—all you know is that you're under Motherland: Fort Salem's spell.
P.S. Make sure you get yourself a plate of nachos before watching—you'll thank us later.
Motherland: Fort Salem airs on Freeform tonight.
From Freeform:
With the Cession Marshal on their heels, the Unit splits up. Scylla and Nicte attempt to draw the Marshal away while Tally, Abigail and Adil meet an old ally. President Wade's political stance puts her in danger.
–
Maggie
Season 1
Wed July 6
On Hulu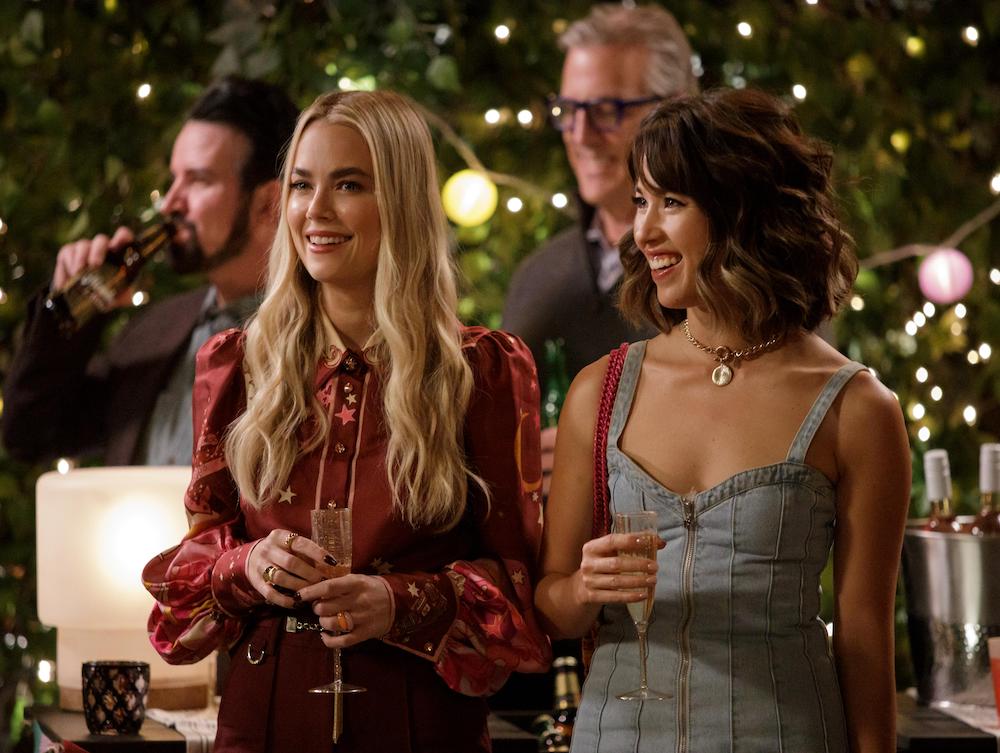 Maggie (Rebecca Rittenhouse) is a psychic. Not one of those "guesses your personality based on an overly generic zodiac sign" phonies but a tried-and-true, vision-seeing type of psychic. With just one touch, she can answer the most burning questions about your life—whether your partner is the one, how your lost loved one is doing, whether people would be able to tell if you got Invisalign—y'know, the things you can't wait to find out. So when she runs into a guy and sees a flash of their whole future together, she immediately runs in the opposite direction. Because if this power has taught Maggie anything, it's that the truth hurts.
Maggie is a kooky sitcom that feels like it belongs in the 90s—in all the best ways. It's light and bubbly, with whimsical characters who drop surprisingly insightful truths wrapped up in giggle-worthy quips (shoutout to Superstore superstar Nichole Sakura as Maggie's hilarious BFF). And the show keeps things interesting by asking the questions: How do you live your life when you can see everything coming? And what happens if that future is a lot more complicated than you could ever imagine? That's a pretty smart center and it gives the show a beating heart for Maggie to follow—or foretell.
Stream Maggie on Hulu tomorrow.
From Freeform:
Dating is hard enough – it's even harder when you also happen to be a psychic. Maggie's gift allows her to see into the future of her friends, parents, clients, and random people on the street. But when she begins to see glimpses of her own destiny after meeting an unexpected stranger, her romantic life suddenly gets a lot more complicated. Can you let yourself fall in love when you think you know how it ends? She probably should have seen this coming…
–
Moonhaven
Season 1
Thurs July 7
On AMC+
Moonhaven debuts on AMC+ on Thursday.
From AMC:
This sci-fi thriller set 100 years into the future follows Bella Sway (Emma McDonald), a lunar cargo pilot and smuggler who finds herself accused of a crime and marooned on Moonhaven, a utopian community on a 500 square mile Garden of Eden built on the moon to find solutions to the problems that will soon end civilization on Mother Earth. A skeptic in paradise, Bella is sucked into a conspiracy to gain control of the artificial intelligence responsible for Moonhaven's miracles and teams with a local detective, Paul Serno (Dominic Monaghan, Lost), to stop the forces that want to destroy Earth's last hope before they are destroyed themselves. Tomm Schultz (Joe Manganiello, True Blood), an ex-military with a philosophical bent, is the right hand of the lead Earth diplomat to the moon, who finds his ambitions changed when he's injected with a mind-altering moon drug.
–
Boo, Bitch
Season 1
Fri July 8
On Netflix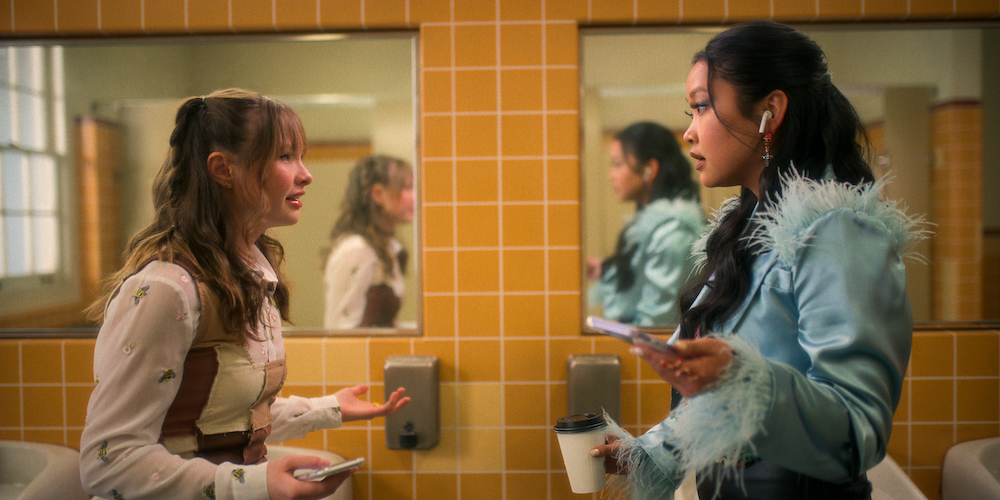 Erika (Lana Condor) and Gia (Zoe Margaret Colletti) are best friends in their senior year. Until they realize they haven't made a mark on their high school or done anything most teens are expected to do. So on one crazy night, they hit up a house party and say yes to everything…which is all fun and games until Erika's body winds up dead in the woods. Now a ghost with some weird glitchy powers, she and Gia have to figure out her UFB (Unfinished Business) before her body decomposes—and that plan may be more complicated than they thought.
Boo, Bitch is a teen dramedy about BFFs, popularity, and what it means to truly live (as a teen, anyway). It has an interesting premise and some predictable but fun twisty moments…however, it comes off a little dated. The supporting characters aren't as fleshed out as they should be and they often make choices teens wouldn't make in 2022. It's a fast and semi-fun watch but it doesn't quite hit the mark, which is a shame because its quirky style could really sing if it was refreshed enough for today.
Boo, Bitch comes to Netflix on Friday.
From Netflix:
Over the course of one night, a high school senior, who's lived her life safely under the radar, seizes the opportunity to change her narrative and start living an epic life, only to find out the next morning… she's a motherf*%king ghost.
–
The Wonderful Summer of Mickey Mouse
Fri July 8
On Disney+
Stream The Wonderful Summer of Mickey Mouse on Disney+ on Friday.
From Disney:
Mickey Mouse and his friends each recall the wild events leading up to the Annual Summer Fireworks Spectacular from their point-of-view.