This week: Motherland: Fort Salem, Love is Blind: After the Altar, Tattoo Redo, Grown-ish, Jungle Cruise, Central Park, Outer Banks, Centaurworld, The Pursuit of Love
Motherland: Fort Salem
"My 3 Dads" – Season 2, Episode 6
Tues July 27 – 10PM
On Freeform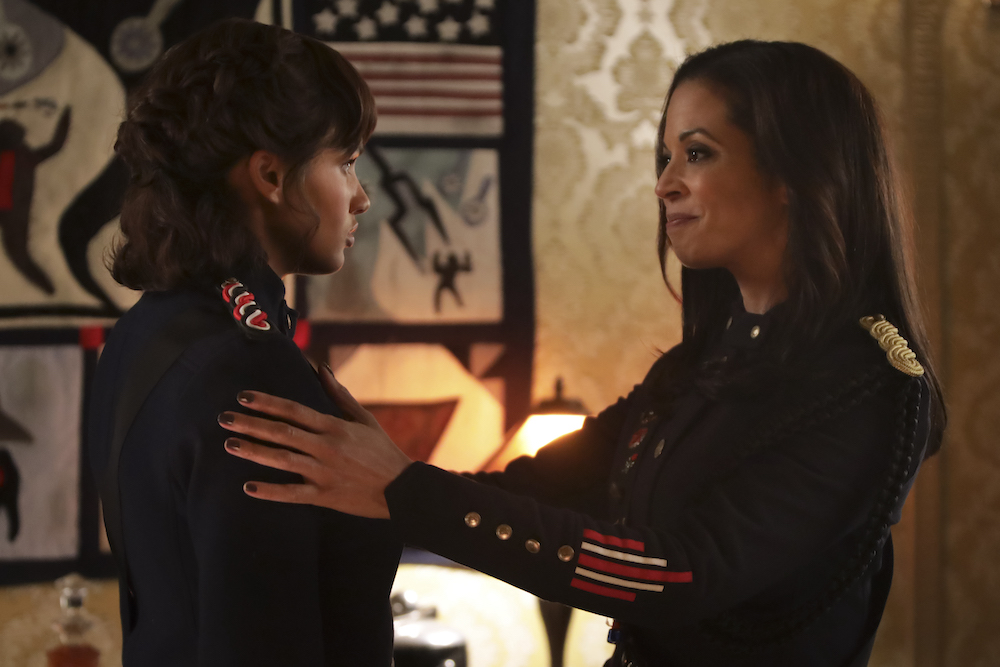 Photo: Freeform/Jeff Petry
The Bellweather Unit heads home for a break…but they don't get quite the welcome they're expecting. Raelle (Taylor Hickson) brings Tally (Jessica Sutton) to the Cession to see her father, giving Tally a glimpse into a different way of life. And Abigail (Ashley Nicole Williams) takes Adil (Tony Giroux) to meet her family—but they have other plans. By removing the cadets from their Army home, you get to see new layers to them and the history they carry with every step. It's a bittersweet reprieve from the darkness looming over the witches—for how long? Meanwhile, Anacostia (Demetria McKinney) and Scylla (Amalia Holm) disagree on their next steps…but bigger things threaten to derail everything. "My 3 Dads" is like the calm before the storm—you can feel trouble brewing but you still won't be able to stop the adrenaline rush when the thrilling action finally hits.
Motherland: Fort Salem airs on Freeform tomorrow.
From Freeform:
Raelle brings Tally home to the Cession, where they struggle with the past. Abigail is confronted with pressure from her family when Adil accompanies her home.
—
Love is Blind: After the Altar
Season 1
Wed July 28
On Netflix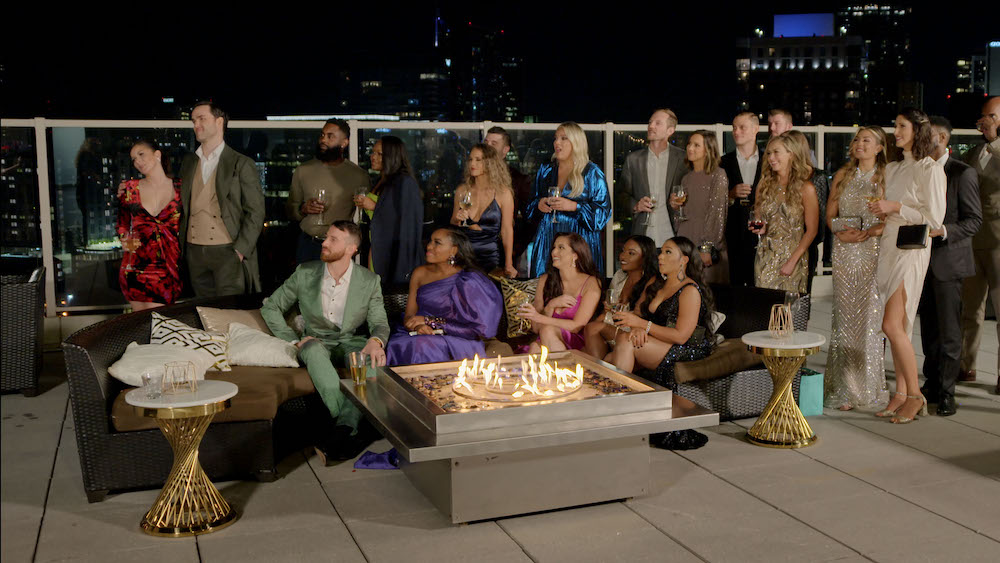 Photo courtesy of Netflix © 2021
Love is Blind is a series that kept us entertained through the beginnings of lockdown and now it's back to give us an update. Find out where the couples from S1 are now—are they still together? What scandals have happened in the two years since they first met? And will there be the sparks of some new romances? We won't spoil anything, of course, but it's no surprise that there will be plenty of drama and hijinks from singles and couples alike. Pour yourself a glass of red and make your predictions, while enjoying the TV series equivalent to stalking your ex's Insta to see what they're up to now.
Love is Blind: After the Altar hits Netflix on Wednesday.
From Netflix:
In Netflix's Love is Blind: After the Altar, the season one cast is back for an anniversary party you won't want to miss. For three episodes, catch up with your favorite couples and singles as they settle back into their daily lives in Atlanta. How will Amber and Barnett feel about seeing Jessica? Will Diamond and Carlton ever make amends? Who might make a surprise appearance? And who won't even show up for the party because of all the drama that's happened in the past two years? Ultimately, when it comes to love, the experiment never ends.
—
Tattoo Redo
Season 1
Wed July 28
On Netflix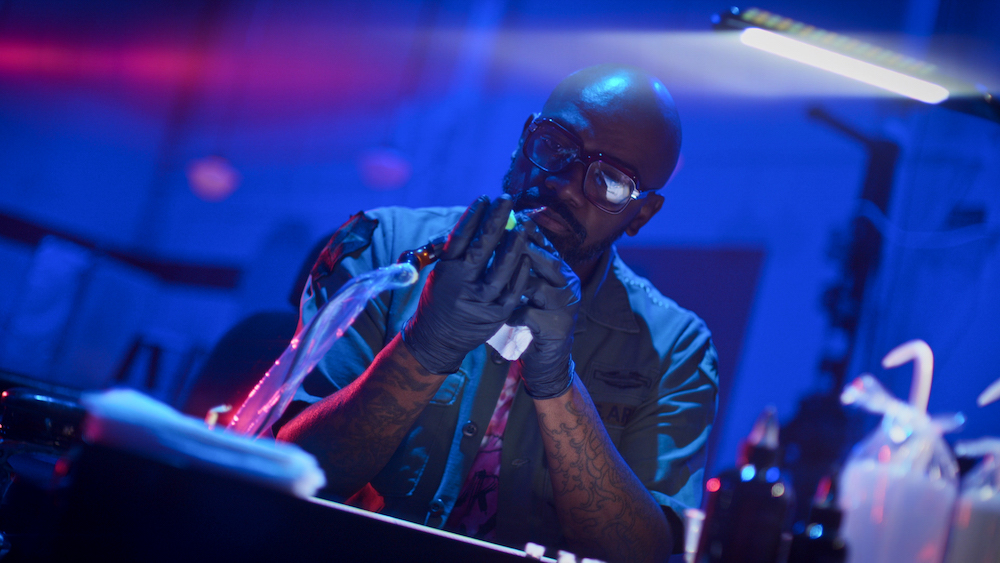 Photo courtesy of Netflix © 2021
Netflix is trying to get on the tattoo fixers* game with Tattoo Redo. The series brings in clients who have some of the most ridiculous & regretted tatts you've ever seen—and challenges its team of tattoo artists to fix each one. But there's a twist! Each client brings their friend/loved one along for the ride…who gets to choose what the coverup tattoo will look like. And no one can see the ink 'til it's done. Yikes! Will their relationships last after seeing the tattoo redo? Place your bets now. It's fun seeing everyone involved squirm—whether from secondhand embarrassment or…y'know…a needle—and the artists are pros at covering up. The big reveals are pretty cool and hearing the wild stories behind the original tattoos will have you giggling. And it'll make you think twice before getting your next piece of body art.
*(note: This show is a riff on Tattoo Fixers meets Just Tattoo of Us, two popular British TV shows with extremely similar concepts. Watch those too to give yourself a crash course on what not to tattoo).
Watch Tattoo Redo on Netflix on Wednesday.
From Netflix:
When terrible tattoos are too much to bear…you cover them up. Five of the most talented tattoo artists in the business take on some of the most embarrassing tattoos and turn them into amazing masterpieces. While comedian and host Jessimae Peluso teases the clients over their lack of judgment, in a fun twist, what they don't know is that the person that brought them in is going to choose the Tattoo Redo! Will they love it or hate it?
—
Grown-ish
"Daddy Lessons" – Season 4, Episode 4
Thurs July 29 – 8PM
On Freeform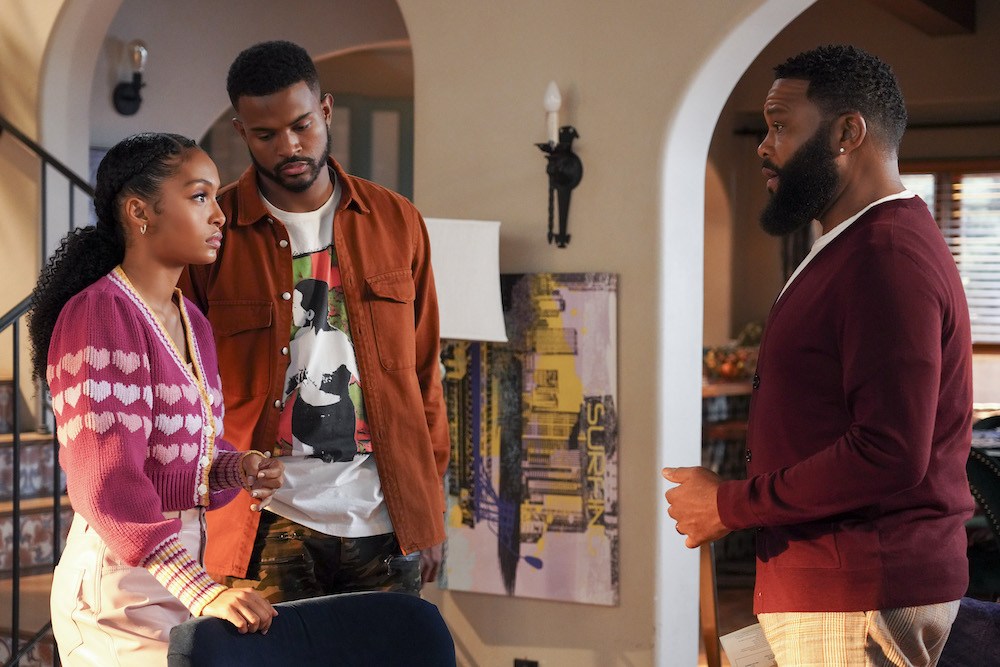 Photo: Freeform/Tiffany Roohani
College is a place where kids can have fun figuring out who they are without any real guidance from their parents. But when college students let loose a little too much…it's time for the grown-ups to step in. Yup, jail time, pregnancy, or academic probation ain't half as scary as an angry parent. So Zoey (Yara Shahidi) is in for a shock when her dad (Anthony Anderson) shows up at her house. His visit causes Vivek (Jordan Buhat) to consider how his parents will react to his recent brush with the law. Getting to see Dre give out a few life lessons in his own hilarious yet heartfelt way is great to watch; seeing the grown-ish crew learn to take responsibility for their actions is even better. "Daddy Lessons" makes the heart and family element of grown-ish shine while setting the crew on a new step toward growing up.
Grown-ish airs on Freeform on Thursday.
From Freeform:
After learning about his expulsion, Vivek dreads telling his parents about his failures. Dealing with the aftermath of Mexico, Dre questions Zoey's recent choices. Meanwhile, Doug meets Kiela, a new resident at Hawkins.
—
Jungle Cruise
Fri July 30
On Disney+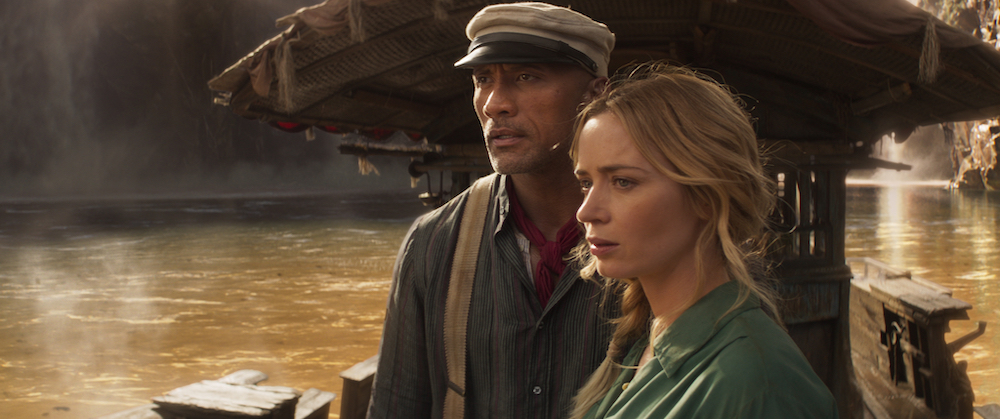 Photo © 2021 Disney Enterprises, Inc.
It's a wonder that after close to 20 years Disney has [in The Rock's voice] FINALLY made another movie based on a ride that is as fun and good as the first Pirates of the Caribbean. I was starting to lose faith and I think the Mouse did as well as they pivoted to remakes of their classics and buying up Marvel and Lucasfilm. But leave it to Dwayne Johnson and Emily Blunt to really turn it around with Jungle Cruise. (read Julian Lytle's review)
Jungle Cruise debuts on Disney+ on Friday.
From Disney:
Join fan favorites Dwayne Johnson and Emily Blunt for the adventure of a lifetime on Disney's "Jungle Cruise," a rollicking thrill-ride down the Amazon with wisecracking skipper Frank Wolff and intrepid researcher Dr. Lily Houghton. Lily travels from London, England to the Amazon jungle and enlists Frank's questionable services to guide her downriver on La Quila—his ramshackle-but-charming boat. Lily is determined to uncover an ancient tree with unparalleled healing abilities—possessing the power to change the future of medicine. Thrust on this epic quest together, the unlikely duo encounters innumerable dangers and supernatural forces, all lurking in the deceptive beauty of the lush rainforest. But as the secrets of the lost tree unfold, the stakes reach even higher for Lily and Frank and their fate—and mankind's—hangs in the balance.
—
Central Park
"Sir Bricks a Lot" – Season 2, Episode 8
Fri July 30
On Apple TV+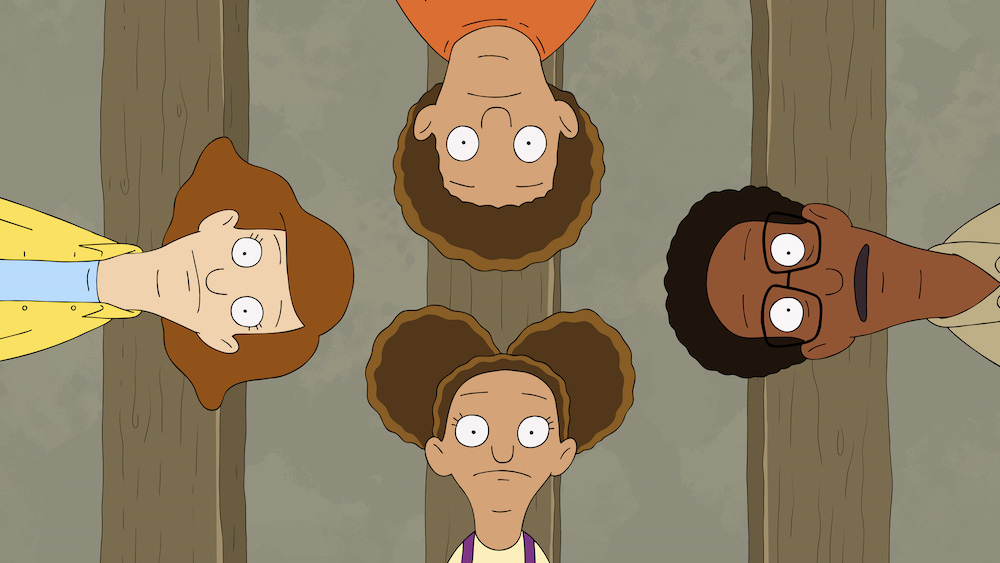 Photo courtesy of Apple Studios
The Tillermans are considering moving (we know, we're crying in horror too). Together they figure out this huge decision through…Lego bricks. Yup. They each play out their fantasy for a new life using Lego figurines and they dream BIG with some poppin' musical numbers. Which makes for a fun detour kind of episode where bricks rule and dreams are limitless (especially when Cole is writing them). "Sir Bricks a Lot" is a seemingly fun and fluffy Central Park episode but it pushes the Tillerman family's boundaries in its own quirky way. What will they decide? Well, you'll just have to watch and enjoy the journey for yourself.
Watch Central Park on Friday on Apple TV+.
From Apple:
When Owen considers a new job in Connecticut, the family uses Cole's toys to imagine what their lives would be like if they moved out of the park.
—
Outer Banks
Season 2 
Fri July 30
On Netflix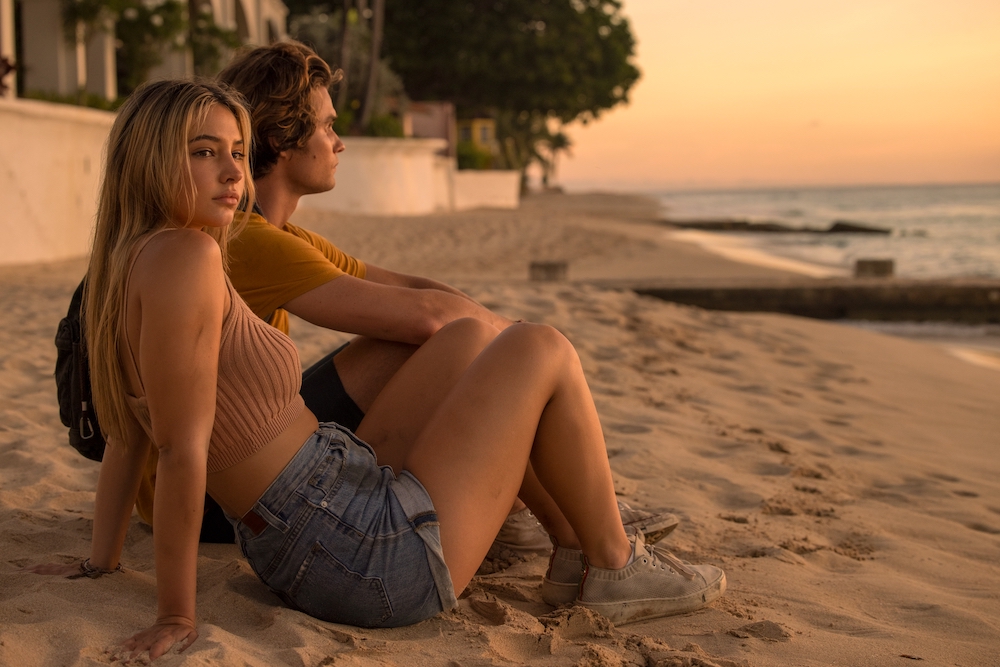 Photo: Jackson Lee Davis/Netflix © 2021
John B (Chase Stokes) & Sarah (Madelyn Cline) are on the run. They're wanted back home but managed to escape during an intense storm that should have killed them. Now they're in the Bahamas laying low while still looking for the $400 million treasure. But they're being followed and are forced to make some desperate promises they may not be able to keep. Back at home, JJ (Rudy Pankow) & the rest of the Pogues try to figure out how to clear John B's name and get Rafe (Drew Starkey) to confess…but they don't realize how much danger they're in. If you thought the revelations and drama were high in S1, you're in for a wild ride as there are kidnappings, blackmail, and a prize worth killing for (and that's just the tip of the iceberg). Anchors away and set sail for Outer Banks—just prepare for a whole lot of mystery & theatrics.
Outer Banks returns to Netflix on Friday.
From Netflix:
Outer Banks is a coming of age story that follows a tight-knit group of local teens (the "Pogues") in the beach vacation destination of the Outer Banks of North Carolina. After their near-death escape, Season Two finds John B & Sarah on the run – and in over their heads – in the Bahamas. New friends also bring new foes as they're back on the trail of the gold, while the stakes for Kiara, Pope, and JJ rapidly escalate at home. The $400M is still in the game, but will the uncovering of a new-found secret reunite the group for a fresh mission? The adventure of a lifetime awaits, but uncharted waters ahead mean our Pogues must do all they can to make it out alive.
—
Centaurworld
Season 1
Fri July 30
On Netflix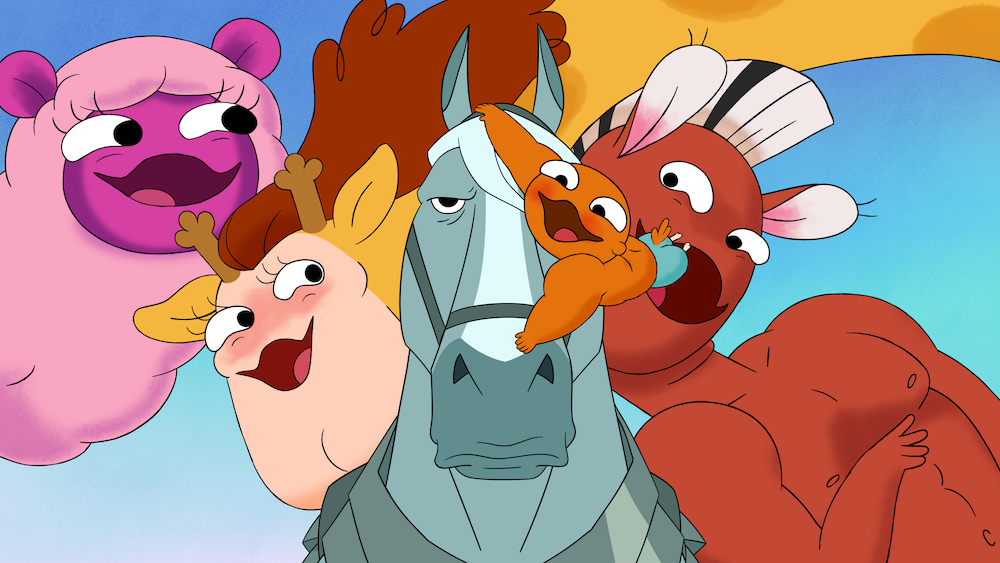 Photo courtesy of Netflix © 2021
What do you get if you cross Adventure Time with Bojack Horseman? It'd be something close to the vibe of Centaurworld—but you'd need to add in some extra strange sauce & sparkle. In this story a war horse is fighting with her rider in the midst of battle…until she gets magically transported into another realm. That realm is a mystical rainbow-hued acid-trip full of centaurs of all shapes and sizes and weirdness. Once Horse (Kimiko Glenn) stops screaming and realizes she's not having a bizarre candy-fueled dream, she's taken in by some curious but loving (and definitely oddball) centaurs who want to help her even if they don't quite know who…or what…she is.
As they head on a journey to help Horse find her way back home, she learns more about herself than she ever imagined as her newfound friends encourage her to embrace her inner magic. Centaurworld is definitely a trip but once you get over the initial WTF-ery of the centaurs, this series settles into a fun adventure filled with lots of heart and plenty of musical detours (because in Centaurworld you sing your feelings…obviously). Don't try to wrap your head around it, just relax and get swept up in this offbeat but totally amusing experience.
Stream Centaurwold on Friday, only on Netflix.
From Netflix:
Centaurworld follows a war horse who is transported from her embattled world to a strange land inhabited by silly, singing centaurs of all species, shapes, and sizes. Desperate to return home, she befriends a group of these magical creatures and embarks on a journey that will test her more than any battle she's ever faced before.
—
The Pursuit of Love
Season 1
Fri July 30
On Amazon Prime Video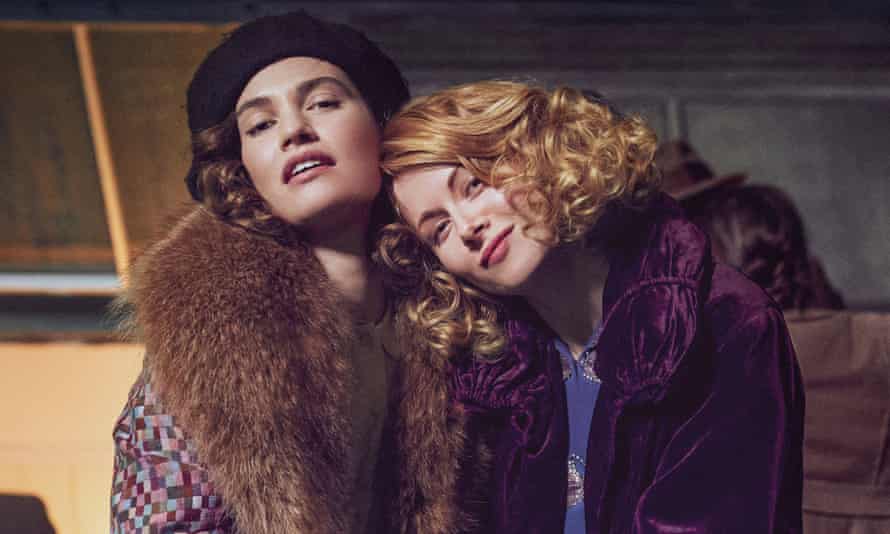 Photo courtesy of Amazon
Life for women pre-WWII was pretty grim (you could argue it still sucks but we don't have time to get into that today). Everything about the life of a young woman revolved around preparing for marriage to a respectable suitor. Love was hard to find, particularly in the middle–upper classes where matches were made based on money and status. The Pursuit of Love is a witty and wry observation of what life and relationships were like back then. The series focuses on cousins Linda (Lily James) and Fanny (Emily Beecham) who have different ideas of what they want for their future. As they court eligible bachelors and attempt to avoid their uncle's madcap beliefs about education and hunting, they share real and deeply funny commentary with each other, often whispered in the sanctuary of the linen cupboard. And as they grow and find their own identities beyond the walls of their Alconleigh home, the show takes on wider worldviews and moves through eras, ever narrated by Fanny with a wink. The Pursuit of Love is whimsical and sharply insightful, bringing light tones to often tragic situations, making for a charming watch for any period-drama lover or, indeed, anyone looking for an entertaining vignette into how women lived their lives during times society tried its best not to let them.
The Pursuit of Love comes to Amazon Prime Video on Friday.
From Amazon:
The Pursuit of Love follows the friendship between cousins Linda and Fanny, which will be put to the test as Fanny settles for a steady life and Linda decides to follow her heart.