This week: Motherland: Fort Salem, Joel Kim Booster: Psychosexual, The Future Of, The Umbrella Academy, The Bear, Chloe, Loot, The Chi, Westworld
Motherland: Fort Salem
"Homo Cantus" – Season 3 premiere
Tues June 21 – 10PM
On Freeform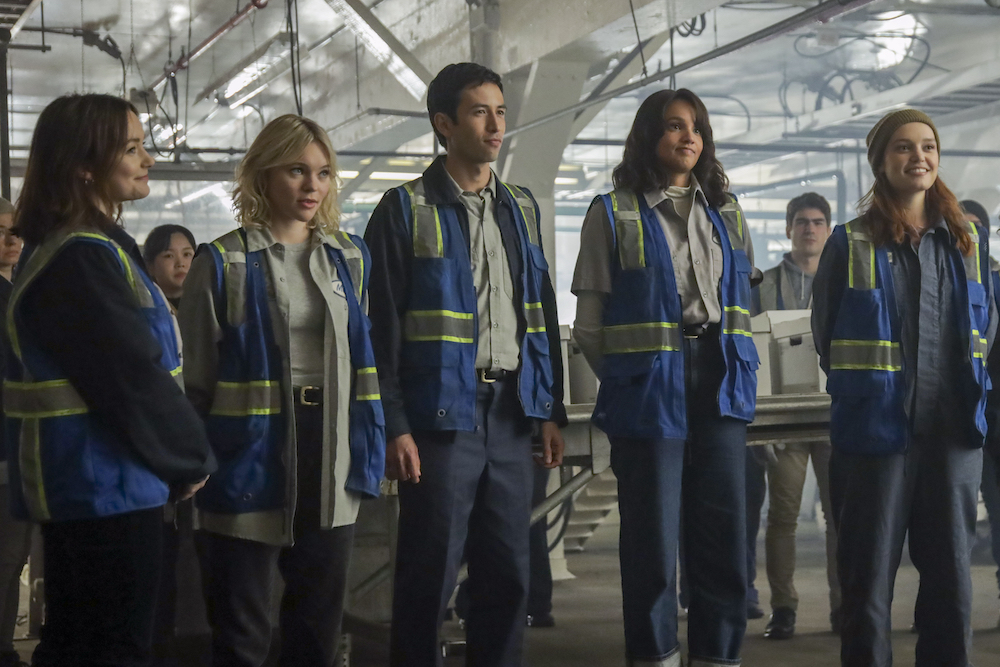 When we rejoin our witchy warriors, they're on the run from the government and the whole of Motherland is seemingly working against them. Hidden away as fugitives, they're getting restless and dealing with it in their own ways. Raelle (Taylor Hickson) and Scylla (Amalia Holm) steal moments of happiness whenever they can. Nicte (Arlen Aguayo Stewart) trains Tally (Jessica Sutton) to take her sight to new levels. Abigail (Ashley Nicole Williams) is desperate for news from back home. But when the government starts closing in, their luck is beginning to wear thin. Motherland: Fort Salem S3's opening episode is a slow burn, settling you back into its world and reminding you that the stakes are high and the betrayals run deep. "Homo Cantus" underscores just how far the Bellweather Unit & co. have come—and how much further they have to go. And that's going to make for one hell of a final season.
Motherland: Fort Salem returns to Freeform tonight.
From Freeform:
After being blamed for the death of the vice president's daughter, the witches leave the army behind and become fugitives — but staying out of trouble is never easy. While Raelle and Scylla enjoy their reunion, Nicte tempts Tally with a new power.
–
Joel Kim Booster: Psychosexual
Tues June 21
On Netflix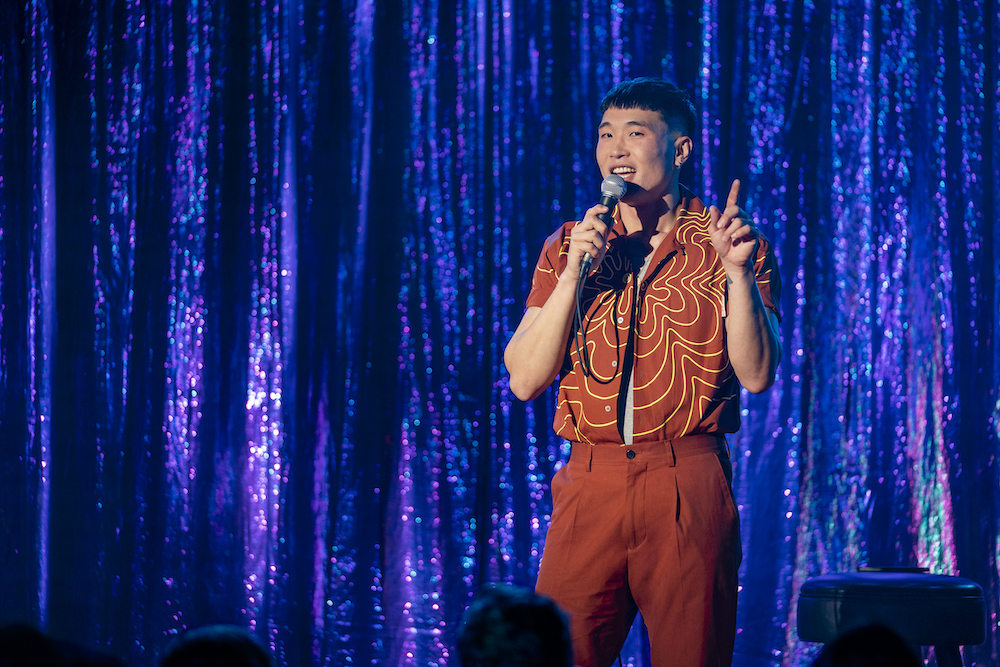 If you loved Joel Kim Booster in Fire Island and want more, his new Netflix special is about to give you the good stuff. Booster talks about growing up as an Asian American with an adopted white family, partying on a gay cruise, and his takes on human sexuality. Oh, and don't worry—he absolutely wants to hear the opinions of the token straight white man in the audience in a running bit that will have you howling with laughter. Psychosexual is wildly entertaining, boundary-stomping, and oh so extra—and we wouldn't want it any other way.
Watch Joel Kim Booster: Psychosexual on Netflix.
From Netflix:
Filmed at Catch One in Los Angeles, Joel Kim Booster makes his Netflix comedy special debut with Psychosexual. In a uniquely crafted three set act; Booster discusses learning the cultural nuances of being Asian as he gets older, shares his preference for threesomes with tips for successful masturbation and his fascination for human sexuality and much more.
–
The Future Of
Season 1
Tues June 21
On Netflix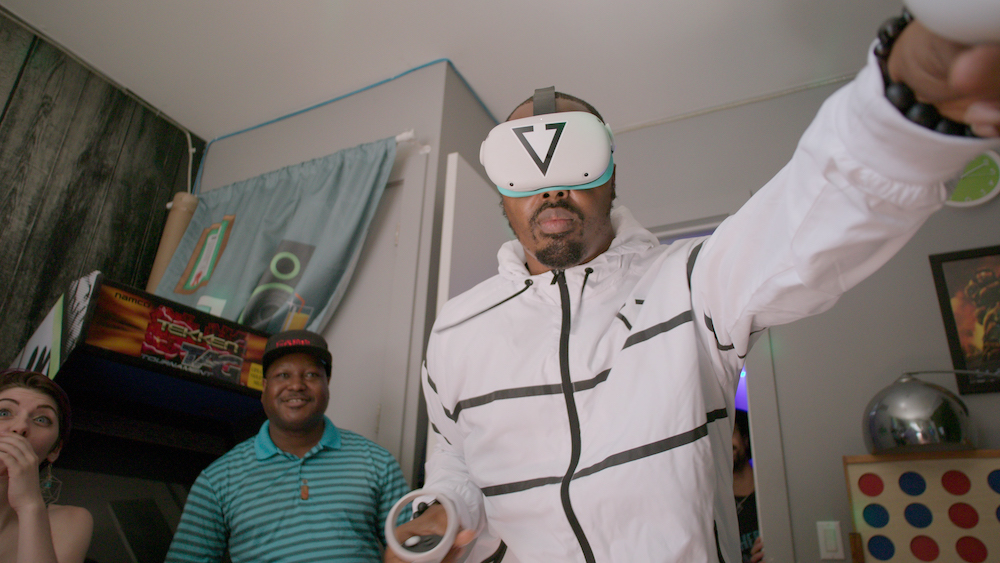 Technology is an integral part of our lives and helps us more than we even realize. However, how far is too far? The Future Of asks the "what if?" questions you've probably never even thought of (but will soon be dying to know). From algorithms that set you up on your perfect date, to life-saving plants, to apps that allow you to talk to your dog, the future isn't all that far away—a lot of what is explored is already unfolding in real-time. The Future Of is a fun docuseries that gives you bite-size chunks of info, tackling different topics in each episode to keep you engaged. Talking with scientists and experts in each subject, paired with whimsical cartoons and a charming voiceover by Jurnee Smollett, you'll find yourself laughing as you learn some stuff—and isn't that the best kinda education?
Stream The Future Of on Netflix.
From Netflix:
What if we could look into the future to see how every aspect of our daily lives – from raising pets and house plants to what we eat and how we date – will be impacted by technology? We can, and should, expect more from the future than the dystopia promised in current science fiction. The Future OF will reveal surprising and personal predictions about the rest of our lives — and the lives of generations to come.
–
The Umbrella Academy
Season 3
Wed June 22
On Netflix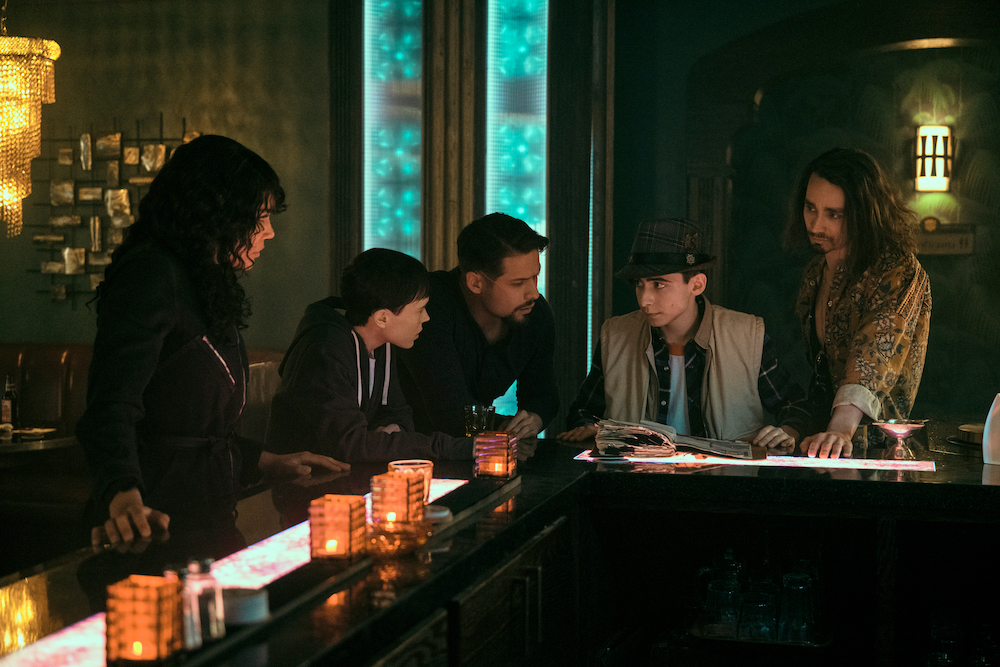 At some point, while watching The Umbrella Academy, you ask yourself: Why is this so good? It could be during any of the three seasons. Maybe because you read the comic book series and this team not only understood the adaptation assignment but surpassed it. It might be due to the fact delightfully deranged dysfunction is your thing. Maybe it's the cast (it's definitely the cast). Perhaps you enjoy Doctor Who and this series is like traveling with seven distinct Doctors with all of the quirks, none of the ego (well, maybe Diego), and much sharper teeth. (read Sherin Nicole's review)
The Umbrella Academy is back on Netflix tomorrow.
From Netflix:
After putting a stop to 1963's doomsday, the Umbrella Academy return home to the present, convinced they prevented the initial apocalypse and fixed this godforsaken timeline once and for all. But after a brief moment of celebration, they realize things aren't exactly (okay, not at all) how they left them. Enter the Sparrow Academy. Smart, stylish, and about as warm as a sea of icebergs, the Sparrows immediately clash with the Umbrellas in a violent face-off that turns out to be the least of everyone's concerns. Navigating challenges, losses, and surprises of their own – and dealing with an unidentified destructive entity wreaking havoc in the Universe (something they may have caused) — now all they need to do is convince Dad's new and possibly better family to help them put right what their arrival made wrong. Will they find a way back to their pre-apocalyptic lives? Or is this new world about to reveal more than just a hiccup in the timeline?
–
The Bear
Season 1
Thu June 23
On Hulu
Watch The Bear on Hulu on Thursday.
From Hulu:
FX's new Hulu series The Bear is a comedy series about food, family, and overcoming life's tragic downsides. Follow Carmen, aka "Carmy"—a talented young chef forced to give up his fine-dining career to run his family's small sandwich shop after an unexpected death devastates the family. Can Carmy navigate his grief, strained family dynamic, and uncooperative new kitchen staff?
–
Chloe
Season 1
Fri June 24
On Amazon Prime Video
What if you could catfish in real life? Chloe asks the question but you might not be ready for the answer. Becky (Erin Doherty) leads a seemingly normal life. She works, she dates, and she looks after her mother. But in the quiet moments, she turns on her phone and looks at her childhood friend Chloe Fairbourne's (Poppy Gilbert) social media. Seems pretty mundane, right? Well, the usual late-night SM scroll quickly turns to obsession—Becky can't get enough of her old friend's Insta-perfect life. However, when Chloe dies suddenly, Becky steps into her world, taking on the new alter-ego of Sasha and becoming part of Chloe's social circle. It's a twisted kind of takeover that creeps up on you so slowly you won't realize it until it's too late and you're hooked. Chloe takes a few episodes to settle into—but if you stick with it you'll fall deep into the tangled web Becky (or Sasha) weaves. And it'll make you think twice about stalking that Insta-crush, even if you think it's innocent…
From Amazon:
Chloe is a psychological thriller that follows Becky Green (Erin Doherty), who is obsessed with stalking her childhood friend Chloe Fairbourne's (Poppy Gilbert) perfectly curated social media presence. Chloe's charmed life, adoring husband, and circle of high-achieving friends are always just a click away, and Becky can't resist peering into a world that contrasts so starkly with her own, as she cares for her mother, who has early onset dementia. When Chloe suddenly dies, Becky assumes a new identity and infiltrates the enviable lives of Chloe's closest friends to find out what happened to her. Through her alter-ego Sasha, Becky becomes a powerful, transgressive heroine; a popular, well-connected "someone" with a life–and loves–that are far more exciting and addictive than the "no-one" she is as Becky. However, the pretense soon obscures and conflates reality, and she discovers Chloe's real life had not been nearly as perfect as it was portrayed online. As Becky gets deeper into her con, and Chloe's inner circle, she risks losing herself completely in the game she is playing.
–
Loot
Season 1
Fri June 24
On Apple TV+
Stream Loot on Apple TV+ on Friday.
From Apple:
In "Loot," billionaire Molly Novak (Maya Rudolph) has a dream life, complete with private jets, a sprawling mansion and a gigayacht — anything her heart desires. But when her husband of 20 years betrays her, she spirals publicly, becoming fuel for tabloid fodder. She's reaching rock bottom when she learns, to her surprise, that she has a charity foundation run by the no-nonsense Sofia Salinas (Michaela Jaé Rodriguez), who pleads with Molly to stop generating bad press. With her devoted assistant Nicholas (Joel Kim Booster) by her side, and with the help of Sofia and team — including mild-mannered accountant Arthur (Nat Faxon) and her optimistic, pop-culture-loving cousin Howard (Ron Funches) — Molly embarks on a journey of self-discovery. Giving back to others might be what she needs to get back to herself.
–
The Chi
Season 5 premiere
Fri June 24
On Showtime
The Chi returns to Showtime on Friday.
From Showtime:
Season 5 of The Chi delves deeply into the many joys and complications of Black love: relationships, children, career, community and self.
–
Westworld
Season 4
Sun June 26 – 9PM
On HBO
Westworld is back on HBO on Sunday.
From HBO:
A perfect day is here.