This week: Headspace: Unwind Your Mind, The Bold Type, Penguin Town, Black Summer, iCarly, Intelligence, Élite, The World's Most Amazing Vacation Rentals, Luca
Headspace: Unwind Your Mind
Interactive experience
Tues June 15
On Netflix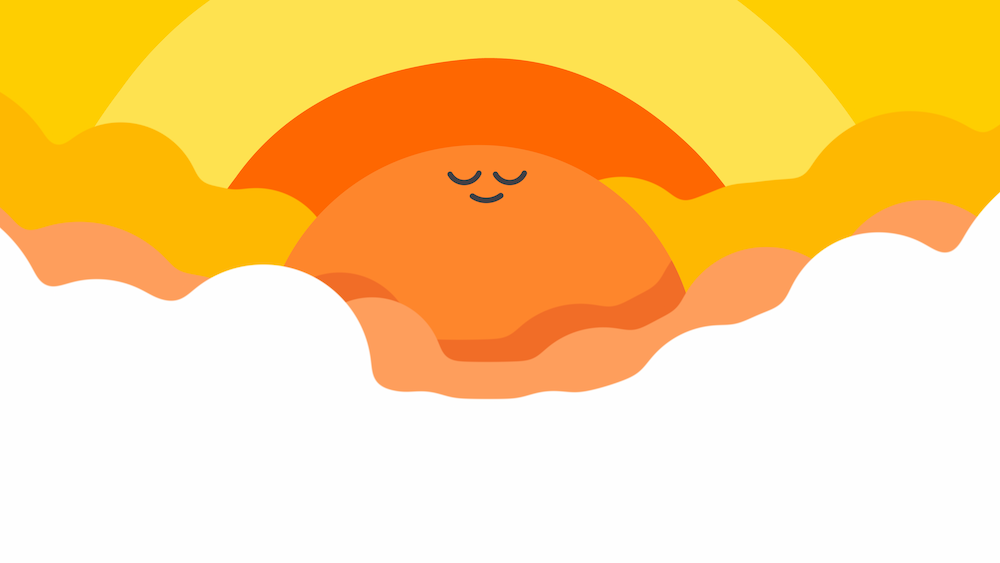 Photo courtesy of Netflix
Headspace is delivering another mindfulness experience, this time via an interactive special that allows you to choose how you're feeling in order to tailor a relaxation guide just for you. Whether you want to meditate, relax and wind-down, or calm your mind before you go to sleep, Unwind Your Mind will help you de-stress from the day and slip into a more comfortable mindframe. The soft narration and soothing colors are designed to help put you at ease before the meditation lessons even get to work. Through it all, Headspace reminds you how important it is to take some time for yourself. If you have trouble falling asleep after a long day, put this on—the special even fades out into quiet slumber as it sends you into a tranquil dreamland. Let go and chill out with Unwind Your Mind and thank yourself later.
Stream Headspace: Unwind Your Mind on Netflix on Tuesday.
From Netflix:
On the heels of Headspace Guide to Meditation and Headspace Guide to Sleep comes Unwind Your Mind, a fully interactive mindfulness experience designed to be accessible anytime, anywhere. The familiar voices of Headspace co-founder Andy Puddicombe and Director of Meditation and Mindfulness Teacher Eve Lewis Prieto, return to provide the viewer with three customizable paths: Meditation (a simple guided session), Relax (for a daily wind-down), or Sleep (to calm the mind and body before bed). Viewers can create a path based on their in-the-moment feelings and time constraints, and the Sleep journey can even end with a bedtime story. With its welcoming animation, and featuring the thoughtful communication style that's made the Headspace app beloved by millions, Unwind Your Mind is an indispensable tool for anyone seeking to kick off or deepen their relationship with a meditation practice, or maybe just finally get a good night's rest. Unwind Your Mind is the third installment from Headspace and Vox Media Studios, following the series Headspace Guide to Meditation and Headspace Guide to Sleep which are now streaming.
—
The Bold Type
"Day Trippers" – Season 5, Episode 4
Wed June 16 – 10PM
On Freeform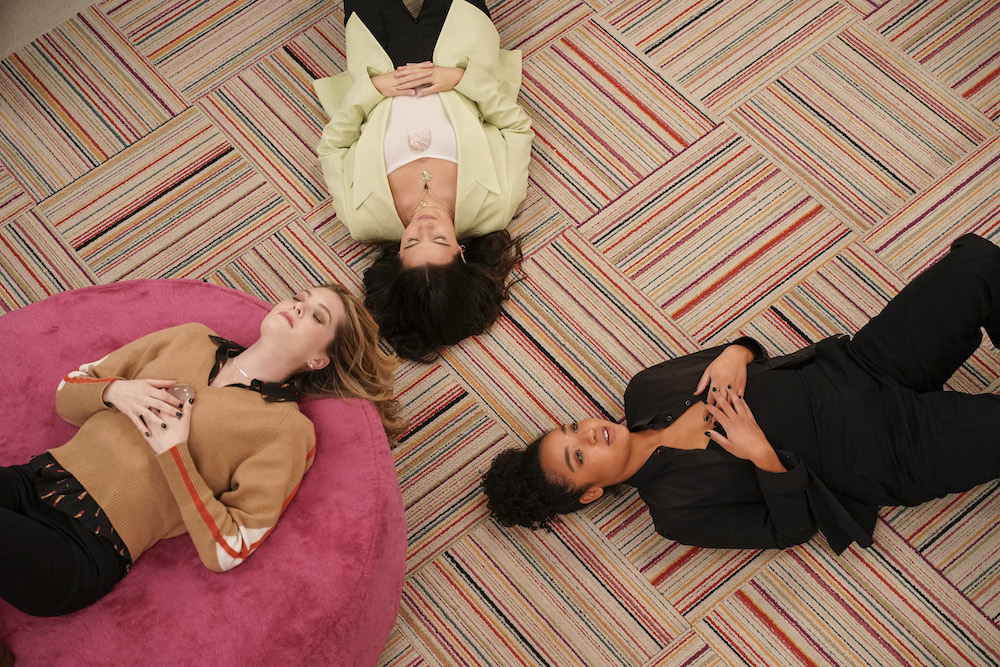 Photo: Freeform/Jonathan Wenk
Jane (Katie Stevens) has a week to prove she can be a mentor to Addison (Christine L. Nguyen)…but trying to emulate Jacqueline (Melora Hardin) is a difficult feat. Can Jane step up to the challenge? She's feeling the pressure and could use a break. Kat (Aisha Dee) is also under pressure as she faces repercussions from her stunt at The Belle. And as for Sutton (Meghann Fahy)…well, we all know she's dealing with a lot. So our girls decide to go on a trip—the mushroom kind—to get back in touch with themselves and unwind from the stress they're under. And…damn, they go hard. Trying to hide their high while navigating the real world makes for some hilarious situations. You can't help but giggle as they see everything through psychedelic lenses. The team around them can't help but notice how they're doing…for better or for worse. The Bold Type pushes our characters to explore their capabilities—and their failings—and learn to do better. And that's always something to cheer for!
The Bold Type airs on Freeform on Wednesday.
From Freeform:
Jane, Kat and Sutton, all overwhelmed with monumental work decisions, seek clarity in an unorthodox way.
—
Penguin Town
Season 1
Wed June 16
On Netflix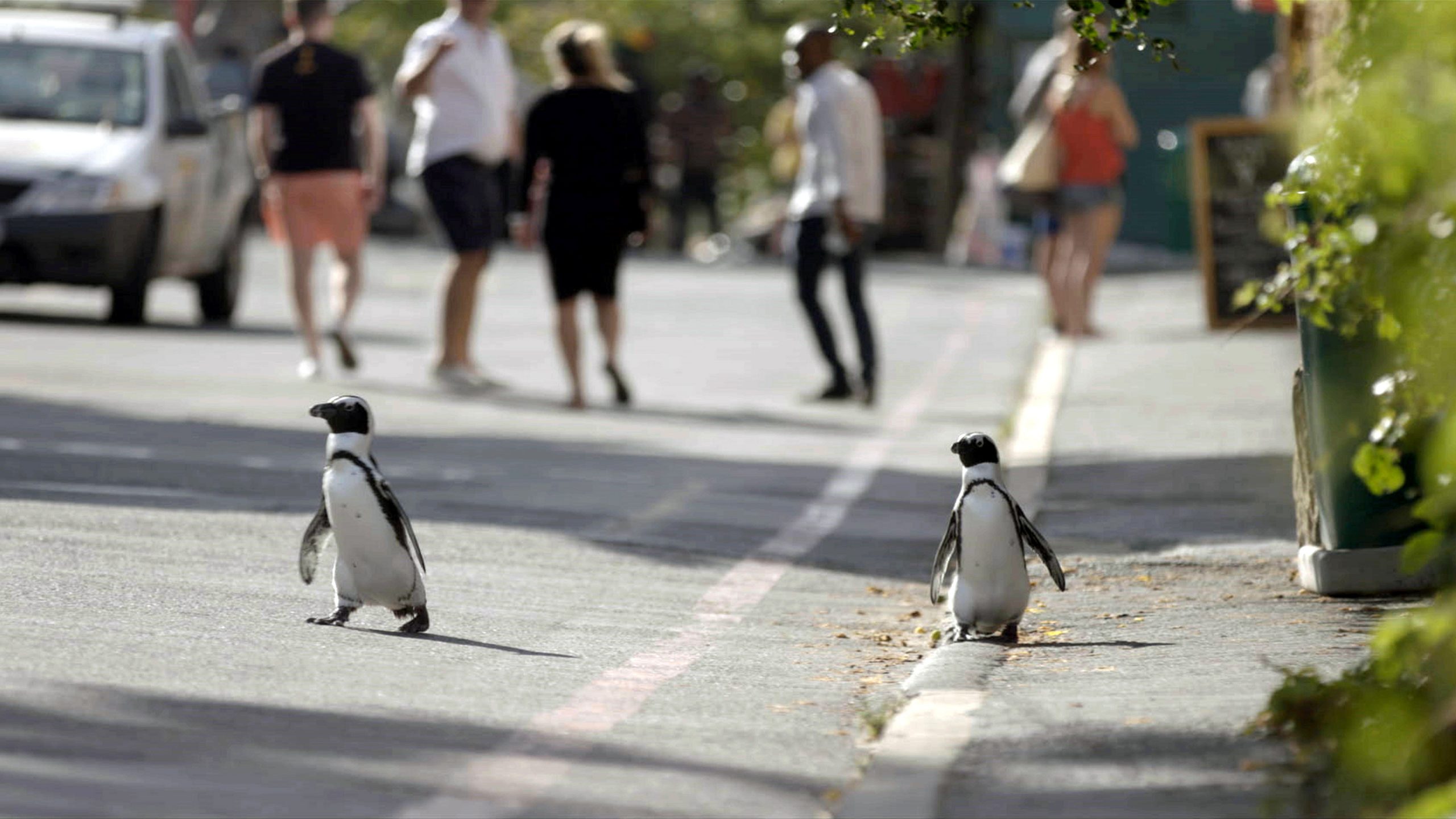 Photo courtesy of Netflix
Patton Oswalt narrating a documentary about penguins is something we didn't know we needed until now. But you'll feel pure unadulterated joy when he refers to the lil creatures as "jackass penguins" (and explains why they earned that name with pride). Oswalt is out here having a ball narrating Penguin Town, bringing whimsical color commentary to the African penguins on screen as they cause chaos on the beaches and attempt to find a mate. You'll find yourself chuckling at the charm Oswalt brings to the documentary, all while admiring the beauty of nature in its element—and you might just learn a thing or two about these boisterous tuxedo-wearing animals.
Penguin Town comes to Netflix on Wednesday.
From Netflix:
You've never met penguins like these before. Forget ice and snow, this rowdy colony of African penguins are hitting the sun-drenched beaches and breaking all the rules. Every summer, these tuxedoed birds vie for prime real estate on the sandy shores of Simon's Town, south of Cape Town, and stir things up. While humans apply sun block and wax their surfboards, these endangered little guys, who have adapted to heat and can travel long distances, are causing traffic jams in the streets and bringing mayhem to this tropical paradise. Their mission: find a mate, make babies and not go extinct! Filled with boisterous shenanigans and loads of adorable penguins — from the troublemaking "Car Park Gang" to the sweet and cuddly newlyweds Mr. & Mrs C. — this eight-part series about the real lives of African penguins brings flipper-flapping fun and drama. Join the ride … this town is gonna get painted black and white!
—
Black Summer
Season 2
Thurs June 17
On Netflix
Black Summer returns to Netflix on Thursday.
From Netflix:
Winter comes with cold-blooded new challenges during the zombie apocalypse as frantic scavengers and violent militias battle the dead and desperate.
—
iCarly
Season 1
Thurs June 17
On Paramount+
Watch the iCarly reboot on Paramount+ on Thursday.
From Paramount+:
Ten years after signing off of one of TV's most iconic shows, Carly, Spencer, and Freddie are back, navigating the next chapter of their lives, facing the uncertainties of life in their twenties.
—
Intelligence
Season 2
Thurs June 17
On Peacock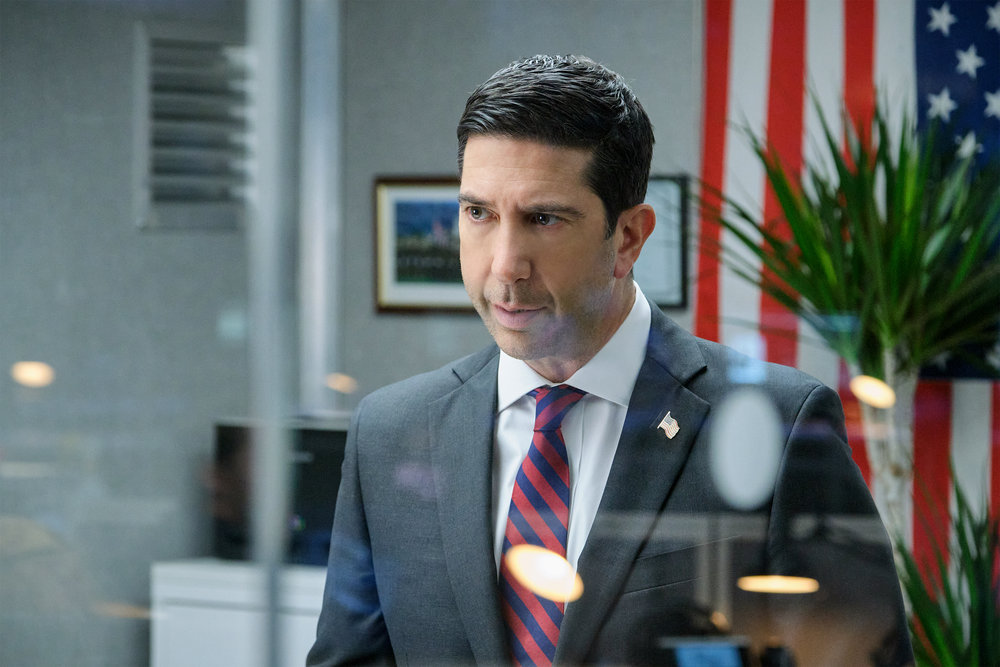 Photo by: Ollie Upton/SKY/Peacock
Intelligence is back at it again with the government shenanigans. In this season a new threat is set to launch the world into chaos…which won't make much of a difference in Communications HQ. When the team learns of a Russian cyberweapon attack that could wipe out a large chunk of the UK, it's up to Jerry (David Schwimmer) to try and stop it…if only he could remember the password to shut it down. As things escalate with Russia, the team is put to the test, which makes them act in increasingly ridiculous ways. Schwimmer brings his trademark incredulous humor and bounces off the rest of the cast well. Don't think too hard about the logistics of this series, just sit back and enjoy the spectacle—the workplace drama is high and fun and full of hijinks.
Intelligence hits Peacock on Thursday.
From Peacock:
As season two begins, it's revealed that the Russians have gotten their hands on a cyberweapon that Jerry was instrumental in developing, and his intel suddenly becomes vital to international security. Facing some demons from his past along the way, Jerry stops the cyberattack and is celebrated as a hero. However, as the season progresses, it becomes clear that the Russians are able to mutate the cyberweapon and Jerry's personal security comes under serious threat.
—
Élite
Season 4
Fri June 18
On Netflix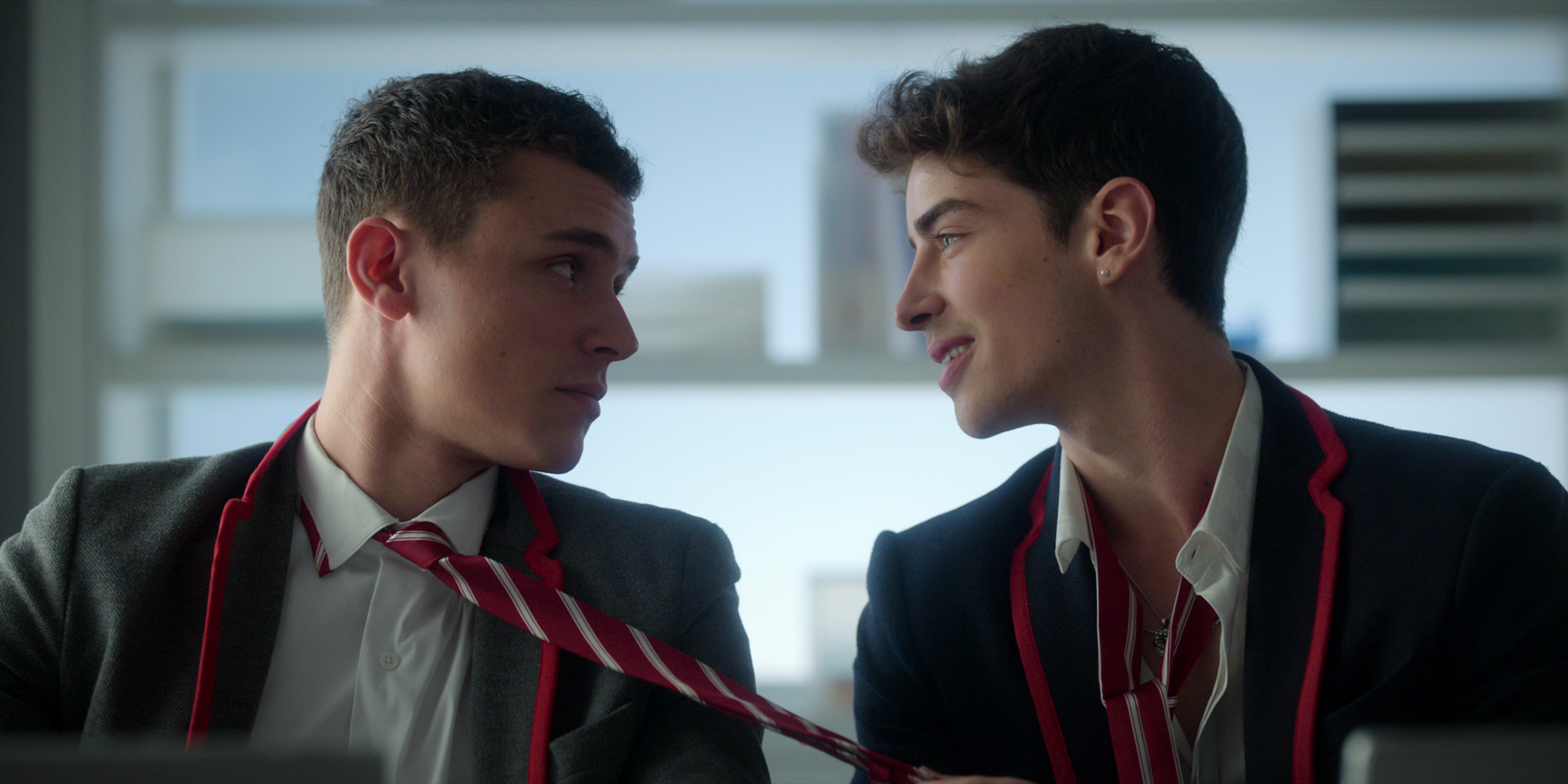 Photo courtesy of Netflix
Élite returns for S4 and the heat is turned up to the max. Whether that heat is fueled by romance, lust, or fiery rage and revenge, that's up to you to discover. Whew, it's steamy. Another school year has begun and a new director is ready to shake things up with some strict new rules (but we all know rules are meant to be broken, right?). His kids join him and they don't think they should have to listen to their papa…which doesn't sit right with the OG crew. Meanwhile, a royal arrival adds a flutter of mystery and decadence to the mix. With exam pressure and plenty of cheating in the air, it's going to be an interesting year at Las Encinas with so much drama it could give Riverdale a run for its money.
Elite returns to Netflix on Friday.
From Netflix:
A new school year begins at Las Encinas. And with it comes a new director: one of the most powerful businessmen in Europe, ready to bring the Las Encinas institution which, according to him, has been running amok in the past few years, back on track. He brings his family with him, his three children: three teenagers too used to always get their own way, and to have what they want when they want, no matter who falls, who will jeopardize the union and strong friendship of the veteran students. Once again, a clash of sides, now between the old world (the students and the usual rules) and the new one (the new management and the new classmates), will take place. A collision that will end up exploding and causing a tragedy, with a victim and a responsible whose identity will have to be discovered.
—
The World's Most Amazing Vacation Rentals
Season 1
Fri June 18
On Netflix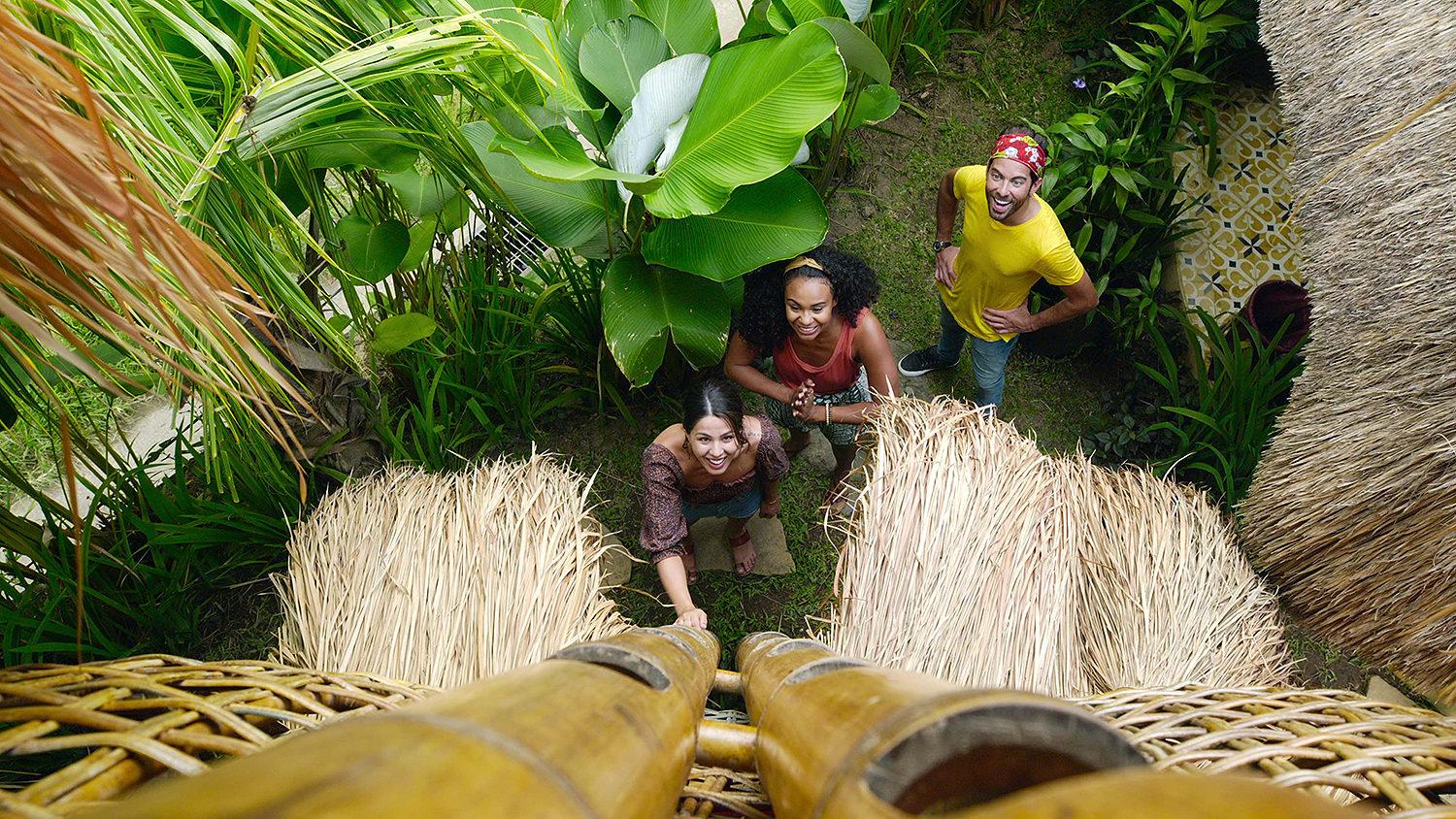 Photo courtesy of Netflix © 2021
Million Dollar Listing's Luis D. Ortiz teams up with content creators Megan Batoon and Jo Franco to bring you a new kind of travel show. The World's Most Amazing Vacation Rentals takes you to some of the coolest rental spots you can find across the world, all set to make you insanely jealous that you're not there right now. From eco-friendly birds-nest-meets-treehouses in Bali, to igloos under the Northern Lights in Finland, to an insane floating mansion in Miami, this series whisks you away for a sweet escape. You'll be as enthusiastic as the hosts as they explore and have a blast at each Insta-worthy spot. Settle in and enjoy—just don't forget to add these rentals to your travel list ready for when the world opens up again.
Stream The World's Most Amazing Vacation Rentals
on Friday, only on Netflix.
From Netflix:
With an eye for every budget and style of travel, three experts take you inside The World's Most Amazing Vacation Rentals. From affordable treehouses to exclusive private islands, from unforgettable igloos to gourmet getaways, this new series will showcase incredible properties around the world and the life changing experiences they have to offer.
—
Luca
Fri June 18
On Disney+
From Disney:
Set in a beautiful seaside town on the Italian Riviera, Disney and Pixar's original feature film "Luca" is a coming-of-age story about one young boy experiencing an unforgettable summer filled with gelato, pasta and endless scooter rides. Luca (voice of Jacob Tremblay) shares these adventures with his newfound best friend, Alberto (voice of Jack Dylan Grazer), but all the fun is threatened by a deeply-held secret: they are sea monsters from another world just below the water's surface.