This week: Changing the Game, The Bold Type, We Are Lady Parts,
Sweet Tooth, Feel Good
Changing the Game
Tues June 1
On Hulu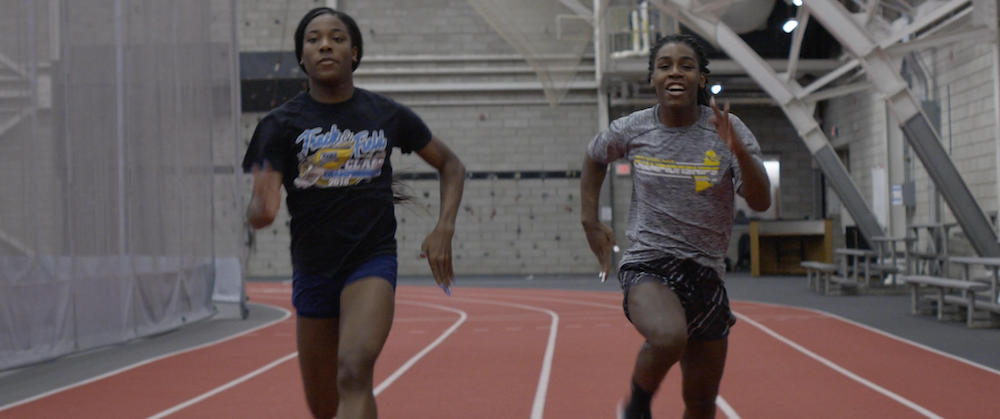 Photo courtesy of Hulu
It's a topic that shouldn't be up for debate: Should transgender athletes be allowed to compete in gendered sports? The simple answer is: Yes, trans people should be allowed to compete under their gender identity. Yet there are some who seek to discriminate selectively citing "biology," who purposefully exclude trans athletes or force them to participate as the gender they were assigned at birth. As our understanding of gender continues to evolve, the sports world needs to change along with it and Changing the Game seeks to open up the conversation. The documentary follows three trans high school athletes as they navigate the laws of their respective states along with the acceptance or exclusion by those around them. Sarah is a skier in New Hampshire who also pushes for policy change; Andraya is a track star in Connecticut openly competing on the girls track team; and Mack Beggs is a male wrestler who became the Texas State Champion in girls wrestling when he wasn't allowed to compete with other boys.
Watching these three teens navigate a world that puts far more weight on their shoulders than they deserve is heartbreaking; they're just kids. Being a teenager is hard enough without constantly having to fight to exist. And yet they carry themselves with so much grace and honesty. Their stories have made headlines and are affecting changes in policy but all Sarah, Andraya, and Mack really want is to play the sports they're good at and to be accepted. Changing the Game is a moving documentary that connects you to their stories through the eyes of the teens and their families and coaches. It also recognizes that Sarah, Andraya, and Mack are forced to become their own advocates just for being who they are. So while we can admire their strength, this is a reminder that we all need to do better to push for inclusion and representation throughout sport and beyond.
Stream Changing the Game now on Hulu.
From Hulu:
Emmy® award-winning filmmaker Michael Barnett's urgent and subsuming sports documentary illuminates what many have called the civil rights issue of our time: transgender inclusion in sports. CHANGING THE GAME takes us into the lives of three high school athletes—all at different stages of their athletic seasons, personal lives, and unique paths as transgender teens. Their stories span across the U.S. — from Sarah, a skier and teen policymaker in New Hampshire, to Andraya, a track star in Connecticut openly competing on the girls track team. The film centers on Mack Beggs, who made headlines when he became the Texas State Champion in girls wrestling – as a boy.
—
The Bold Type
"The Crossover" – Season 5, Episode 2
Wed June 2 – 10PM
On Freeform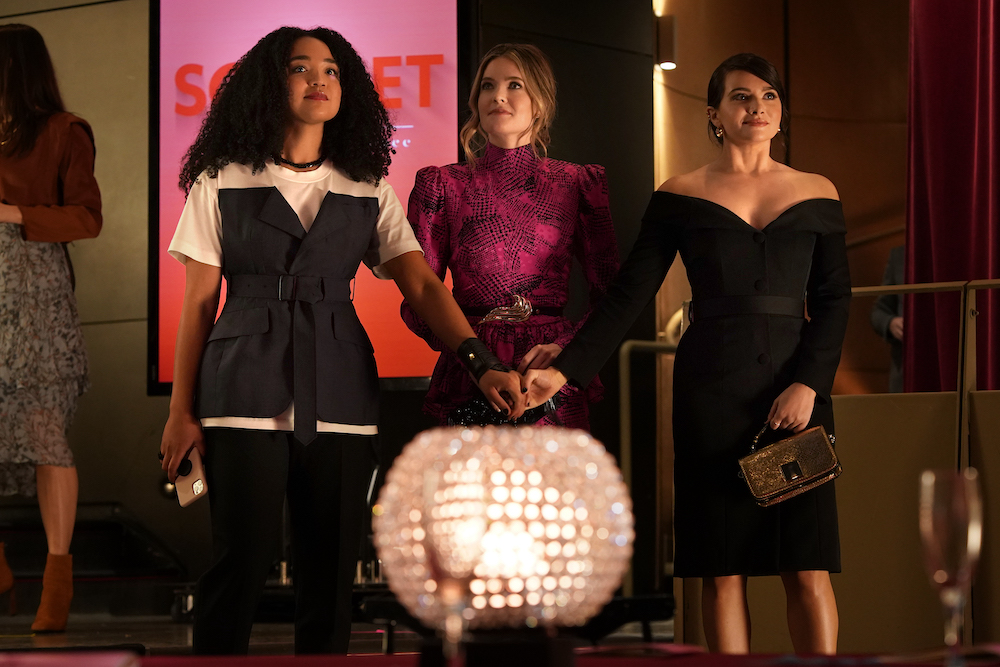 Photo: Freeform/Jonathan Wenk
Richard (Sam Page) is coming back into town which threatens to upend Sutton's (Meghann Fahy) path toward healing. She tries to focus on styling a sizzle reel but needs some guidance (and some wise words from Oliver). It's a big step for Sutton but is she ready? Jane (Katie Stevens) is also given even more responsibility at work, which adds pressure on her explosive article—and things start to spiral from there. Meanwhile, Kat (Aisha Dee) tries to help an old friend and shows off her social media skills in the process. This inspires Alex (Matt Ward) to help Joey (Ryan Sutton Stevens) get his life back together after being "canceled" over an old tweet. The conversations about toxic workplaces and cancel culture dive deep with nuance and heart, something which The Bold Type excels at. Seeing our crew take responsibility and uphold their values will make you cheer them on as they look to the future—no matter where it takes them.
The Bold Type airs on Freeform on Wednesday.
From Freeform:
All eyes are on Jane as she and Jacqueline combat a public inconsistency in her latest story. Kat runs into an old friend, sparking a new idea. Alex uses his podcast to make a statement. Sutton gets a career win but a personal blow.
—
We Are Lady Parts
Series premiere
Thurs June 4
On Peacock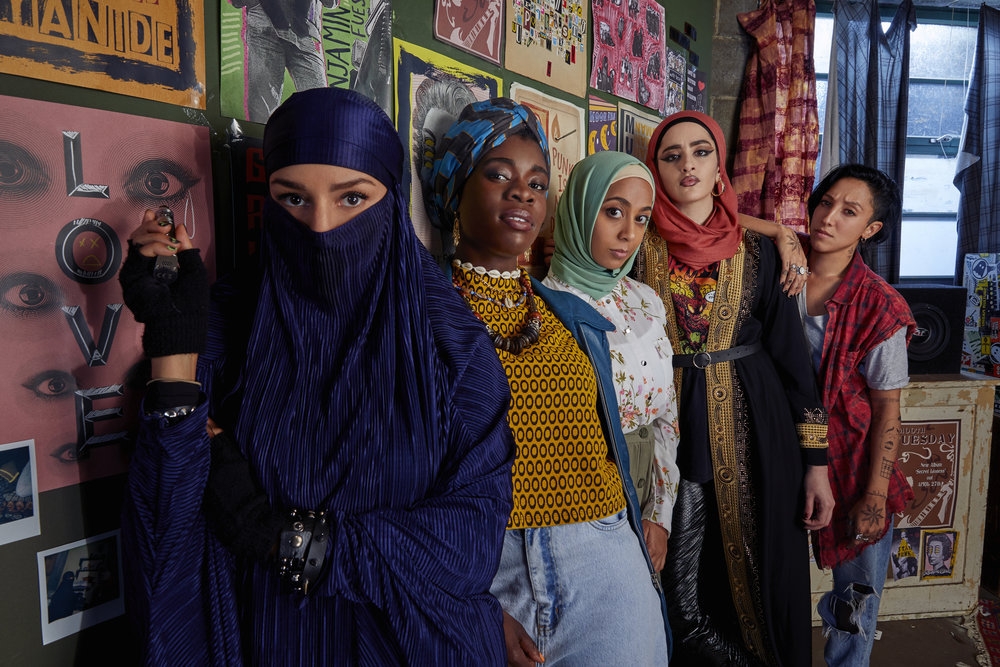 Photo by: Laura Radford/Peacock
We Are Lady Parts rocks, pure and simple. Created by Nida Manzoor, the series follows microbiology PhD student and music teacher Amina Hussain (Anjana Vasan), who stumbles her way into joining an all women, all Muslim, all riotous punk band called Lady Parts. Made up of fiery frontwoman Saira (Sarah Kameela Impey), taxi-driving drummer Ayesha (Juliette Motamed), cartoon-drawing bassist / backing vocalist Bisma (Faith Omole), and the always-hustling band manager Momtaz (Lucie Shorthouse), the band has mixed reactions to Amina…but Amina knows how to spit fire with her guitar (if she can learn to loosen up a bit offstage).
Amita finds herself caught between two worlds—becoming a rockstar vs. finding a husband (oh yeah, did we mention she's totally smitten with boys?). It's so rare to see women of color in punk get the spotlight they deserve. And watching this band kick down the doors of the patriarchy with punk AF sensibilities? We are all in. Getting to see women onscreen be religious and sexual and expressive and angry and strong? Dang, we want more! And getting to see them all bond (however begrudgingly) is the icing on the cake of this sweet yet snappy series. Go, Lady Parts, Go!
We Are Lady Parts debuts on Peacock on Thursday.
From Peacock:
WE ARE LADY PARTS shows the highs and lows of the band – Lady Parts – as seen through the eyes of Amina Hussain – a geeky microbiology PhD student, who's on the lookout for love and is recruited to be their unlikely lead guitarist. Lady Parts' fierce and enigmatic frontwoman Saira sees something in Amina. However, the other members – taxi-driving drummer Ayesha, cartoon-drawing bassist and backing vocalist Bisma and the band's wheeler-dealer band manager Momtaz – are not convinced she is right for their band. Amina has never met girls like this before, and she's soon swept up in their joyful, anarchic energy and punk spirit. But she becomes torn and caught up between two different worlds – that of her more strait-laced university friends led by her bestie Noor and the world of Lady Parts. Will she be the key to the band's success? And – will she finally find a husband?
—
Sweet Tooth
Season 1
Fri June 5
On Netflix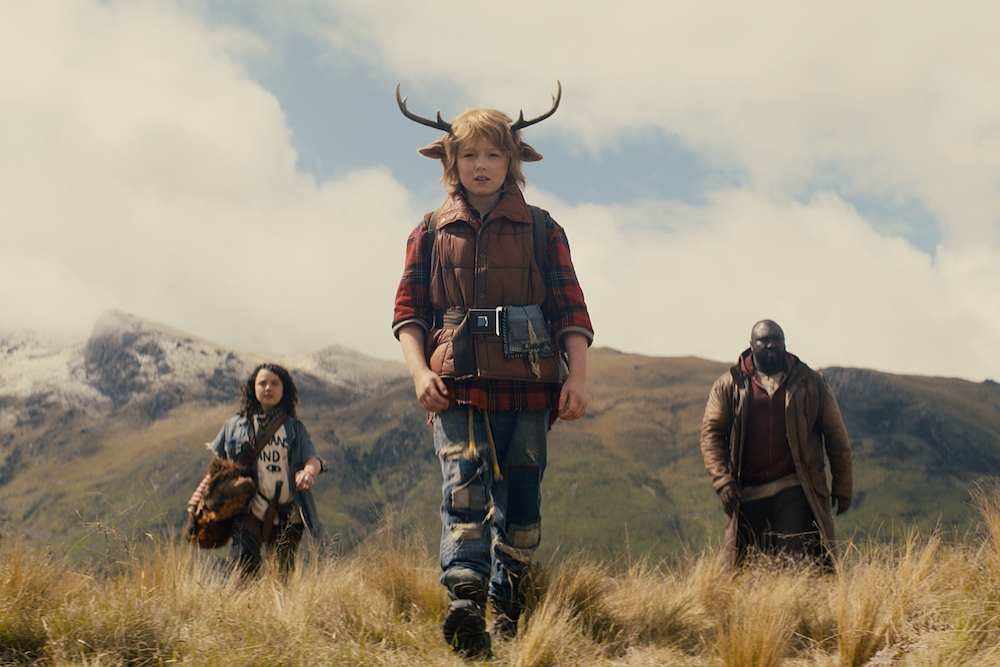 Photo courtesy of Netflix © 2021
Ten years after "The Crumble"—a virus that killed most of humanity and caused babies to be born as half animal, half human "hybrids"—the world is in chaos and the hybrid children are hunted by The Last Men. One man and his hybrid son Gus (Christian Convery) have been in hiding for a decade, completely isolated from the outside world. But then Gus meets "Big Man" AKA Jepperd (Nonso Anozie) by chance, who begrudgingly takes him under his wing in a lone wolf and cub style story. Sweet Tooth is unsettling to watch—when we're in a pandemic ourselves—to see how far and fast humanity can fall. But it also holds bright spots of hope in Gus and the friends he makes along the way. And gosh, this series knows how to pull at your heartstrings—to make you believe in these characters who are trying their best in the worst situation possible. Happy moments can go real bad real quick and each episode will keep you on the edge of your seat hoping against all odds that good will triumph—even if you're not sure what is "good" any more.
Watch Sweet Tooth on Friday, only on Netflix.
From Netflix:
Ten years ago "The Great Crumble" wreaked havoc on the world and led to the mysterious emergence of hybrids — babies born part human, part animal. Unsure if hybrids are the cause or result of the virus, many humans fear and hunt them. After a decade of living safely in his secluded forest home, a sheltered hybrid deer-boy named Gus (Christian Convery) unexpectedly befriends a wandering loner named Jepperd (Nonso Anozie). Together they set out on an extraordinary adventure across what's left of America in search of answers— about Gus' origins, Jepperd's past, and the true meaning of home. But their story is full of unexpected allies and enemies, and Gus quickly learns the lush, dangerous world outside the forest is more complex than he ever could have imagined. Based on the DC comic book series by Jeff Lemire, SWEET TOOTH is executive produced by Jim Mickle, Beth Schwartz, Robert Downey, Jr., Susan Downey, Amanda Burrell, and Linda Moran.
—
Feel Good
Season 2
Fri June 5
On Netflix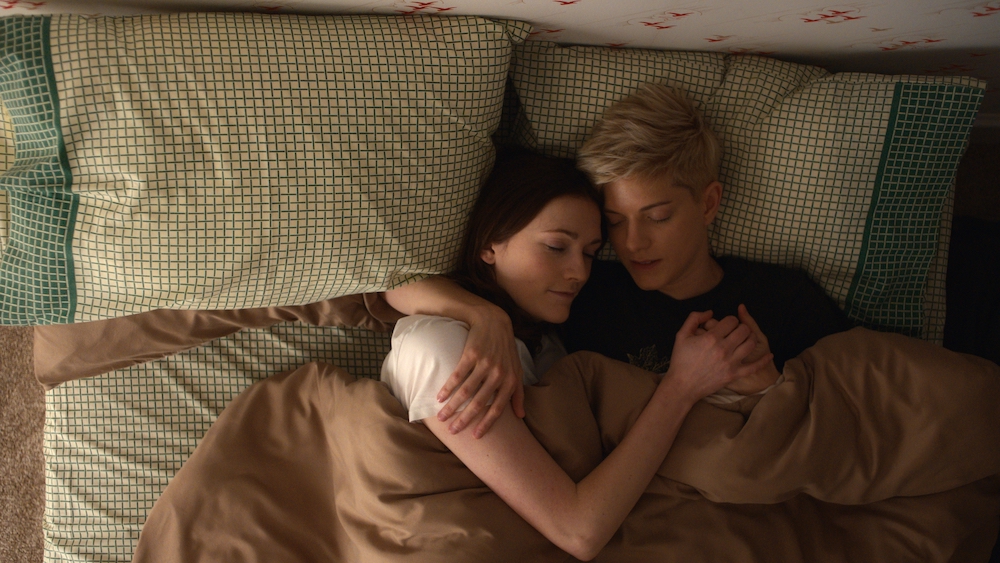 Photo courtesy of Netflix
After tearing their life apart in S1, Mae (Mae Martin) is trying to turn things around. They go back to rehab…sorta…before trying to figure out their relationship with George (Charlotte Ritchie). But when things start to pile up Mae tries to disappear into their romance, which raises questions of what their future as a couple holds. Mae also tries to get back on track with comedy but is pushed into some decidedly uncomfortable situations when the past won't leave them alone. Feel Good repeatedly questions: What is trauma, anyway? Mae speaks so openly and honestly about addiction and mental health that it will cut you deep with the truth. The series is funny in the way life is funny in all its different and weird and sad moments. Feel Good will definitely make you feel a whole spectrum of emotions as it deals with so much in just six episodes but it does it with so much heart and understanding you'll definitely feel good about this series.
Feel Good is back on Netflix on Friday.
From Netflix:
Mae & George's complicated love story continues as Mae struggles to come to terms with the ghosts from her past and George tries to reinvent her present. Can they grow together or will they grow apart?