This week: Who Killed Sara?, Special, Solos, Marvel's M.O.D.O.K., P!NK: All I Know So Far, Jurassic World: Camp Cretaceous, Master of None, 2021 Billboard Music Awards
Who Killed Sara?
Season 2
Wed May 19
On Netflix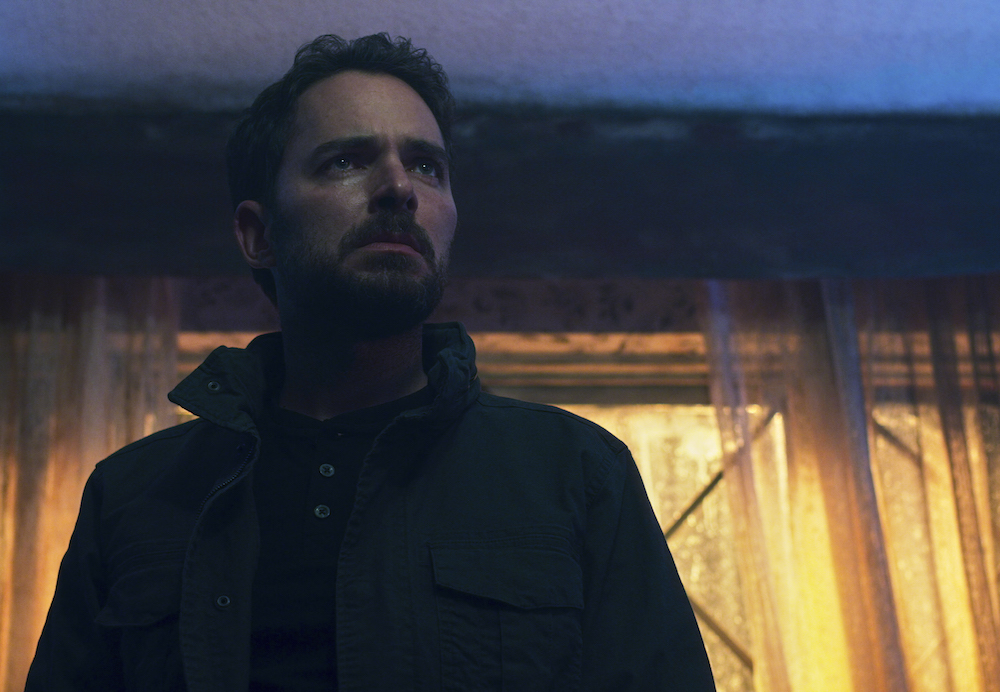 Photo credit Netflix ©️ 2021
Who Killed Sara? is back for round two and the drama is higher than ever—there's a pinch of blackmail, an explosive circus manhunt, and even more skeletons conveniently buried in places for the most effect. If you liked S1, you'll enjoy the continued mysterious spiral Who Killed Sara? takes us on, as Alex (Manolo Cardona) races to figure out who was killed and buried in his yard, while coming to terms with the fact that his sister Sara (Ximena Lamadrid) wasn't the sweet innocent victim he remembers her to be. S2 does work out some of the writing issues of S1 but there are more that crop up in different ways. If you don't think too hard about it though, you can sit back and enjoy the spectacle.
Who Killed Sara? returns to Netflix on Wednesday.
From Netflix:
Alex Guzman has to face his worst nightmare: his sister's Sara true personality, whom clearly he never knew at all. At the same time, a buried mystery corpse in his own patio becomes a ticking clock that can make him go back to prison at any time. He has no other choice than to become an investigator and put together all the pieces that will portray Sara's true and terrible story and her relationship with the Lazcano family.
—
Special
Season 2
Thurs May 20
On Netflix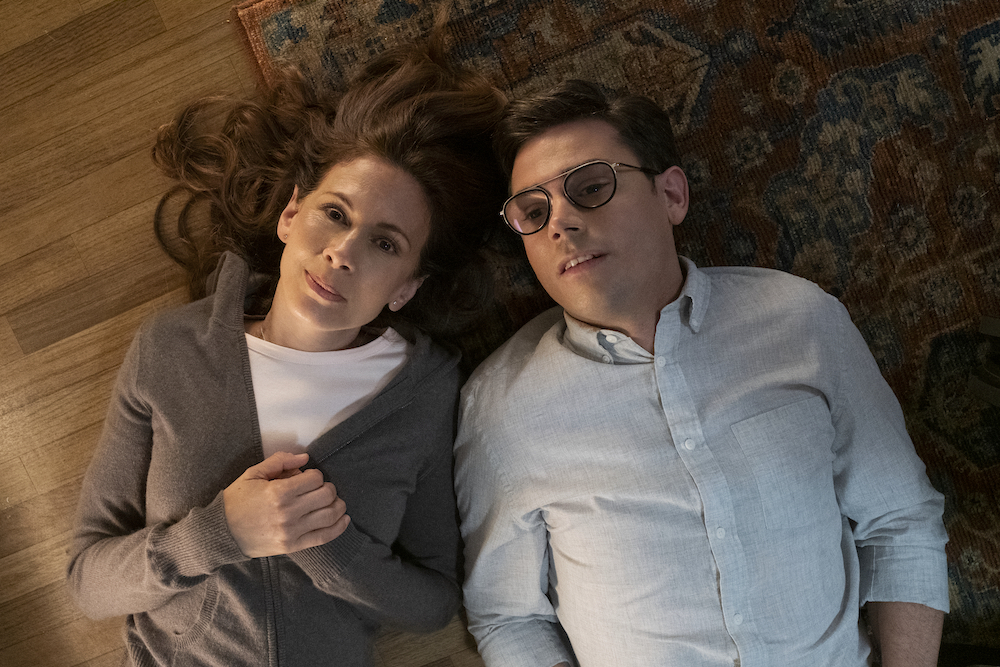 Photo: Beth Dubber/Netflix © 2021
Special returns for S2 and things are looking up…for now. Ryan (Ryan O'Connell) and Kim (Punam Patel) throw themselves into exploring new relationships, which makes them realize they still have a lot of work to do on themselves. But diving headfirst into life and love is something our BFFs are really good at, which takes them both on different journeys. Ryan's mom Karen (Jessica Hecht) also tries to start her own journey, which means figuring out who she is without Ryan (if anyone else will let her). This season of Special continues to explore the importance of figuring out who you are and what you want. It also dives deeper into the dating world for Ryan and the ways disability is often misunderstood, misrepresented, dismissed, or fetishized. It also creates space for Ryan to find support and love within the disability community, which will make your heart sing for him. You'll be sad to see Special come to an end but glad to see this story told the way it deserves.
Special is back on Netflix on Thursday.
From Netflix:
Ryan really needs to get his shit together. It's been two months and he still hasn't spoken to Karen since their fight and he has a gnarly case of writer's block that's getting him in hot water with Olivia. Enter Tanner, a fun, flirty dance instructor who charms Ryan despite not being totally available. When his writer's block eventually lifts, he's inspired to write a longform piece about disability. From there, he begins a journey of self-discovery that creates unexpected complications in his relationship with Tanner. Meanwhile, Kim lets her guard down when she meets Harrison, a sensitive tech mogul with a humble background – but her insecurities and jealous tendencies continue to hamper her personal life and threaten to push Harrison away. With her spiraling credit card debt driving Kim even further towards rock bottom, she makes a hard choice to regain control of her finances and personal life. Since taking care of Ryan was her life's purpose until their fight, Karen realizes that she needs to take an active approach to create a fulfilling life for herself – beyond just taking care of her ailing mother. Will she be content with continuing to clean up everyone else's messes, or will Karen be able to lean into her newfound independence and create a life that centers around her own desires for once? This season is about our primary characters—Ryan, Karen and Kim—coming into their power and realizing they all deserve big gorgeous lives—whether society agrees or not, bitch!
—
Solos
Limited series
Fri May 21
On Amazon Prime Video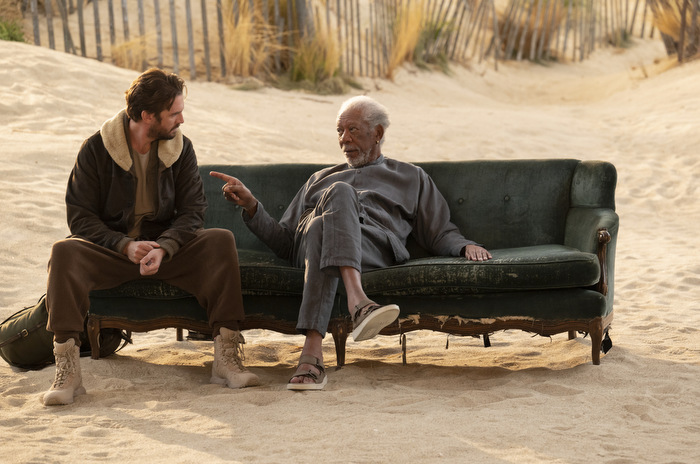 Photo: Amazon Studios
Imagine a future with time travel, AI, and hyper-advanced tech—sci-fi flicks with these elements typically focus on giant alien wars or sterile (read: hostile) environments. Solos aims to ground that type of genre expectation with very human stories of love, loss, pain, and matters of the heart. The anthology is going for the big time with an all-star cast: Uzo Aduba, Nicole Beharie, Morgan Freeman, Anne Hathaway, Anthony Mackie, Helen Mirren, Dan Stevens, and Constance Wu. And damn, each one of them will make you feel so deeply because their problems are all too real at their core. Solos focuses on one story per episode, forcing the characters to confront their deepest fears and desires, where the privileges of the future only make the issues of the present feel amplified tenfold. With a cast like this, you can't go wrong but they really bring their A-game here and pull you into their individual worlds the moment you hit play. Solos leaves your heart aching with the reminder of what it means to be human in its good and its bad and in all of its universality. 
Solos debuts on Amazon Prime Video on Friday.
From Amazon:
Solos is a seven-part anthology series that explores the strange, beautiful, heart-breaking, hilarious, wondrous truths of what it means to be human. Performed by eight of the finest actors of our time, this anthology series spans our present and future and illuminates that even during our most isolated moments we are all connected through the human experience.
—
Marvel's M.O.D.O.K.
Season 1
Fri May 21
On Hulu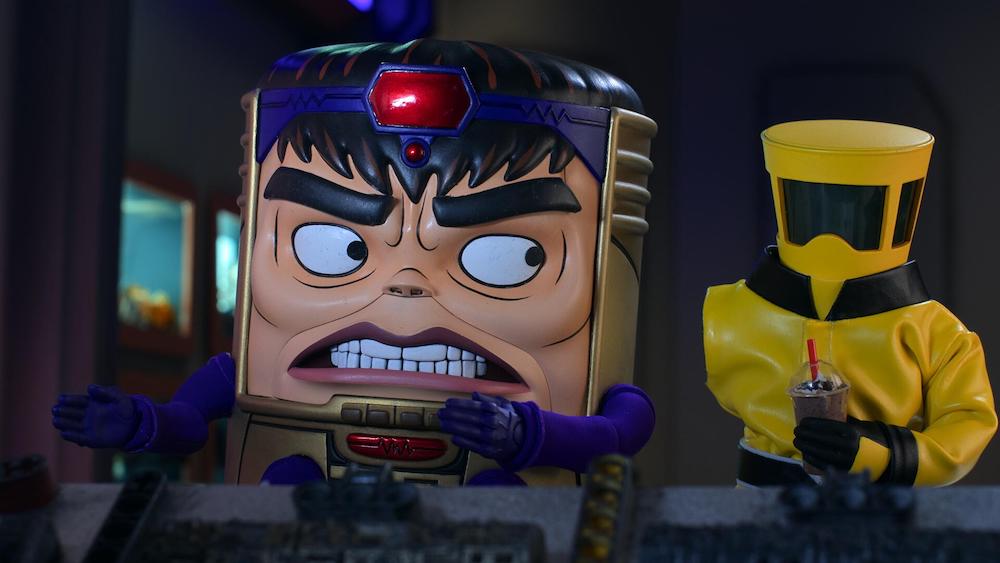 Photo courtesy of Marvel
Man, things are not looking good for M.O.D.O.K. The supervillain supercomputer is going broke and facing some relationship issues—not to mention the Avengers keep kicking his ass (but seriously, don't mention it). When he's forced to sell his company A.I.M. to a young upstart hipster organization, the power he was so used to misusing gets grabbed and he has to re-evaluate his place in the world. Patton Oswalt shines as M.O.D.O.K., delivering plenty of pop culture-fueled quips and indignant outrage of a supervillain trying his best. Marvel's M.O.D.O.K.is a fun series that fits in well with Hulu's animated roster, packed full of wacky humor and Marvel Easter eggs with an A.I.M. to entertain.
Marvel's M.O.D.O.K. hits Hulu on Friday.
From Hulu:
In "Marvel's M.O.D.O.K.", the megalomaniacal supervillain M.O.D.O.K. (Patton Oswalt) has long pursued his dream of one day conquering the world. But after years of setbacks and failures fighting the Earth's mightiest heroes, M.O.D.O.K. has run his evil organization A.I.M. into the ground. Ousted as A.I.M.'s leader, while also dealing with his crumbling marriage and family life, the Mental Organism Designed Only for Killing is set to confront his greatest challenge yet!
—
P!NK: All I Know So Far
Fri May 21
On Amazon Prime Video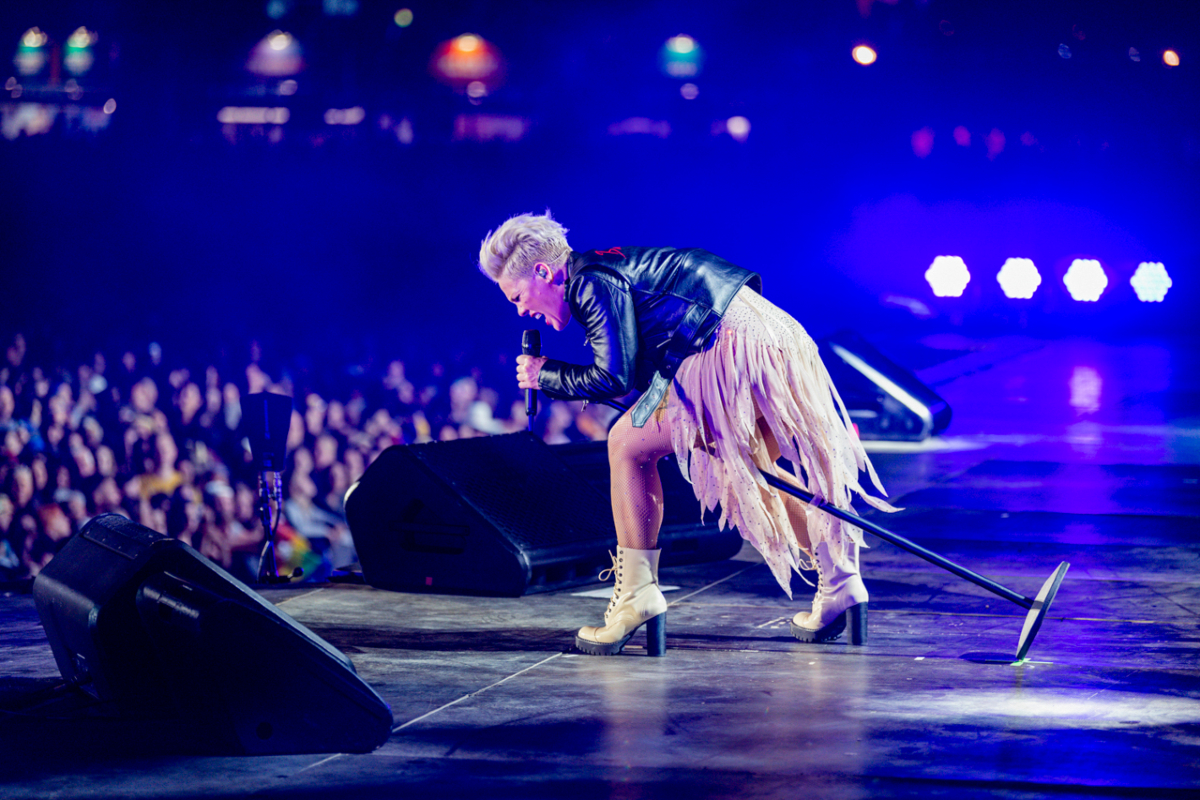 Photo courtesy of Amazon Studios
In P!NK: All I Know So Far you see how much P!NK has flourished. Filmed in 2019 during her "Beautiful Trauma" world tour, the documentary takes you behind the scenes of life on the road in an intimate snapshot into the singer's life. You see her with her family, keeping up a routine with her kids while preparing to go onstage, making sure everything stays as chill and collected as possible. She makes balancing her incredibly demanding performance with family time look easy. Definitely no small feat. (read our review)
Stream P!NK: All I Know So Far on Amazon Prime Video on Friday.
From Amazon:
Join award-winning musician P!NK as she embarks on her record-breaking 2019 "Beautiful Trauma" world tour and welcomes audiences to join her chosen family while trying to balance being a mom, a wife, a boss and a performer. Mixing footage from the road, behind-the-scenes interviews and personal material, director Michael Gracey (The Greatest Showman) gives audiences a glimpse behind the curtain of the circus that she calls life.
—
Jurassic World: Camp Cretaceous
Season 3
Fri May 21
On Netflix
Shrimp Camp is back!
Jurassic World: Camp Cretaceous returns to Netflix on Friday.
From Netflix:
The campers uncover more details of Dr. Wu's secret research and must quickly take their fate into their own hands with a dangerous plan to leave Isla Nublar behind for good. But when a tropical storm delays their departure, a lethal new threat quickly closes in on the campers, placing their escape, as well as their lives, in extreme peril.
—
Master of None
"Master of None Presents: Moments in Love" – Season 3
Sun May 23
On Netflix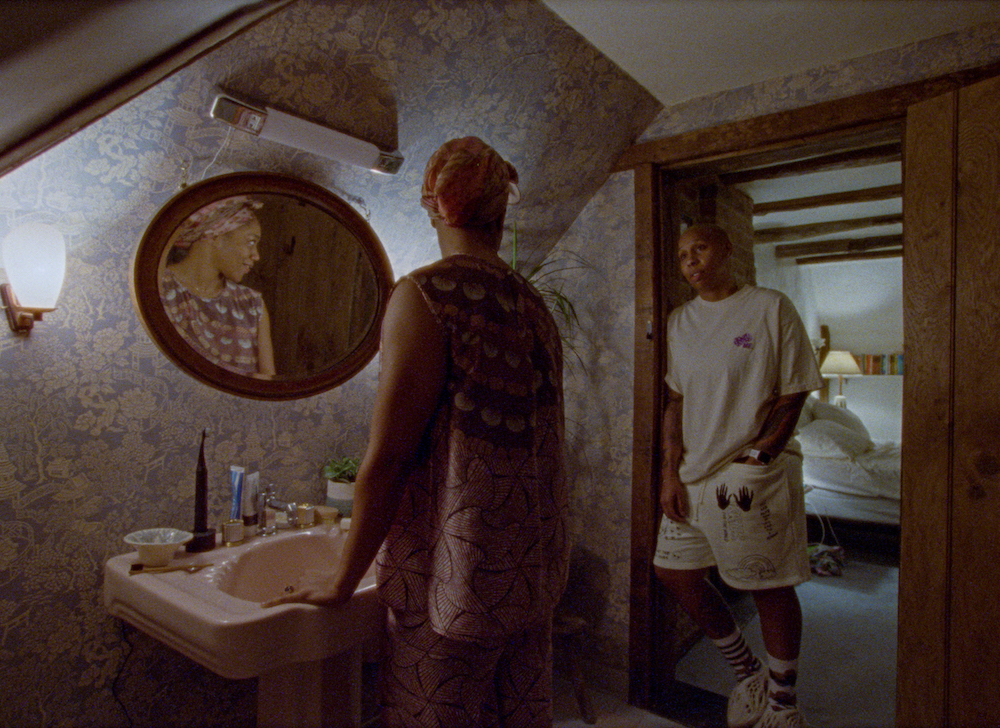 Photo courtesy Of Netflix © 2021
Life never turns out the way you think it will—it's a theme full of possibilities and Master of None continues to explore each "what if" in all its intricacies. S3 focuses upon Denise (Lena Waithe) and her partner Alicia (Naomi Ackie), happy and safely cocooned in their relationship. But when they think about starting a family and looking at the next chapter of their lives together, that opens up questions of an unknown future that they might be too content to ask. But that's the thing about life, it takes them to places they never anticipated when romance was blissful and uncomplicated. S3 will make your heart ache with both love and loss and how deeply intertwined the two are. Master of None has always been able to cut right to the core of relationships and open them up to examine the messy, complicated, and beautiful complexities within. And Waithe and Ackie are wonderful at portraying their journey together.
The choice to focus on their relationship and move away from Aziz Ansari's Dev gives the series fresh life with more chances to celebrate and elevate women's voices. His brief appearance begins a conversation about learning to live with yourself and move forward, perhaps inspired by real life, that Denise and Alicia continue throughout the rest of the season. Moments in Love continues Master of None's excellent and compelling journey, where the quiet moments say everything and the conversations about nothing in particular mean the world.
Master of None is back on Netflix on Sunday.
From Netflix:
The Emmy Award-winning MASTER OF NONE returns with a new season that chronicles the relationship of Denise (Emmy Award winner Lena Waithe) and her partner Alicia (BAFTA winner Naomi Ackie). Directed by series co-creator and Emmy winner Aziz Ansari, and scripted by Ansari and Waithe, this new season is a modern love story that intimately illustrates the ups and downs of marriage, struggles with fertility, and personal growth both together and apart. Fleeting romantic highs meet crushing personal losses while existential questions of love and living are raised. Co-created by Ansari and Emmy Award winner Alan Yang, Season 3 delivers an evolution of the series that remains tethered to previous seasons while breaking new storytelling ground of its own.
—
2021 Billboard Music Awards
Sun May 23 – 8PM
On NBC
Watch the 2021 Billboard Music Awards on NBC on Sunday.
From NBC:
For nearly 30 years, the BBMAs has celebrated music's greatest achievements, honoring the hottest names in music today. Unique among music awards shows, honorees are determined by performance on the Billboard Charts, the ultimate authority and measure of success in music. The annual live broadcast showcases spectacular performances, unexpected collaborations, buzzworthy pop culture moments that keeps fans talking all year, and the prestigious ICON Award, which honors record-breaking artists and their impact on music.