This week: Never Have I Ever, 9-1-1, Motherland: Fort Salem, A Parks and Recreation Special, The Half of It, Hollywood, Upload, Betty, Killing Eve, Zoey's Extraordinary Playlist, Westworld
Never Have I Ever
Season 1
Mon Apr 27
On Netflix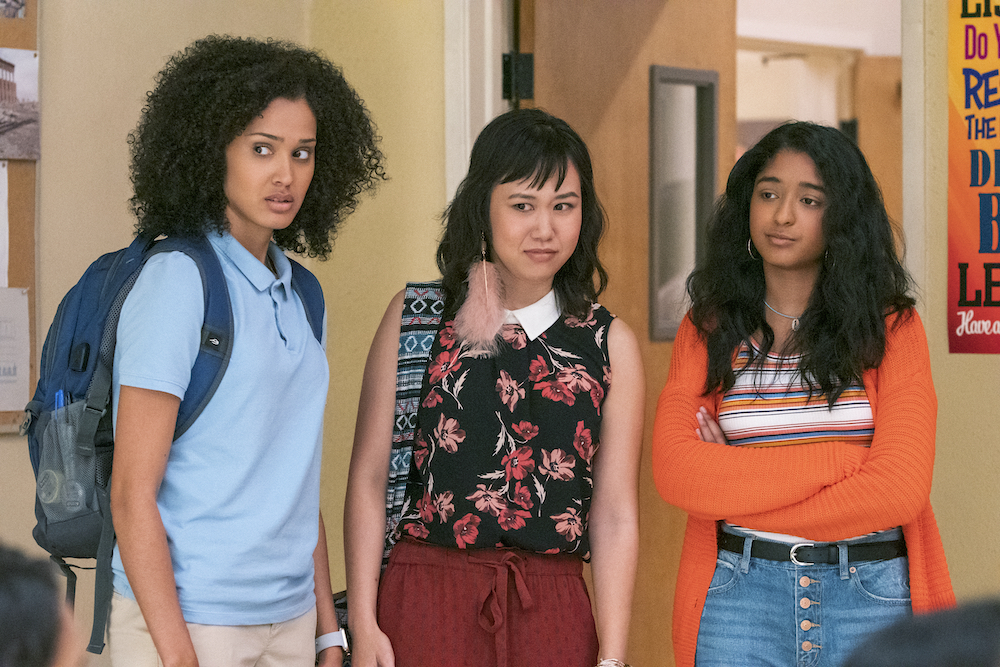 Devi (Maitreyi Ramakrishnan) is on a mission to up her cool status and, of course, the boys of SoCal are the fast pass to getting it done … Right? Freshman year was horrible for Devi. Her father died, she struggled with hysterical paralysis afterward, and her life as the coolest girl in "orchestra" turned into pity glances and people saying all the wrong things. Well, praises to tennis-god John McEnroe 'cause the bad times are over. This persona non grata has a plan to become "Grata as hell!"
Never Have I Ever is a coming-of-age story that flashes back to the classic sitcoms of the 90s era but blossoms into something that reflects what teens are going through now. It's awkward and way too honest, while dealing with the blues of being multicultural in a world that's just starting to recognize how fabulous that is—just like its girl squad leads. (read our full [p]review)
Stream Never Have I Ever on Netflix now.
From Netflix:
Never Have I Ever is a new coming-of-age comedy about the complicated life of a modern-day first-generation Indian American teenage girl. The series stars newcomer, Maitreyi Ramakrishnan as Devi, an overachieving high school sophomore who has a short fuse that gets her into difficult situations. Never Have I Ever is created by executive producer Mindy Kaling, with Lang Fisher serving as executive producer, showrunner and writer. The Universal Television project is also executive produced by 3 Arts Entertainment's Howard Klein, David Miner, and Tristram Shapeero.
—
9-1-1
"The One That Got Away" – Season 3, Episode 16
Mon Apr 27 – 8PM
On FOX
9-1-1 airs on FOX every Monday.
From FOX:
The 118 fights an apartment blaze and attempts a daring rescue of a blind woman trapped inside.
—
Motherland: Fort Salem
"Mother Mycelium" – Season 1, Episode 7
Wed Apr 29 – 9PM
On Freeform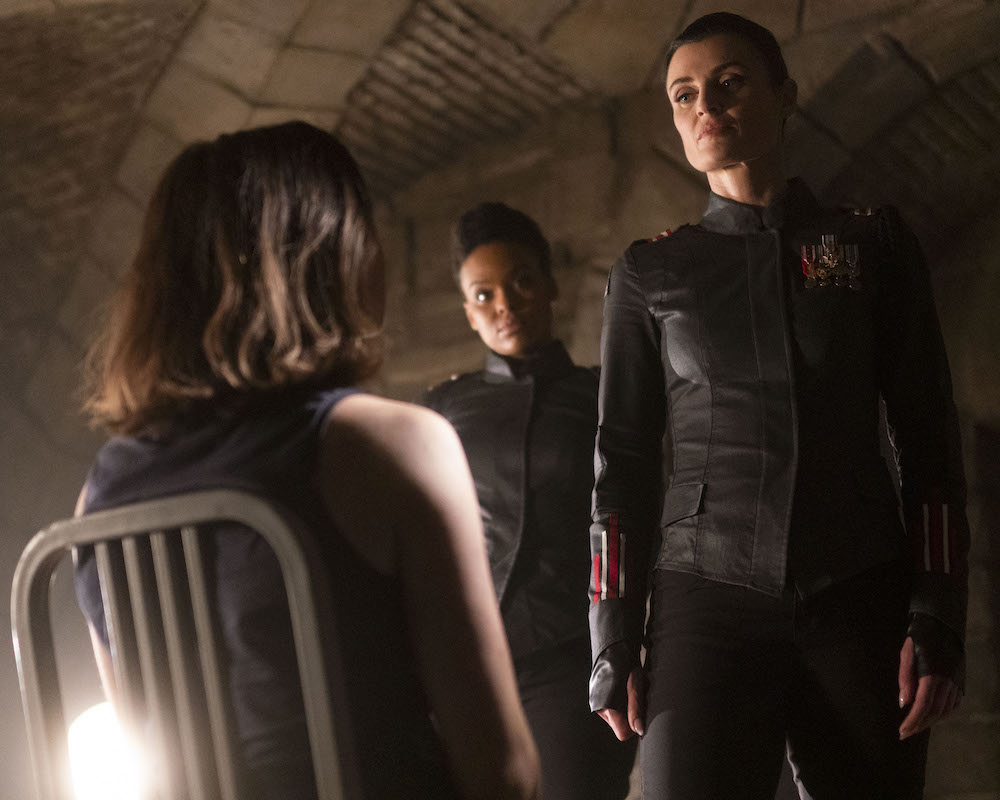 From Freeform:
Abigail forges a connection with Adil, a new visitor to base camp, and pushes a devastated Raelle to help him save a life. Tally uses Gerit as a distraction from her increasingly burdensome secrets. Anacostia probes into Scylla's past.
In case you missed it: Catch our interviews with Motherland: Fort Salem's stars Taylor Hickson, Demetria McKinney, Jessica Sutton,
and Ashley Nicole Williams!
Catch Motherland: Fort Salem on Freeform every Wednesday.
—
A Parks and Recreation Special
Thurs Apr 30 – 8:30PM
On NBC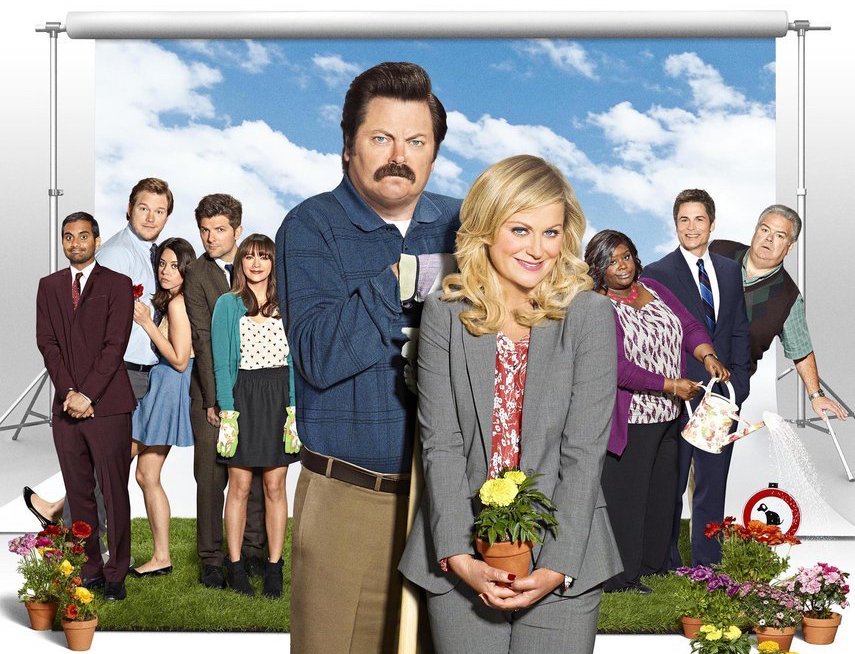 Your favorite Pawnee team is back to help raise money for Feeding America's COVID-19 Response Fund! In this half-hour Parks and Rec special, see how Leslie Knope (Amy Poehler) tries her best to keep up with her friends (and Jerry) during quarantine. Because: "We need to remember what's important in life: friends, waffles, and work. Or waffles, friends, work. It doesn't matter..but work is third."
Catch A Parks and Recreation Special on Thursday on NBC.
From NBC:
All of the original characters from the series will return in the 30-minute special, played by original cast members Amy Poehler, Rashida Jones, Aziz Ansari, Nick Offerman, Aubrey Plaza, Chris Pratt, Adam Scott, Rob Lowe, Jim O'Heir, and Retta. (In addition, several guest stars from the Pawnee universe may pop in.) The story comes from the events of the day – Pawnee's most dedicated civil servant, Leslie Knope, is determined to stay connected to her friends in a time of social distancing.
—
The Half of It
Fri May 1
On Netflix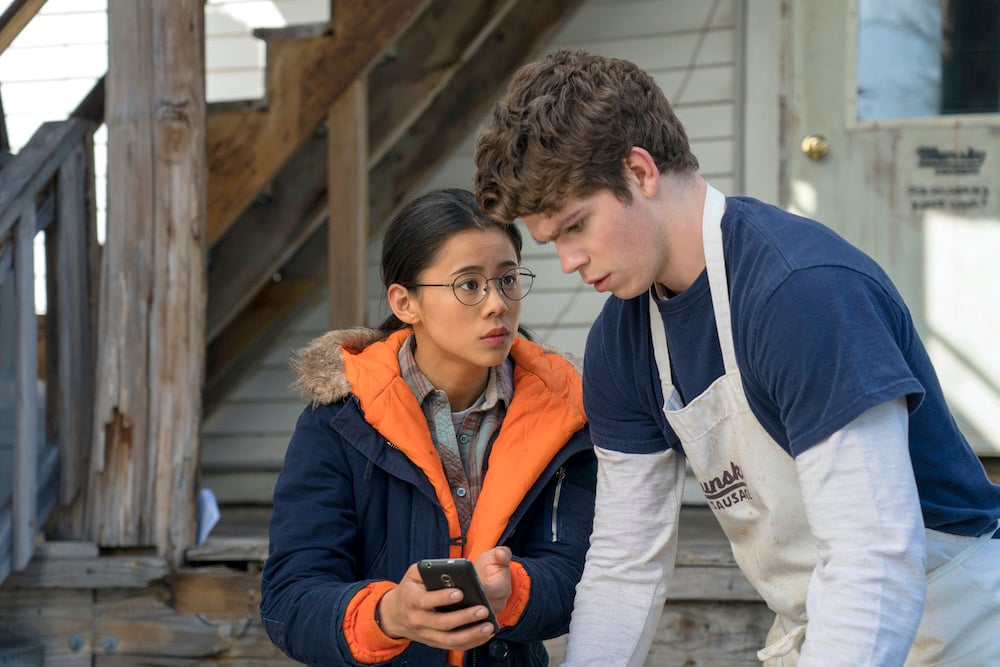 The Half of It is a quietly moving film. Based on the classic Cyrano de Bergerac story, Ellie (Leah Lewis) is a shy and smart student who's hired to write love letters by her classmate Paul (Daniel Diemer), in order to win over a popular girl he likes. Paul is a sweet guy who struggles to articulate the pure feelings he has. Ellie doesn't really believe in love (or else she doesn't want to) but she needs the money, and knows how to write, and she instinctively knows how to connect with Aster (Alexxis Lemire), the girl who Paul falls for. Aster is deeply interesting and thoughtful but scared to be someone other than the good pastor's daughter she's told to be. 
When Ellie starts to realize that the letters she's writing are becoming more true for her, things start to get complicated and The Half of It explores this burgeoning attraction with nuance and gentle grace. All three of the central characters have more depth than first appearance and the film reveals that slowly. It's beautiful to see different kinds of friendship and love explored in a teen movie that isn't overly dramatic or "too cool", adding an extra layer to a setup you've seen a thousand times before. The Half of It is also lovely to look at, shot with simplistic beauty that matches the stillness of the movie's moments of reflection. It's a wonderful addition to Netflix's growing roster of teen movies that requires a little bit more patience to get to its heart.
The Half of It comes to Netflix on Friday.
From Netflix:
Shy, straight-A student Ellie is hired by sweet but inarticulate jock Paul, who needs help winning over a popular girl. But their new and unlikely friendship gets complicated when Ellie discovers she has feelings for the same girl.
—
Hollywood
Season 1
Fri May 1
On Netflix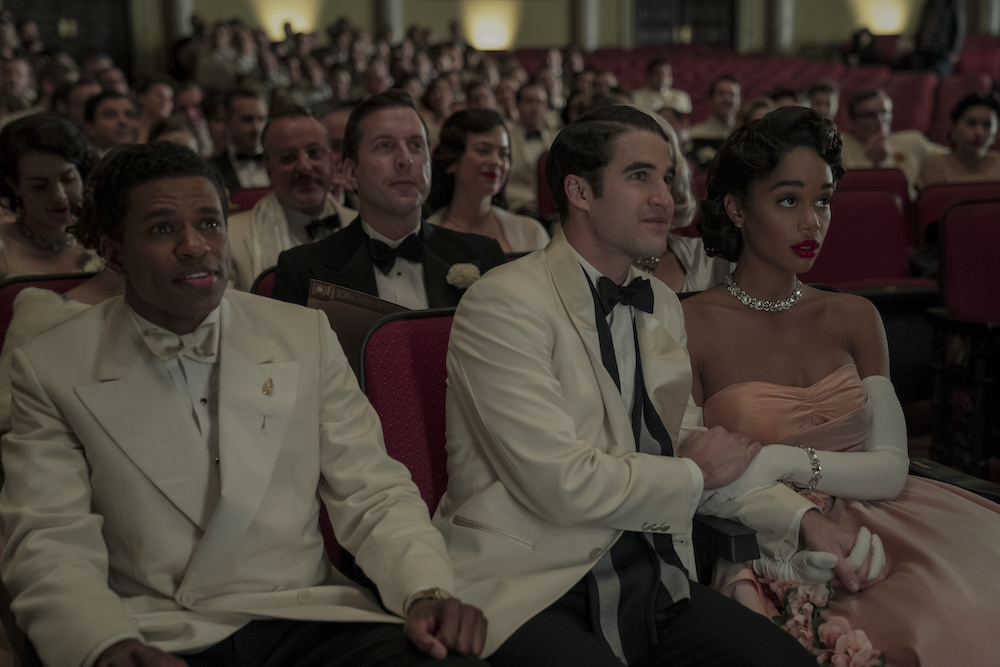 We don't know quite how we feel about Hollywood. The series imagines a post-war Tinseltown where a group of diverse and well-meaning characters come together to make the first ever movie starring a black leading lady and a gay man, written by a black gay man and directed by a Filipino man. It's incredibly well shot and acted by an all-star cast, the glitz and the glamor are captivating (as are the costumes), and you'll find yourself rooting for the stars as they climb their way to the top. 
With that being said, sometimes the show feels a little self-congratulatory, as if all the progress made towards equality could have happened sooner if someone had just taken a chance on the little guy. While it might be nice to imagine a history where racism, homophobia, and sexism was triumphed over much earlier and easier, it can feel a little hollow as it reminds you of the years of struggle that actually happened—and still happens today. Your heart will go out to each character as they overcome all these awful prejudices to make a groundbreaking movie and embrace their true selves fully by stepping out of the shadows. And the series will earn every moment of payoff by building the lives of everyone involved until you believe in their dreams too. It's an underdog story set in the Golden Age of Hollywood that'll make your heart break for every single person who's had to hold themselves back or has lost an opportunity because of their skin color, their sexual orientation, or their gender. However, it'll also make you cheer for the heroes in this story—some loosely based on real stars—as they live the lives they always should have been able to.
Hollywood comes to Netflix on Friday.
From Netflix:
A new limited series from Ryan Murphy and Ian Brennan, HOLLYWOOD follows a group of aspiring actors and filmmakers in post-World War II Hollywood as they try to make it in Tinseltown — no matter the cost. Each character offers a unique glimpse behind the gilded curtain of Hollywood's Golden Age, spotlighting the
unfair systems and biases across race, gender and sexuality that continue to this
day. Provocative and incisive, HOLLYWOOD exposes and examines decades-old power dynamics, and what the entertainment landscape might look like if they had been dismantled.
—
Upload
Season 1
Fri May 1
On Amazon Prime Video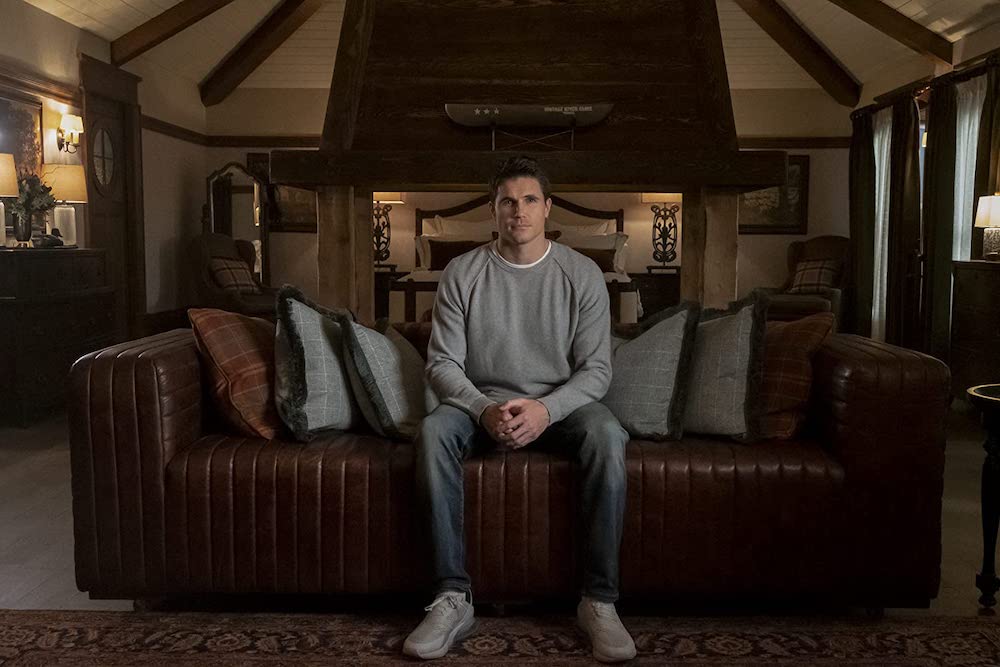 Upload is your new sci-fi binge-watch. Set in the near-future, humans can choose to have their consciousness uploaded to an eternal afterlife of bliss, all while still having some form of contact with the living world. When Nathan (Robbie Amell) gets in a strange car accident (in a world full of self-driving cars), he's pressured into uploading his consciousness to an afterlife plan by his needy girlfriend Ingrid (Allegra Edwards). "Lakeview" is a luxury virtual reality final resting place, where you have every need catered to in a seemingly perfect setting—for a cost. But perfect doesn't really suit Nathan…he's just not that into Ingrid and large parts of his real life memories are missing (maybe more than he realizes).
He enlists the help of his "angel" Nora (Andy Allo) who's assigned to help him transition to this new way of "living". She's just as frustrated with everyday life as Nathan is with his afterlife. Nora is trying her best to get through each day by helping others even though no one really looks out for her. That is, until Nathan comes along. Naturally, that makes things complicated, especially when the cracks start to show in Ingrid's perfect veneer smile and Nathan starts to realize he might be a prisoner in paradise. Upload sucks you in from the beginning—even if you see revelations coming a mile off you still want to watch twists happen. And the characters and their decisions get continually more interesting to keep you wondering. The show is weird and offbeat and oddly charming—it's no surprise that Parks and Rec writer Greg Daniels is behind it. Upload will feel strangely familiar but with a fun and refreshing mystery twist to keep you hitting "next episode".
Stream Upload on Amazon Prime Video on Friday.
From Amazon:
From Emmy-Award winning writer Greg Daniels (The Office, Parks and Recreation) comes Upload, a new sci-fi comedy series set in a technologically advanced future where hologram phones, 3D food printers and automated grocery stores are the norm. Most uniquely, humans can choose to be "uploaded" into a virtual afterlife when they find themselves near-death. The series follows a young app developer, Nathan Brown (Robbie Amell), who winds up in the hospital following a self-driving car accident, needing to quickly decide his fate. After a rushed deliberation with his shallow girlfriend Ingrid (Allegra Edwards), he chooses to be uploaded to her family's luxurious virtual afterlife, the Horizen company's "Lakeview." Once uploaded in Lakeview, Nathan meets his customer service "Angel" Nora Anthony (Andy Allo), who at first is his charismatic concierge and guide, but quickly becomes his friend and confidante, helping him navigate this new digital extension of life.
—
Betty
Series premiere
Fri May 1 – 11PM
On HBO
Betty premieres on HBO on Friday.
From HBO:
Starring Dede Lovelace, Moonbear, Nina Moran, Ajani Russell, and Rachelle Vinberg, who all starred in the original film, BETTY follows a diverse group of young women navigating their lives through the predominantly male-oriented world of skateboarding, set against the backdrop of New York City. Opinionated and loyal, Janay (Lovelace) is strong willed and stubborn in ways that both help and hurt her. Honeybear (Moonbear) is a quiet storm. Her flagrant style is a ruse; an armor she wears to hide her emotional struggles. Kirt (Moran) is a lover (to the ladies), a fighter (to the rest of the world), and a little kid in the body of a woman. She's the funniest person alive, but even if she knew it, she wouldn't care. Meanwhile, Indigo (Russell) is a street-savvy hustler trapped in the body of a well-to-do art school drop-out. On the edge of the group is Camille (Vinberg), guarded, perceptive, intelligent and awkward. She wants to be down with the dudes in the skate park and has fought hard for the small space she's carved out with them, but she needs to realize that cool points don't actually add up to the sum of anything, especially in the eyes of the
other girls.
—
Killing Eve
"Still Got It" – Season 3, Episode 4
Sun May 3 – 9PM
On BBC America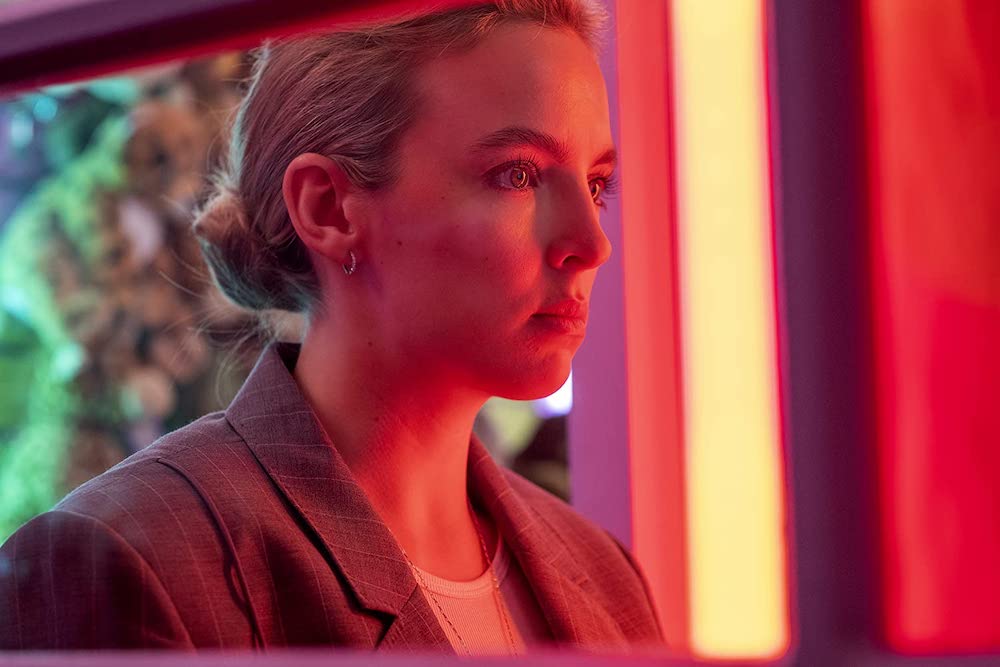 This week's Killing Eve episode is all about choices. Does Eve (Sandra Oh) really have control over her actions or is she merely part of something bigger? You're about to find out. Niko (Owen McDonnell) is missing, self-checked out of his mental health ward, and Eve is unsure whether he's better off disappearing from her life for good. And boy, does that question get answered for her. This news makes Villanelle (Jodie Comer) happy—almost as happy as the news that she's moving up in the assassin world. But something's off with her…could this be…empathy? Or guilt? We're not sure but it's unsettling to watch Villanelle at war with herself.
Meanwhile Konstantin (Kim Bodnia) continues to put his work ahead of his family, almost convincing himself that it's all for them. Carolyn (Fiona Shaw) is doing the same thing, using Kenny's (Sean Delaney) death as an excuse to deepen her investigation into The Twelve. We all know she isn't doing it out of love. Killing Eve is so good at juxtaposing different emotions, putting fun frivolity and shocking murders side by side to make you wonder whose side you're on.
Killing Eve hits BBC America on Sunday.
From BBC America:
It's Eve's birthday and she's trying to patch things up with Niko. Villanelle receives good news about her upcoming promotion but can't shake the feeling that there's still something missing from her life. Dasha seeks a solution to Villanelle's
erratic behavior.
—
Zoey's Extraordinary Playlist
"Zoey's Extraordinary Dad" – Season 1, Episode 12
Sun May 3 – 9PM
On NBC
Catch Zoey's Extraordinary Playlist on Sunday, only on NBC.
From NBC:
After hearing an ominous song, Zoey does everything in her power to stop something bad from happening.
—
Westworld
"Crisis Theory" – Season 3, Episode 8
Sun May 3 – 9PM
On HBO
Westworld airs on HBO on Sunday.
From HBO:
Time to face the music.