This week: Chicago Med, For the People, Legion, The Last O.G., Alex, Inc., Krypton, Station 19, Will & Grace, Atlanta, Seth Rogen's Hilarity for Charity, Killing Eve
Chicago Med
"Lock It Down" – Season 3, Episode 14
Tues Apr 3 – 10PM
On NBC
New episodes of Chicago Med air every Tuesday on NBC.
From NBC:
After a baby is abducted from Med, Goodwin enlists the help of Dr. Charles and Dr. Reese to find the suspect. Due to the lockdown, Dr. Rhodes must figure out a way to get into the operating room to help perform open-heart surgery. Dr. Manning and Dr. Halstead disagree on the right treatment for a patient.
—
For the People
"The Library Fountain" – Season 1, Episode 4
Tues Apr 3 – 10PM
On ABC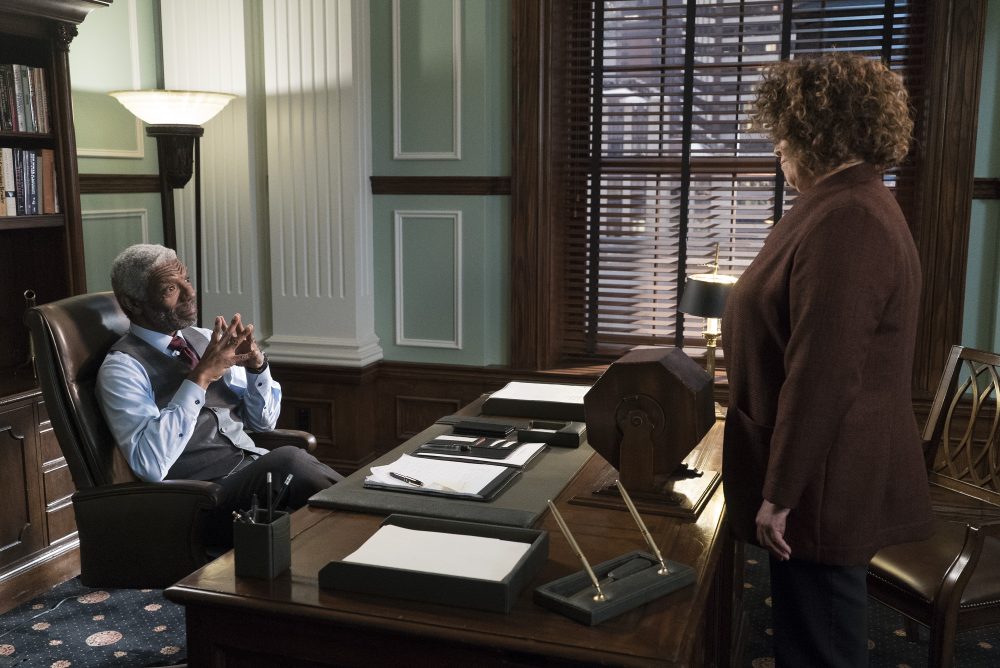 Photo: ABC/Eric McCandless
This week's episode of For the People is going to hit a little too close to home for comfort. When Seth (Ben Rappaport) learns his hometown's water supply has been contaminated he's ready to do whatever it takes, even if it means causing problems for himself. He begins to obsess with finding the source of the problem—like, taping newspaper clippings to his computer screen obsessed. Emotional overload is a dangerous pitfall and that's this week's theme. We only wish the real government had this kind of drive to protect the people. Unfortunately Seth may find out his good intentions really do pave the road to hell. Sound familiar? Jay (Wesam Keesh) and Allison (Jasmin Savoy Brown) are about to learn the same lesson in their own way. One of their clients is charged with assault (and potential murder). She claims it was self-defence; they're not convinced. Allison has never dealt with murder cases in the ACLU and Jay's more used to dealing with people who have probably murdered someone (but that's none of his business). Who's in the right, the experienced teacher who's emotionally invested…or our two young hotshots?
For the People airs tomorrow on ABC.
From ABC:
After Seth learns that the people of his hometown and former elementary school in Lincoln, Nebraska, have become seriously ill due to groundwater contamination, he becomes invested in seeking justice, potentially jeopardizing the future of his career. Sandra, Jay and Allison assist Jill with a potential murder case, but as they grow skeptical of their client, Jill only grows more passionate.
—
Legion
"Chapter 9" – Season 2 premiere
Tues Apr 3 – 10PM
On FX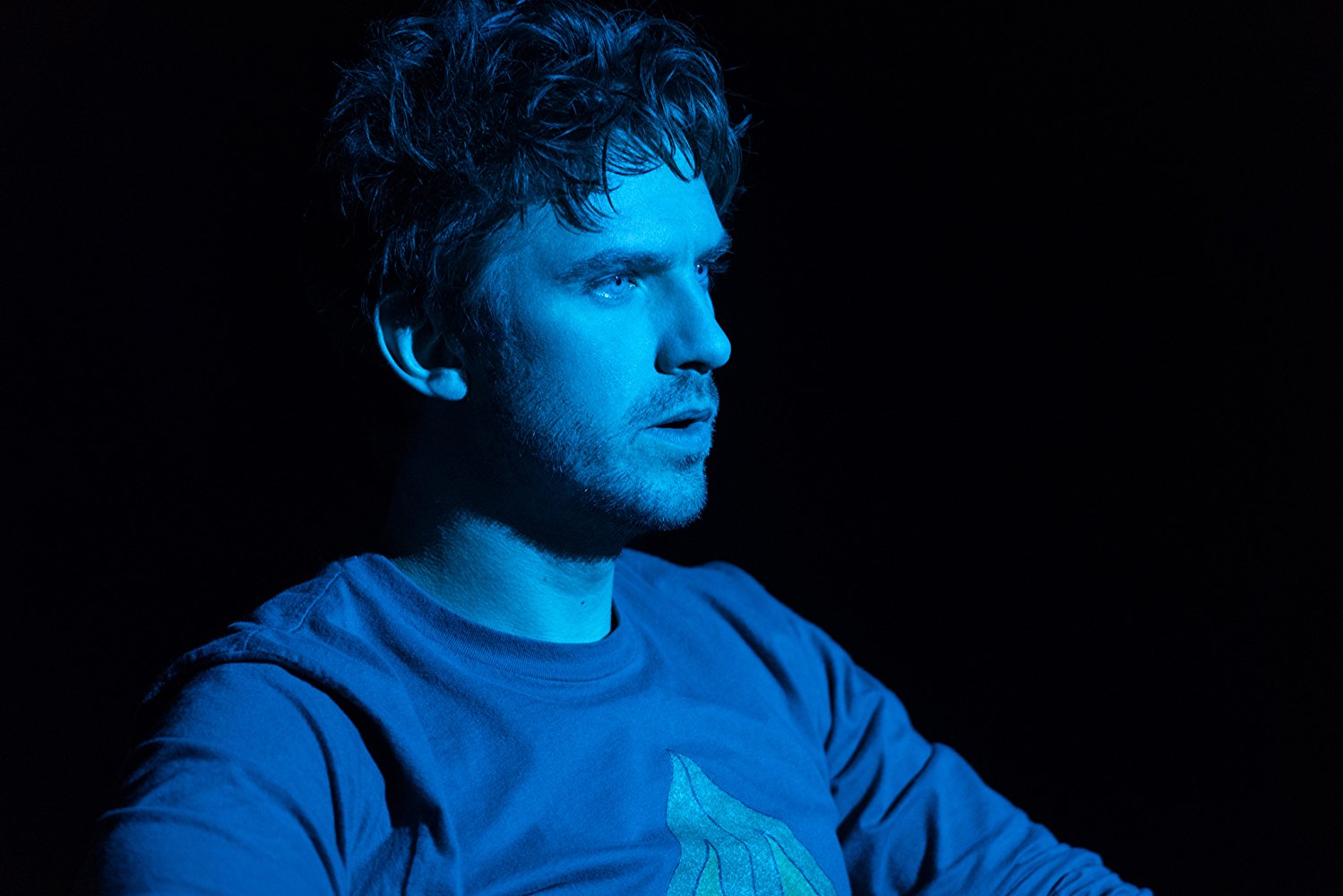 Photo by Prashant Gupta - © Copyright 2018, FX Networks. All Rights Reserved.
Marvel & FX's weirdest show is back and things are only gonna get weirder. Legion left us with a lot of questions and it looks like season 2 is going to answer them…in its own strange way. So probably not that much. At the end of season 1 David (Dan Stevens) was taken away in a floating electronic bubble of sorts…and now we get to find out:
1. who abducted him
2. why
3. how he escaped.
We're also introduced to a new variation of the Shadow King—aka the suave n' sharp Farouk (Navid Negahban)—and something about this new incarnation tells us season 1 was just easing us in. But our biggest question is: Who are David's parents? In the X-Men comics David is Charles Xavier's son and we've seen flashbacks which point to this…but if there's anything we've learned from Legion it's that we can't trust anything we see.
Legion season 2 premieres tomorrow on FX.
From TV Guide:
Unlikely alliances are formed and the search for the Shadow King begins in the Season 2 opener.
—
The Last O.G.
Series premiere
Tues Apr 3 – 10:30PM
On TBS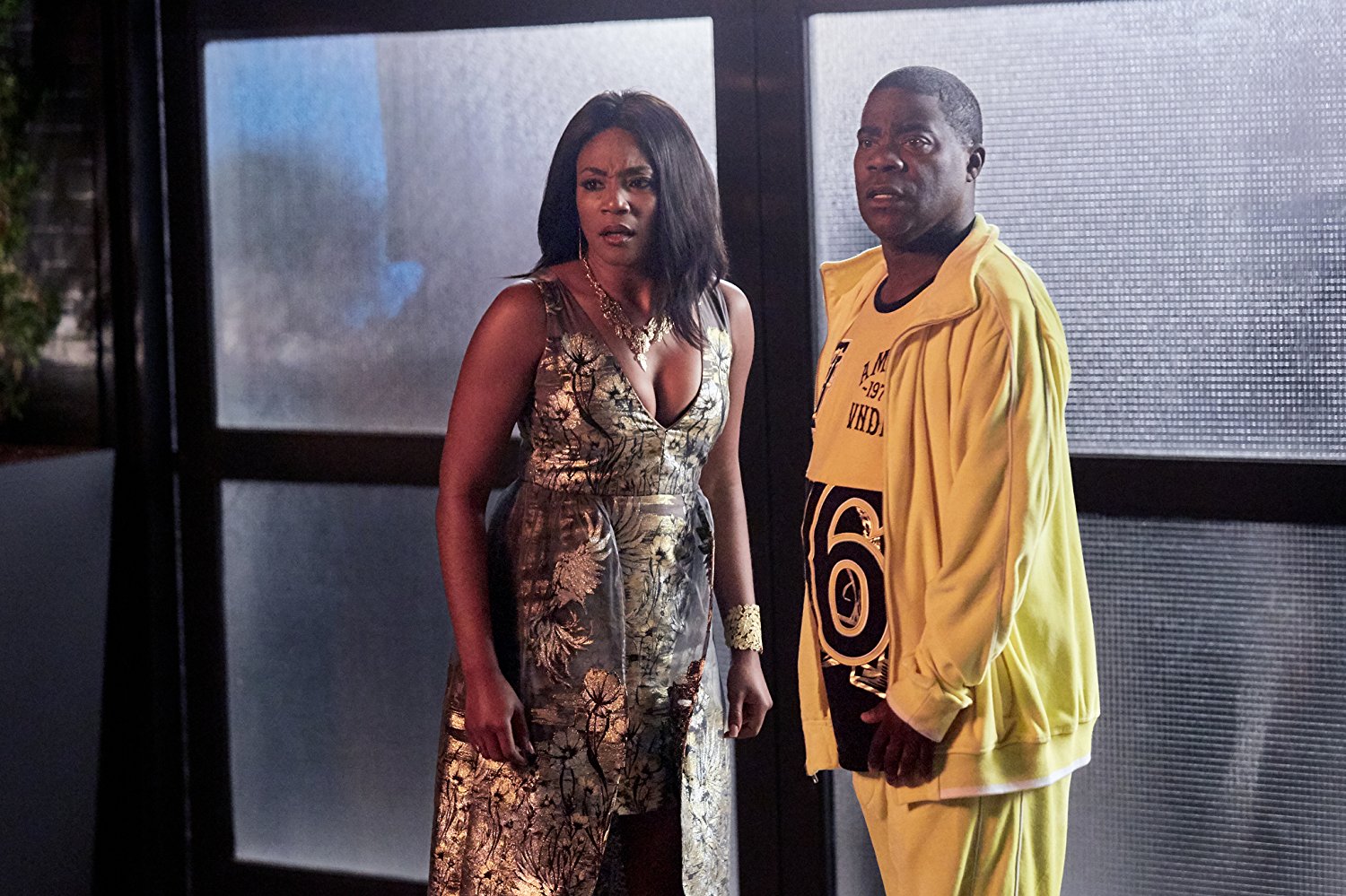 Photo by Francisco Roman - © TM & (c) Turner Entertainment Networks.
A lot can change in 15 years, especially in New York. One thing that hasn't changed is Tracy Morgan is still funny as hell and his new series The Last O.G. sees him back on top. When his character Tray gets out of jail after 15 years it turns out life didn't stop and wait around for him. His ex-girlfriend Shay (Tiffany Haddish) moved on, got married, and is raising Tray's kids (oh yeah, which he never knew existed). They're all one big happy family 'til they hear "daddy's home" and everyone starts screaming (honestly we'd scream too if we had to serve someone a half caff no foam mocha latte with an extra shot). Mixing the reality of gentrification and readjustment into everyday life with an endless stream of punchlines, The Last O.G. walks the line between drama and comedy with finesse, thanks in no small part to the excellent casting along with a creative team of John Carcieri, Jordan Peele, Diarra Kilpatrick, and Alex Rubens to name a few. Expect The Last O.G. to ask all the right questions, starting with: What the hell happened to Brooklyn?
Get into The Last O.G. tomorrow on TBS.
From TBS:
Tray (Tracy Morgan) is an ex-con who is shocked to see just how much the world has changed when he is released from prison for good behavior after a 15-year stint. Returning to his newly gentrified Brooklyn neighborhood, he discovers that his former girlfriend, Shay (Tiffany Haddish), has married an affable, successful white man (Ryan Gaul) who is helping raise the twins (Taylor Mosby and Dante Hoagland) Tray never knew existed. Wanting nothing more than to connect with his kids, but having neither the money to support them nor himself, Tray falls back on the skills he learned in prison to make ends meet while treading unfamiliar territory.
—
Alex, Inc.
"The Wax Museum" – Season 1, Episode 2
Wed Apr 4 – 8:30PM
On ABC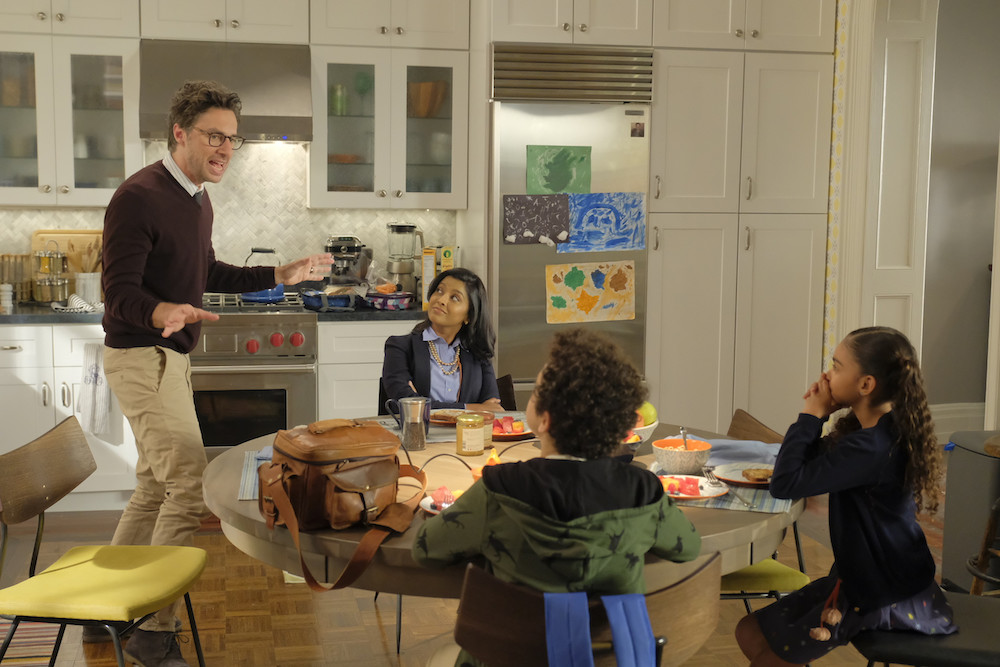 Photo: ABC/Tony Rivetti
In week two Alex, Inc. starts to hit its stride. We see Alex (Zach Braff) in his new "office"—a large warehouse type building that holds multiple new companies—balanced with scenes of the Schumans at home. As interesting as the podcasting aspect of his job is, it's the family time that makes Alex, Inc. worth watching—we might chuckle at the antics of his colleagues, but it's once we're inside the Schumans' cozy home that we actually laugh out loud. (Read our full [p]review)
Dive into Alex, Inc. this Wednesday, only on ABC.
From ABC:
At the office, Eddie and Deirdre compete for Alex's time and butt heads, causing them to almost quit. Alex tries to be a good boss by coming up with a solution to split his time between the two, but will he succeed? Meanwhile, Alex does not like Rooni's handmade costume for Ben's class project on famous people, so they come up with a surprising different choice.
—
Krypton
"The Rankless Initiative" – Season 1, Episode 3
Wed Apr 4 – 10PM
On Syfy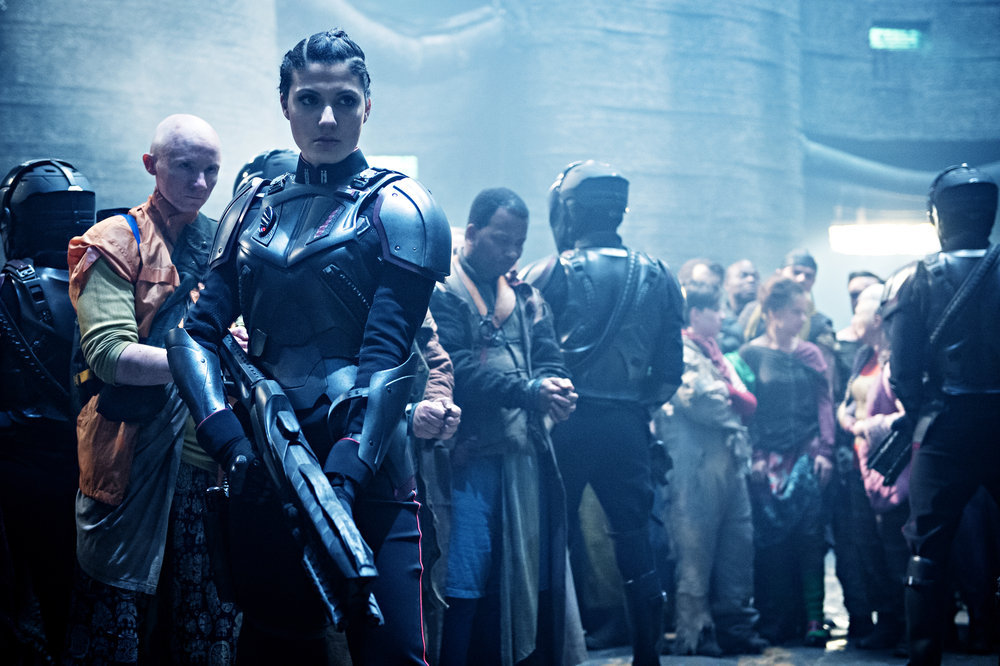 Photo by: Steffan Hill/Syfy
There were a lot of revelations in last week's Krypton setting us up for some explosive—and possibly even more brutal—action this time. Now Val-El (Ian McElhinney) has discovered that the probe Adam (Shaun Sipos) and Kem (Rasmus Hardiker) found is empty, we know that Brainiac (Blake Ritson) has already found a host…and we're itching to see his next move. Dun dun dun… But Brainiac isn't their only problem, with Lyta (Georgina Campbell) taking on command of the Sagitari's Fourth Squadron. Just remember to never ever ask for mercy from her unless you want to end up dead.
Head to Krypton this Wednesday on Syfy.
From Syfy:
During a military crackdown on Seg's home district, Seg and Adam Strange race to find a deadly Sentry.
—
Station 19
"Reignited" – Season 1, Episode 4
Thurs Apr 5 – 9PM
On ABC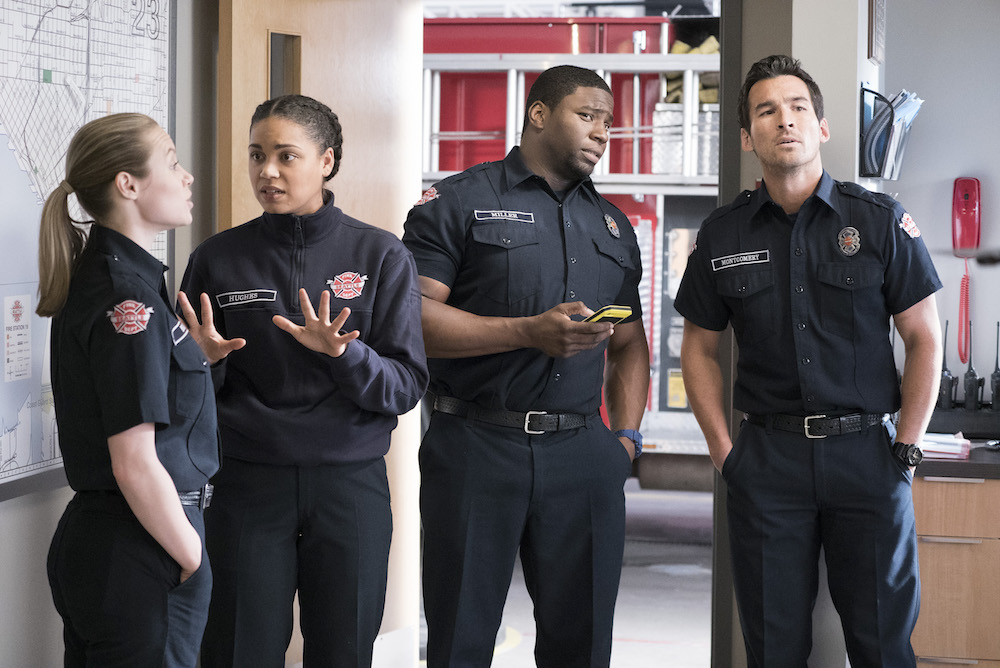 Photo: ABC/Kelsey McNeal
Remember when we said we were rooting for Andy (Jaina Lee Ortiz) and her ex Ryan (Alberto Frezza)? Well things heated up when Ryan made sure she doesn't still think of him as that messed up kid from when they were growing up together. Aw! But that sizzle only lasted for a hot minute 'cause Jack's (Grey Damon) still on the scene and Andy's swaying towards him right now. How's a girl meant to choose without trying 'em first? It's the Shondaland way. Luckily Andy and Jack are good at arguing to cover up their impromptu makeout sessions…right? (Give it up guys, everyone knows. We mean everyone.)
Watch Station 19 on ABC this Thursday.
From ABC:
As if being co-captains weren't hard enough, Andy and Jack find themselves in disagreement over spending decisions at the station. Meanwhile, the firefighters respond to a structure fire at a brand-new bed-and-breakfast; and Ryan calls Maya when he finds her brother in some trouble.
—
Will & Grace
"It's a Family Affair" – Season 1 finale
Thurs Apr 5 – 9PM
On NBC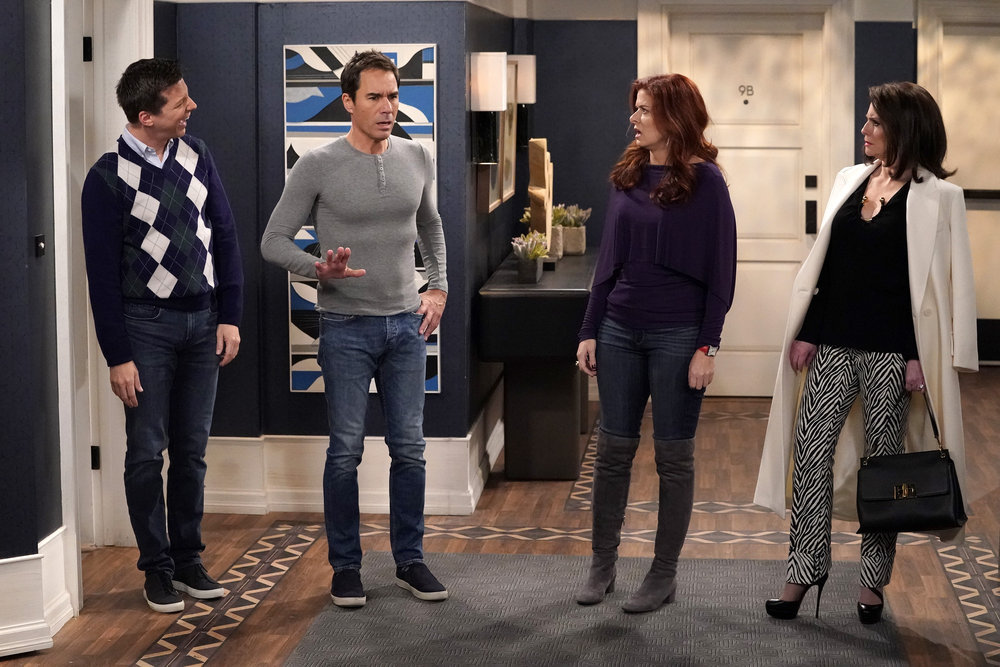 Photo by: Chris Haston/NBC
Oh honey, do parents exist purely to make us neurotic? Will and Grace have a strong case to present when her father Martin (Robert Klein) becomes their new roommate. Will & Grace & Martin doesn't quite have the same ring to it: Enter Marilyn (Blythe Danner), Will's mother (and his brother are…beagles?). After the touching tribute episode last week to the late Debbie Reynolds, who played Grace's mother, the season finale ups the parent presence. Yup, the folks do the unthinkable and…bond (we're trying not to imagine how a beagle could be involved). We couldn't think of anything worse (even seeing Grace eat lobster) but when your children are as messed up as Will & Grace anything is possible. Turns out decision-making is infectious for all the characters in the finale. Karen has to choose between Malcolm (Alec Baldwin—yes, he's back) and her beloved Stan. We can't decide what team we're on considering it's been eight seasons and we still haven't seen Stan yet…but we're still kinda attached to him. The only choice Karen has ever made is between gin and vodka so you'll have to pour a cold one and see for yourself. Cheers to another season well done, NBC!
Hang out with Will & Grace one more time this season on NBC this Thursday.
From NBC:
SEASON FINALE – Grace's (Debra Messing) father and Will's (Eric McCormack) mother end up making a surprising and upsetting connection. Jack (Sean Hayes) rebounds from his breakup with a new love. Karen (Megan Mullally) must decide between her husband and her lover. Robert Klein, Blythe Danner, Alec Baldwin and Brian Jordan Alvarez guest star.
—
Atlanta
"Teddy Perkins" – Season 2, Episode 6
Thurs Apr 5 – 10PM
On FX
Atlanta airs this Thursday on FX.
From TV Guide:
Darius is trippin.
—
Seth Rogen's Hilarity for Charity
Stand up special premiere
Fri Apr 6
On Netflix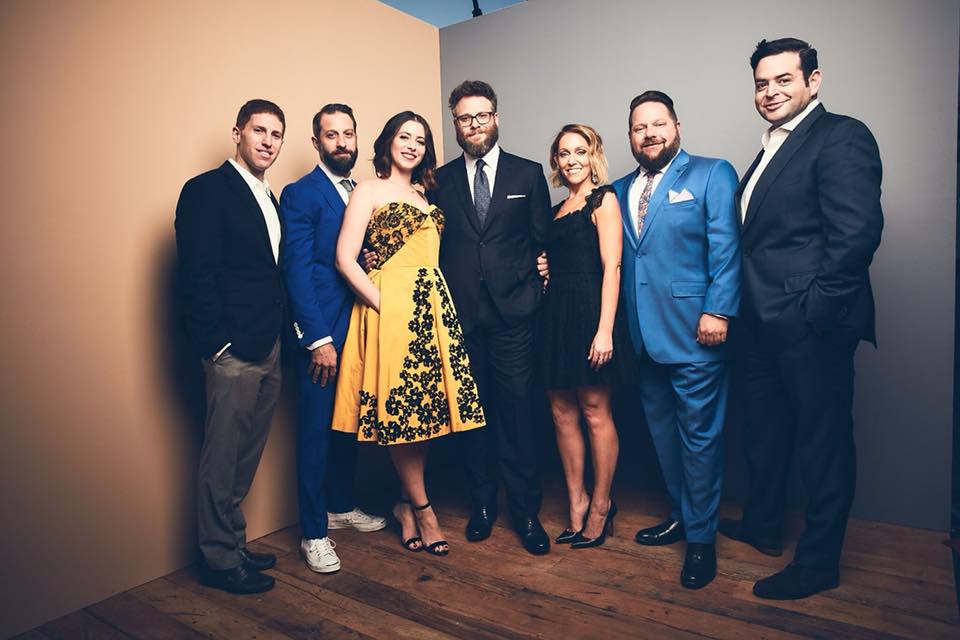 Photo: Hilarity for Charity
We're just going to leave the lineup for Seth Rogen's new stand up charity special here:
Tiffany Haddish, Sarah Silverman, Michelle Wolf, John Mulaney, Michael Che, Michael J. Fox, David Chang, Ike Barinholtz, Chelsea Peretti, The Muppets, Kumail Nanjiani, Jon Lovitz, Jeff Goldblum, Sacha Baron Cohen, Nick Kroll, Post Malone, Chris Hardwick, and Craig Robinson & The Nasty Delicious.
Yeah, you get it now. It's for a great cause too: Hilarity for Charity ® (HFC) aims to raise awareness and improve progress in Alzheimer's care, research, and support among millennials. We're giving this special a standing ovation already.
Stream Seth Rogen's Hilarity for Charity on Netflix this Friday.
From Netflix:
Seth Rogen and friends combine stand-up, sketches and music into an outrageous comedy special that could only come from the mind of Seth. The all-star guest lineup includes Tiffany Haddish, Sarah Silverman, Michelle Wolf, John Mulaney, Michael Che, Michael J. Fox, David Chang, Ike Barinholtz, Chelsea Peretti, The Muppets, Kumail Nanjiani, Jon Lovitz, Jeff Goldblum, Sacha Baron Cohen, Nick Kroll, Post Malone, Chris Hardwick, and Craig Robinson & The Nasty Delicious all star.
—
Killing Eve
Series premiere
Sun Apr 8 – 8PM
On BBC America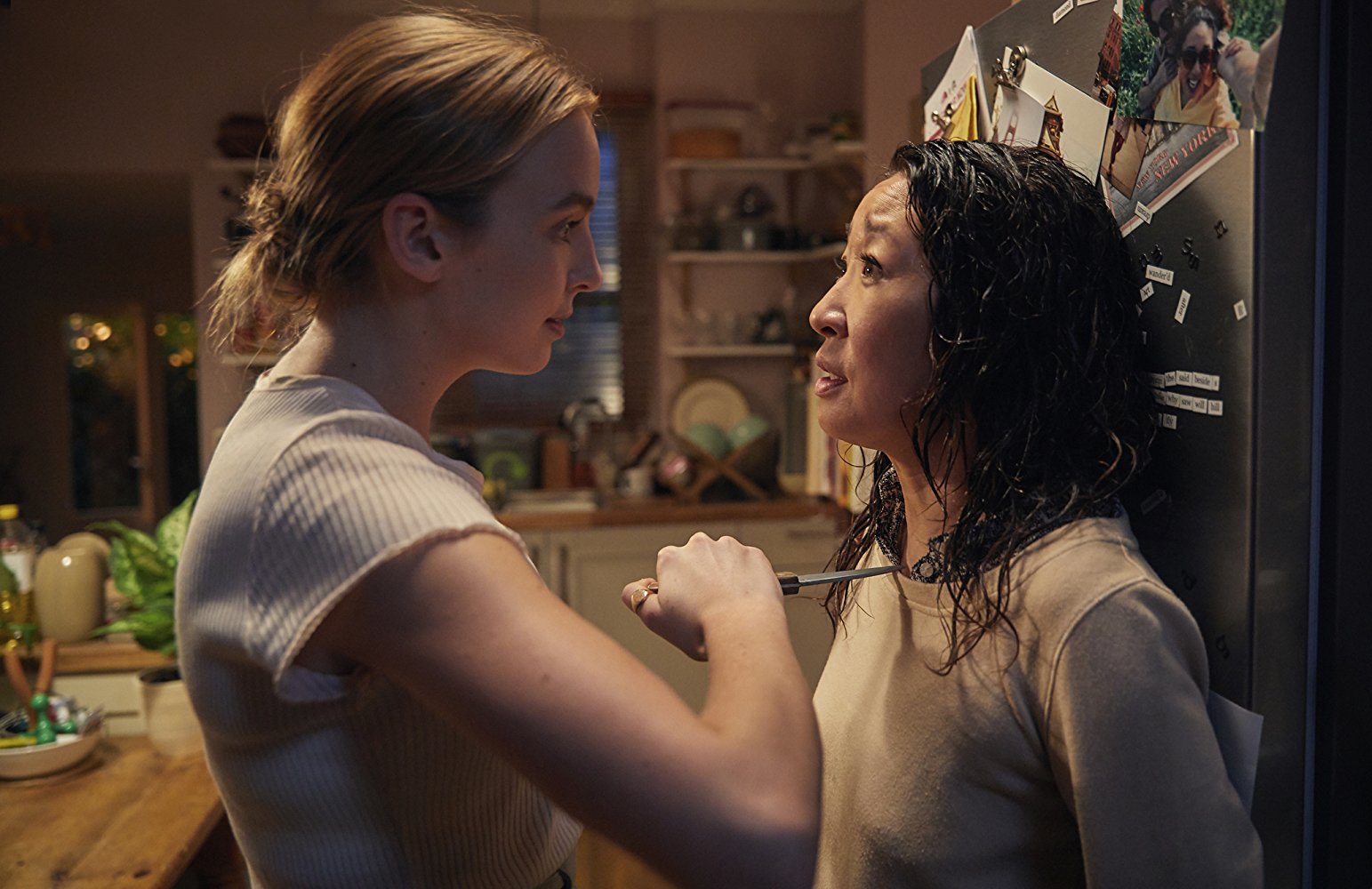 Photo: BBC America
Move over Jekyll and Hyde, we've got a new game of cat and mouse to play. Based on Luke Jennings' Codename Villanelle novels, BBC America's new show Killing Eve is redefining the thrill of the chase. The mouse is Villanelle (Jodie Comer), an international assassin with psychopathic tendencies and a flair for showing off…while not showing herself up. She's so precise she even manages to keep her hair perfectly pinned-up with a single poison-infused razor-sharp pin. (How?) The cat is Eve (Sandra Oh), an MI5 officer tasked with tracking Villanelle down. Diving into the mind of a murderer is her idea of fun. Just saying, we don't trust anyone who's spent that much time planning how to dispose of a dead body. Villanelle is like a child, laughing at the most inappropriate moments, posing like a doll, and exploring the world with a feigned sense of wonder you almost believe. Almost. Eve keeps her insanity a little more under wraps…but only a little. When the two meet it's almost anticlimactic in setting, but you find yourself holding your breath from the tension. Killing Eve is why you should never let hyper-intelligent people get caught up in mundane 9-to-5 work. They get bored…and you don't wanna be around when they decide to amuse themselves…with your life.
From BBC America:
MI5 security officer Eve Polastri is bored in her job and yearns for a more exciting life. When a Russian politician is murdered, Eve is tasked with protecting the only witness and soon finds herself on a collision course with an assassin, Villanelle.